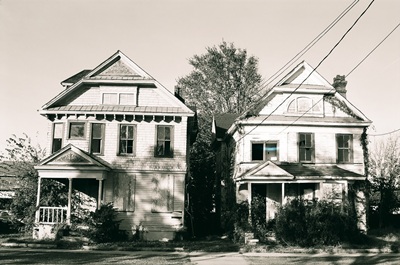 In the over eight years that I've been doing City of Dust, rarely have I ever used the same photo in more than one post. The few times that it's happened have mostly been mistakes. Hey, I've taken a lot of shots; sometimes I forget what I've put where.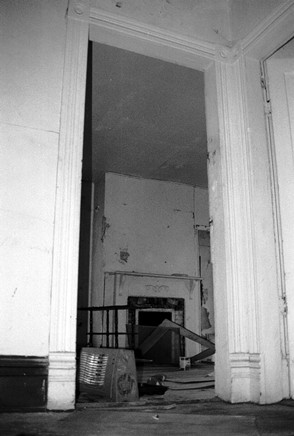 However, in this post I'm going to re-use some stuff. In the spring of 2010, I was back in Augusta for a couple days and visited what are known as the "Upper Broad Street Houses." A short time later, I used the photographs I took, which were a bit gritty (hey, there's a surprise), to illustrate a charming tale called "The Housecleaner." I thought they worked well with the story and, frankly, I didn't know much about the history of the old homes. In the interim, I've learned more and, since there is also one less of them, I took a few additional photographs last fall. One must always document while one can.

Located at 1425, 1427, and 1429 Broad St., the Upper Broad Street Houses were built in 1896 by the J.B. White department store company as residences for their employees. At one point, there were at least 20 such homes along Broad and tenants were eventually given the chance to purchase them. A February 2, 1919 article in the Augusta Chronicle mentioned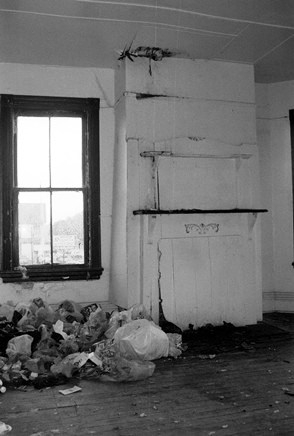 that there were three different types of houses selling at three different prices. Houses were to be first offered to the employees who already resided in or near them, with the Chronicle noting that interest was to be expressed to the J.B. White Estate via the Alexander-Goodwin & Garrett Agency by March 10, 1919 or properties would be sold to someone else. One block north, on Jones St., J.B. White had constructed 20 tenement houses for African-American tenants. For some reason, it seems these were not to be sold until the occupants on Broad St. had made up their minds to buy or move out. On June 9, 1919, the public was notified of their "last chance" to buy an Upper Broad Street House. Prices ranged from $4000 to $4500.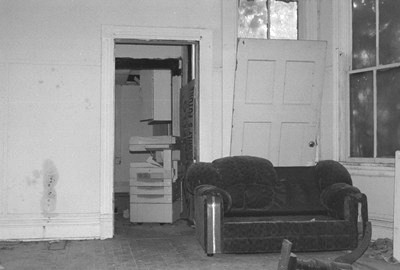 Of the three, the house at 1429, built as a duplex, is the largest. Decorative designs on the front façade gables are visible and the windows that remain are said to be original.The middle house, 1427, is also a two-story home,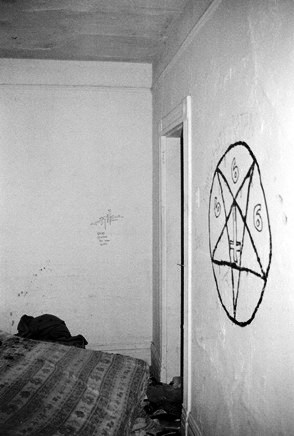 but was built as a single-family residence. On the corner, the house at 1425 was another duplex and contained six rooms. As of 2011, it was considered to be in the best condition of the three. Then, in October of that year, a fire, probably started by a homeless man, gutted 1425 and it was soon torn down. All three homes had long been threatened by the construction on St. Sebastian Way and it seemed no one could decide what to do with them. But, since flames work quicker than city government, there are now just two vacant 19th Century homes awaiting their fate.

Besides 1427 and 1429 Broad St., there are two additional J.B. White homes still standing. Both are occupied, which is a nice change of pace.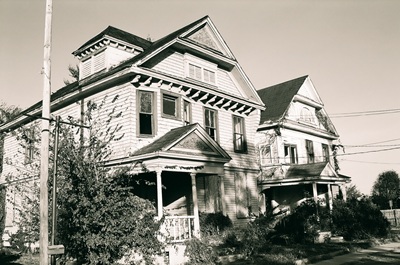 Most (if not all) of the interior shots are from 1425. Where one finds Slayer graffiti, one will often soon find destruction. Interesting, that. We've also got two different film stocks. As usual, the cheap stuff developed at Walgreen's looks better.

Almost everything I know about these houses I learned from Historic Augusta, who had just listed them as endangered properties when 1425 burned. Also, the Chronicle did a short piece on the houses after the fire.