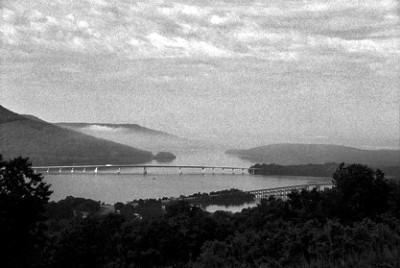 In May the work commences in earnest and we have added a third member, Allison, to our crew. We follow I-75 south toward Chattanooga and once beyond that city we dip into Georgia, change time zones, and come back up into Tennessee again very near our destination: Aetna Mountain. At one time the site of a major coal mining operation, Aetna Mountain sits above Nickajack Lake which is formed by an impoundment of the Tennessee River. The interior of the mountain is steep and dangerous, although some of the danger is provided by the residents themselves, as we shall soon see. A meeting earlier in the day produced immediate concern from a forest supervisor familiar with the area. "Are you going here?" he asked, pointing to our map. We replied that we were. "Then please call me each evening when you leave the forest so I know you got out safely. I can't get to you quickly, but I can at least get to you eventually." We assume he's mostly concerned about the terrain, although one member of our crew has already been advised to carry a gun.

Once we reach the mountain we have to decide how to access our survey area. It's apparent that a piece of private property provides the easiest entrance to our first parcel so we decide to drive down a rutted, gravel road, hoping to find the property owner and hoping that he'll be friendly. A car begins to descend a steep dirt driveway and when it reaches the bottom we pull off the narrow road to let it pass. Carl, the only native Tennessean amongst us, gets out of the truck to see if these folks own the property or know who does. It turns out that, while they're not the property owners, they can take us to the man who is, Smitty Brown, a fellow who usually works a roadside produce stand off the highway. In a display of helpfulness and generosity that we will later find throughout Walden's Ridge and the Cumberland Plateau, the man and his wife tell us that if we follow them they'll lead us to Smitty's stand. So we turn around and follow them back to the highway.

The first stand we come to is empty, but we're told that Smitty has a second stand across the bridge, so we continue on. The second stand is also empty. Our guide apologizes and explains that Smitty must be elsewhere. He suggests we just go on up the steep driveway to Smitty's place and talk to the residents of the first place we come to; they live on Smitty's land and can give us permission just as well as Mr. Brown. If Smitty shows up, they'll be able to tell him why there's a big state truck in his drive.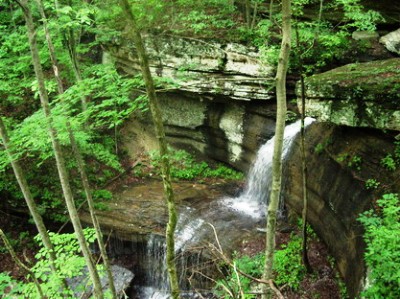 We go back to Smitty's driveway and look up. It really is steep, and rutted too, loose gravel pooling in the deep ruts. Cut-offs and switchbacks have been made here and there but it's difficult to tell which sections would be best to use. From the bottom, it almost looks too dangerous to drive. Allison gets out of the truck and says she's not driving up—she'd rather walk. Still, we know people live up there, so it must be possible to get a vehicle to the top. Carl decides he's going to go for it and drops the truck into 4WD. I get out of the truck to make the hike with Allison, each of us hoping that the Ford F-150 won't roll down the hill on top of us. We watch the truck crawl up the incline and cross our fingers that Carl chooses the right path up.

It takes us longer to walk, but soon we're all at the top of Smitty's driveway, taking in an impressive view of Nickajack Lake, crisscrossed by bridges, the interstate skirting the perimeter. The walk was hot and strenuous and now that the proper route has been established we'll be taking the truck up each day, assuming we get permission to access the property. We knock on the door of a trailer and a woman answers, clearly surprised to see us. It's hard to imagine there are many visitors that make it up here unannounced. Once Carl explains our business we're told that it's absolutely no problem to park on the property—they'll tell Smitty what's up if he returns. Clarence, the man of the house, comes to the door and in the course of our conversation reveals that he has congestive heart failure. This would not seem to be the place to live if one has congestive heart failure. Just getting the mail could kill you. Still, the view from the top of that driveway is something a person could get used to. It might be tough to leave behind. After getting brought up to date on what's happening at Talladega, we thank the couple for their help and they wish us luck.

We go back to the truck and get our gear together. I notice that Allison is wearing shorts and sandals. "Aren't you going to at least put on some boots?" I ask, pointing to the thick poison ivy just beyond the truck. "Nah. I'm not allergic and don't like wearing boots." By the following week she'll be wearing the sturdiest pair of snake boots she can find.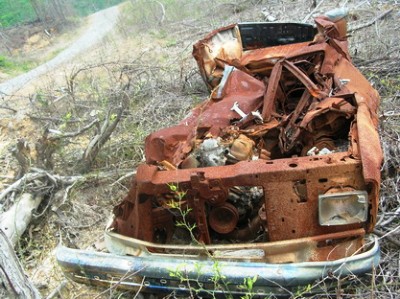 I might not get another segment up next weekend as I'll be back in the Midwest. However, I'll be here again in two weeks. I think. Thanks for reading!