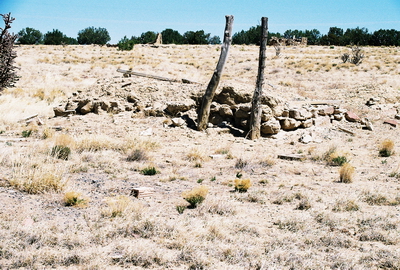 At this point, there's not much anyone can say about the ghost town of Coyote, New Mexico, and there's even less to see. Like HAGAN, its neighbor just to the southeast, it's located on land owned by the Diamond Tail Ranch. However, nearly a century after being abandoned, the town has been reduced to just a few piles of adobe behind a fence that it wouldn't be real wise to try to climb over. But, Coyote is a bona fide ghost town, and so I'll include it here.

Coyote is about three miles from HAGAN and its fate was very much tied to that town, which had been founded about two years earlier, in 1902. Workers from the Sloan Mine first established Coyote and then waited for the railroad to come through and connect the town with Hagan and other points of commerce. But, as I mentioned in the previous post, two efforts to get tracks to Hagan failed before a third was finally successful in 1924. The tracks eventually came within a half mile of Coyote but by then it didn't matter because Coyote was already dead and gone. Now all that remains are a few foundations.

The only real historical source I found for Coyote was Philip Varney's ghost town guide. Even Varney couldn't provide much information about Coyote and, whatever might have unfolded there during the town's brief existence, it seems it will never be known by the likes of us.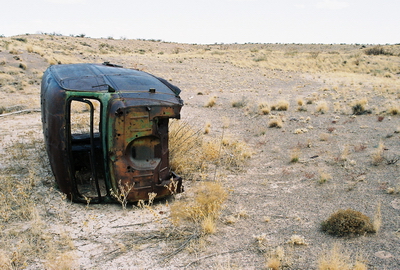 The next few posts will be similar to this one: short and sweet. There might be a bit of prose, too. But I've got quite a backlog of old New Mexican treasures and I'm accumulating more rapidly. The next post will be about one particular building along old Route 66. Stay tuned.

The top photo shows the remains of Coyote, but the truck was photographed literally in the middle of nowhere, Chihuahuan Desert, Socorro County, New Mexico. I dare you to try and find it.