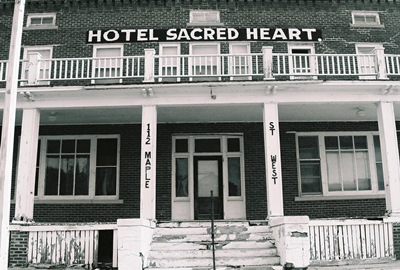 Because I only manage a "real" post here once or twice a month, I've created a City of Dust page on Facebook. I will try to add a new ghost town or abandonment photo every day and, while most of the shots will be from New Mexico, I'm sure I'll get distracted every now and then. I hope this Facebook page might spur more discussion and interaction, as well. There's lots of stuff I'd like to know about the places I shoot and now it'll be easier for folks to tell me. However, never fear, this blog will always remain my bread and butter. If you want to have a look at the Facebook page, go HERE.

Speaking of getting distracted, below is a haunted house just in time for Halloween. This was taken in September in Sacred Heart, Minnesota, way out on the prairie. The photo above was also taken in Sacred Heart, believe it or not.

The next post here should be on San Antonio, New Mexico, from where the line runs directly down the old railroad tracks to...Paris Hilton. Until then, thanks for your interest and Happy Halloween!