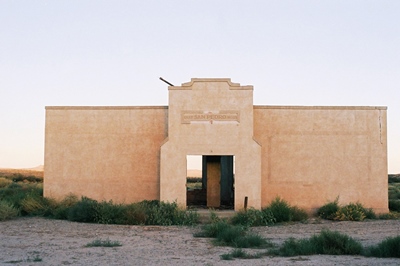 There are two ghost towns by the name of San Pedro in New Mexico. One is a former gold mining town to the north, in Santa Fe County, but, since we're still roaming around U.S. Highway 380 in the central part of the state, we'll check out the one in Socorro County.

When Philip Varney visited San Pedro in the late-'70s, he described a ghost town of more than a dozen buildings, including the wood and adobe San Pedro Catholic Church, complete with intact steeple, and another large adobe structure, once the home of a well-known landowner. Things have changed a bit over the last 30+ years and, while not exactly a booming metropolis, San Pedro is a little livelier than when Varney came through. Kinda like Chloride, but without the museum.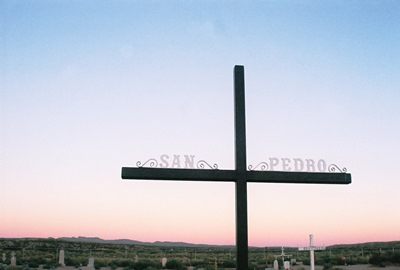 While there might be more actual residents these days (and perhaps meaner dogs, as well), there seems to be fewer buildings. The church is nowhere to be found, nor is the neighboring barbershop. The stately adobe residence has mostly sunk into the earth (and is guarded by one or two of the aforementioned pups). The schoolhouse, pictured at top, still remains though. Built by the W.P.A. in 1936, it closed shortly thereafter and is now owned by the family living next to it. They were kind enough to let me take a photo after finding me basically standing in their driveway when they came home one evening. Thanks, folks!

San Pedro was settled in the mid-1800s by two families, the Montoya's and the Tefoya's. By 1860, the town had a population of 223. At that time, the village,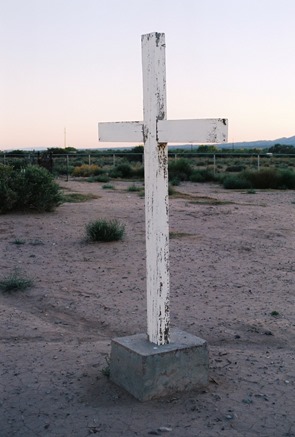 located on the east bank of the Rio Grande and close to El Camino Real, was a Spanish agricultural settlement known especially for its grapes. These grapes were crushed into wine reportedly shipped "all the way to Kansas." The village was also a resting place and trading center for travelers on El Camino Real. Later, some residents became miners and worked in nearby Carthage and Tokay. Apparently, a heated baseball rivalry developed between the San Pedro and Tokay teams with a third forgotten community, Bosquecito, also in the mix.

The Rio Grande, that lifeblood of San Pedro--as it was for so many small towns--was the reason for San Pedro's location and, finally, a major reason for its decline. All that remains of the section of the river that used to pass beside San Pedro is a dry, sandy bed, the result of canals that have shifted the course of the waterway almost a mile to the west.

Varney described the San Pedro Cemetery as "windswept and desolate." I love a nice, desolate, windswept cemetery, but in San Pedro the cemetery, too, has been modernized. A comparison of grave markers shows them to have been upgraded since Varney's visit. While I have to admit that I prefer desolation, aesthetically-speaking, I'm happy for San Pedro. And I got in some desolate, windswept cemetery viewing in cold, cold Clayton last weekend.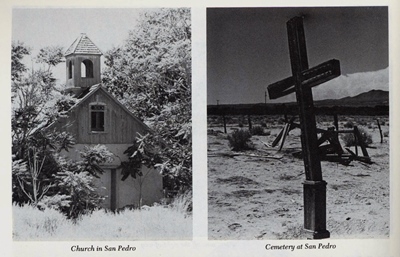 We'll get to Clayton and its famous decapitated dead man, Black Jack Ketchum, eventually, but we're going to stay in sprawling Socorro County and head down to the banks of the Rio Salado to visit Riley (aka Santa Rita) next. Until then, be well, as both Garrison Keillor and Walgreens tell me these days.

Information for this post (and the b&w photos above) came from Philip Varney, of course. Additional help was courtesy of ghosttowns.com and, through them, Roadside New Mexico: A Guide to Historic Markers, Revised and Expanded Edition!