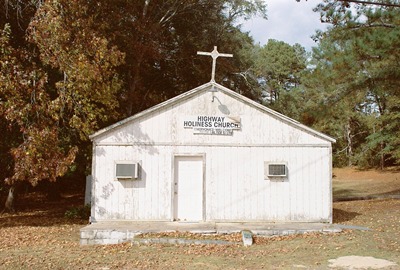 "Photographers deal in things which are continually vanishing and when they have vanished there is no contrivance on earth which can make them come back again." Henri Cartier-Bresson.

You know, it's hard to argue with Cartier-Bresson. But perhaps that's because what he said is simply a truism. It's not just photographers that deal with things that are continually vanishing, but every human being every second of the day. You want your grandparents back? Nope. Your high school girlfriend? Gone. How about today's lunch? No dice. Unless, of course, you had the foresight to take a picture of it with your phone and post it on Facebook. Then you, too, can feel like an artist on par with Cartier-Bresson. You know, sometimes this art gets a little high-falutin' for me.

So, with that out of the way, let's make a stop at the former house of the Reverend Charles T. Walker, 1011 Laney-Walker Boulevard, Augusta, GA. The Reverend has vanished, but the impact of his work remains. As does his church. And his house. But while the former is doing fine, the latter is in some trouble.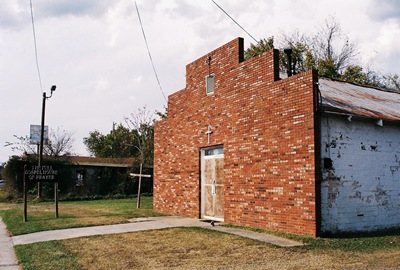 Reverend Walker was born into slavery near Hephzibah, GA in 1858. An orphan by the age of 8, he found Jesus while hoeing cotton and would later eat only two meals a day to pay for his studies at the Augusta Theological Institute.

On August 21, 1885, Walker was the driving force in establishing the Beulah Baptist Church in Augusta. Three days later he asked that the name be changed to Tabernacle Baptist Church. And so it was. The first congregation numbered 310. By 1889, membership was at 2,000, largely thanks to Walker's sermonizing. People began to call him the "Black Spurgeon," a reference to British Baptist minister Charles Spurgeon, then known as the "Prince of Preachers." Indeed, Spurgeon invited Walker to give a sermon in London, where it was said Walker enraptured the crowd with his fiery and erudite style. So, Walker was good. In fact, President William Howard Taft, John D. Rockefeller, and Booker T. Washington all came to hear his services.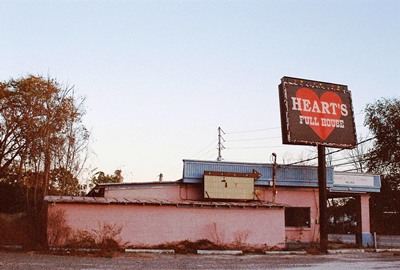 Walker was also a very early pioneer in the civil rights movement. In 1891, after visiting the Holy Land, he began to criticize the "separate but equal" doctrine ever more vehemently. Commenting on black migration after the Civil War, he said, "It was a mistake for blacks to leave the South, since prejudice was national and not sectional." And at a speech in Carnegie Hall before 8,000: "The Negro is an American citizen. The amendment to the Constitution did not make us men; God made us men before man made us citizens!" Bear in mind, Walker was saying these things at the turn of the 20th Century. Very brave, indeed.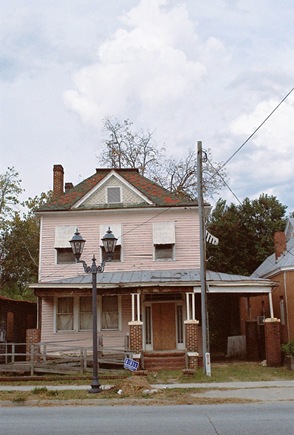 At first, the Tabernacle Baptist Church was a two-story brick building on Ellis St. that held 800 worshippers. In 1915, a move was made to a striking building on Laney-Walker Boulevard with twin sanctuaries which could seat 2300, just a couple blocks from Walker's home, shown at left. The church has been restored and is where Walker was buried when he died in 1921. His obituary appeared in the New York Times with the headline, "Augusta Pastor Was Called Greatest Negro Preacher of His Time."

So strong did Walker's influence remain that the Tabernacle Baptist Church could not help but become a focal point in the Civil Rights struggles of the 1960's. In 1962, Martin Luther King, Jr. spoke at a meeting of the Southern Christian Leadership Conference held there, the torch having clearly been passed.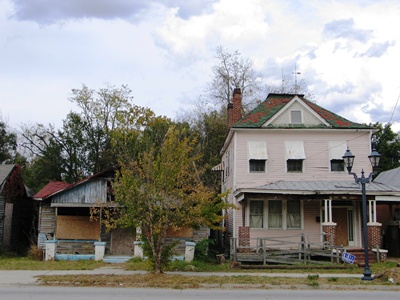 So, that is just some of what's known about Reverend Charles T. Walker. All I can tell you about his house is that it's been painted pink and is in a very bad state. The house next door, pictured above, has burnt and it seems only a matter of time before a similar fate will befall the former home of the Black Spurgeon. Some things that can be photographed might disappear, but other things that are harder to see with the eye may not.

I've never taken a picture of the Tabernacle Baptist Church, which is dumb. But the photo at the top of the Highway Holiness Church was shot near the junkyard on the Aiken-Augusta Highway. The Full Gospel House of Prayer is on Sand Bar Ferry. The Deacon asked me just what I was doing in front of his church after I took that photo. I don't think he was very impressed when I told him. Sorry, Deacon, there was no disrespect intended. I hope that's clear from the photo. Heart's Full House might once have been a house of a different type of worship, but its soul has disappeared. The house below would be the next on the left in the shot above. So, you can see that the problems in the neighborhood are not exactly isolated.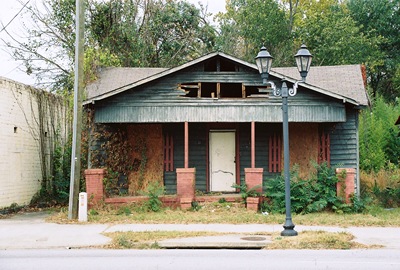 If you want to read more about Reverend Walker, his biography is available on-line right HERE. The wonderful quotes came from an article in the Augusta Chronicle which is no longer on-line. I grabbed a bit of background from former Congressman Barrow's old website and a long-gone Georgia tourism page.