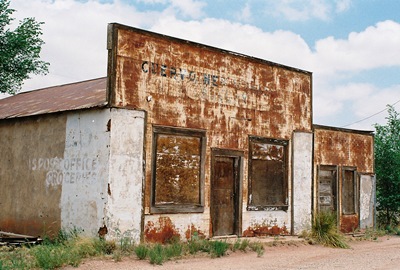 When it comes to ghost towns, it doesn't get much better than Cuervo, New Mexico. Its condition is remarkable not just because the town is no secret, as any internet search will attest, but because it's literally feet from Interstate 40. Clearly, most people on the road between Albuquerque and Tucumcari don't stop for a visit. Either they don't know about Cuervo or they don't care. That's fine with me, although it doesn't quite keep all the riff-raff out, as I'll explain later.

Pulling into desolate, (mostly) deserted Cuervo is like driving into the apocalypse, if the apocalypse happened in 1920. Just forget about the semis whizzing by on I-40 and there are only old cars and older houses, scraps of clothes and newspapers from decades ago, everything in that hauntingly arrested state that all aficionados of the lost desire.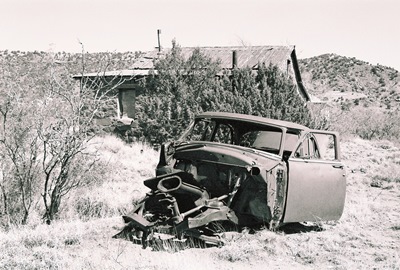 It's always useful to know the names of places, regardless of the language they're in, and that's true in Cuervo. The town's name means "crow," (or, alternatively, "raven") and while there may have been many of these dark birds around at one point, not a single one was seen on our visit. Perhaps they were hanging out on nearby Cuervo Hill, the town's namesake. Or, maybe, unlike us, they were simply smart enough to stay out of the relentless heat of the midday sun.

Like so many others in New Mexico, Cuervo was a railroad town, brought to life about 1902 when the Chicago, Rock Island, and Pacific Railroad came through and turned the little outpost into a water stop. Before that, the town site had been on a trade route in use since at least the early 1500's, but no one had previously thought to try to settle down way out on the wide and lonely plains.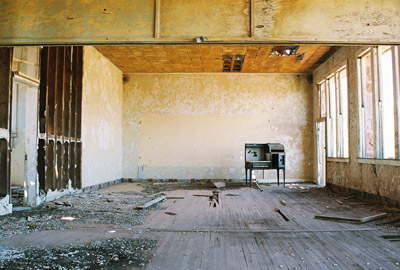 Cuervo started off with a bang as an expansion of cattle and sheep ranching swept through the area in 1910. A couple decades later, Route 66 ran straight through town, easily supporting the few gas stations and hotels that sprang up in its wake. At its height, Cuervo had two of everything a person could want: schools, churches, doctors, and hotels.

One school, built around 1930 and closed in 1958, stands alone in a field of red dirt and was the high point of this visit to Cuervo.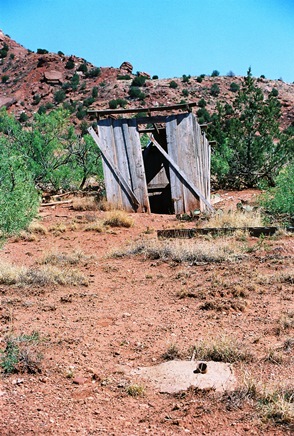 It might have been purchased by an elderly lady last fall for $10,250, though I'm not sure if the sale actually went through. That's the old outhouse to the left and classroom above. Also, both churches are extant. The Catholic church on the south side of I-40 was built of red sandstone during WWI. It's well-maintained to this day. The Getty Memorial Baptist Church, on the north side, represented the low point of our trip. Again, I'll explain shortly.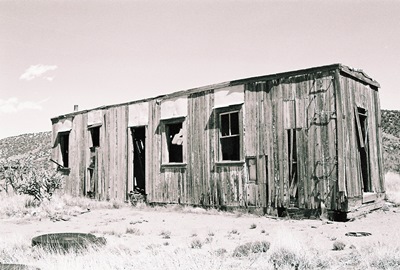 As with dozens of towns that owed their existence to the railroad and Route 66, the construction of the interstate system was a death knell. In the case of Cuervo, in the late 1960's, I-40 was put right through the center of town, probably turning the lives of many residents into something like a John Mellencamp song.

But it's worth bearing in mind that Cuervo was never a metropolis. Its population in 1946, immediately post-WWII, was only 128. In 1981, Philip Varney reported in New Mexico's Best Ghost Towns that many homes remained occupied. Its population now may be in the single digits, including the owner of the non-functioning gas station on the north side of I-40. If you came to take pictures, I hear he won't be happy to see you. He may well have good reason.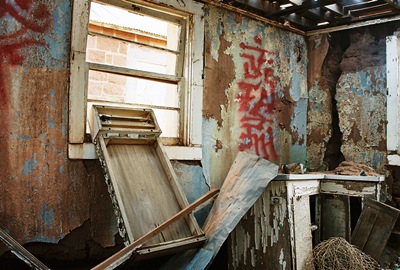 Now, over the years, I've occasionally gotten letters from people asking how they can access the places I've photographed.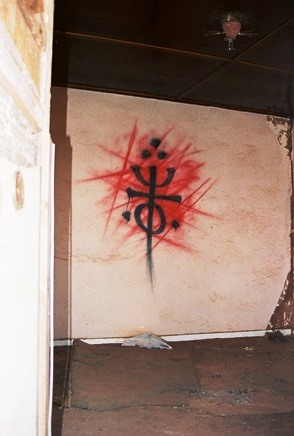 In every case, I'm careful to point out that I don't want to encourage people to visit these sites, mostly for their own safety. Save it for people with unhealthy compulsions. Like me. Sometimes there is the problem of trespassing. But, in the case of Cuervo, which, as I mentioned, isn't exactly unknown to explorers, very few buildings are posted as private property. In fact, aside from falling through a floor or having a roof cave in on you, the main danger in abandoned buildings is other people.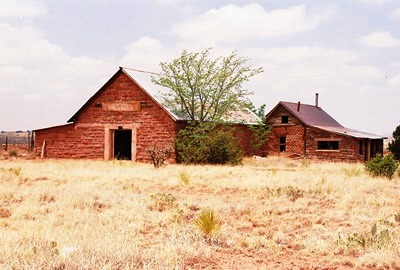 On that note, as of a few weeks ago, I can report that the Getty Memorial Baptist Church (pictured above) contains the most alarming installation I've seen since someone hung a rabbit at the Clearwater Textile Mill in 2004. So, if you ever find yourself wanting to check out the old Baptist church, drop me a line and I'll tell you EXACTLY why you shouldn't. Sorry, can't post a photo of this one…or even describe it. Let's just say that there's evidence of return visits and an encounter could well go badly.

Alright, enough of that. I didn't know that Philip Varney recently released a new ghost town book! It was even in the Huffington Post. Of course, his NM ghost town guide was my primary source here. I also got a few tidbits from Ghost Towns Alive by Linda G. Harris. A little more background was plucked from Legends of America. The factoid about the woman who bought the old school came from a website called Topix but it's gone now.

Next time I think we'll head down old Route 66 a couple miles to Newkirk and Montoya.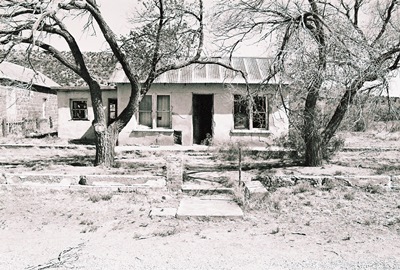 NOVEMBER 2014 UPDATE: Since I published this post 16 months ago I've probably answered a couple hundred inquiries about just what was in the Getty Memorial Baptist Church. I even developed a form letter response that I would revise as information came in. But now I can refer people to KRQE News 13 where THIS PIECE illustrates the scenes at two different locations in the area better than I could describe them here. Although things seem much calmer in Cuervo and there is some consistent activity (the school has been restored and has a nice, new roof!), I'm still not going to encourage people to visit because...there is no real end to the story. Also, to answer another common question, yes, the symbol on the wall in this post has been confirmed as Satanic. But that's almost certainly unrelated to what was in the Getty and elsewhere.