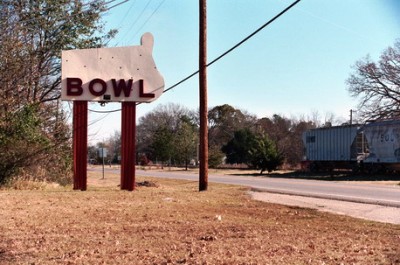 This post might result in a little cognitive dissonance since the photos are from downtown Aiken, SC, but mostly I'm going to talk about the lost towns of Ellenton and Dunbarton and why they're gone. In the late 1940's, following the bombing of Hiroshima and Nagasaki, and amidst growing concern about the Red Menace, the U.S. decided to get (more) serious about making bombs. In 1950, Harry S. Truman gave his approval to construct a massive facility to manufacture nuclear material for hydrogen bombs, chiefly tritium and plutonium-239. This would become the Savannah River Plant, a 300 square-mile chunk of land along the Savannah River, straddling Aiken and Barnwell Counties. Residents of a tiny village named Dunbarton had to leave their homes, as did people living in the larger town of Ellenton. All extant buildings were either trucked out or demolished. One-hundred and fifty graveyards were dug up and the bodies relocated. There are incredible pictures of the moving of Ellenton at the best (and basically only) Ellenton website. (Click on "Photo Library" and "Movin' On".)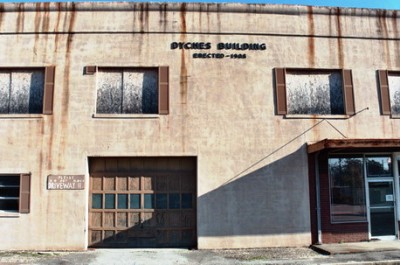 The government told the residents of the area that it would buy back their homes, and 6,000 people sold. For all the property, including 210,000 acres of land, the government paid 19 million dollars. The estimated value of just the timber at the time was 28 million dollars. The former residents of what was now going to be one of the largest nuclear facilities in the world were not happy. Many found themselves moving into pre-fab government homes built just beyond the boundaries of the Savannah River Plant. The town was (and is) named, suitably enough, New Ellenton.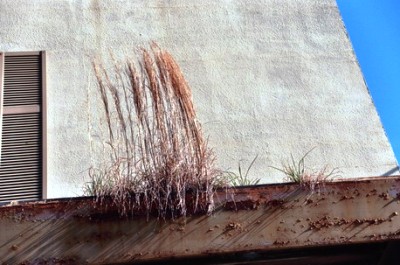 If you've been to New Ellenton (pop. 2,500 and probably dropping), then you know its not a thriving town. It never has been. There's not much to it, apart from some gas stations, a sandwich shop, and a couple stores. When Ellenton was vacated, many of the younger residents left the area and never returned. Of those over the age of 50 that tried to make a go of it in New Ellenton, more than half were dead within 10 years. Unable to adjust to being uprooted from their homes, and barred from even visiting the site of old Ellenton (despite living about 10 miles away), the old-timers just dropped away. To see what Ellenton USED to look like, go here. (Click on "Photo Library" and "Ellenton".)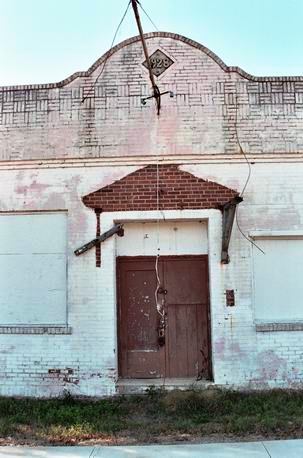 Would you like some facts regarding the construction of the mammoth Savannah River Plant? Alright, I'll steal some from the Ellenton website. Construction moved enough dirt to construct a wall 10' high, 6' wide, and 2500 miles long. The concrete used would've built a highway 6" thick, 20' wide, and 800 miles long. The reinforcing steel could have made 3300 cars (or a train 30 miles long), while the structural steel could have made a train 8 miles long. The lumber cut was enough to build 15,000 homes. Fifty-two miles of water line were laid. Just the blueprints required 3,000 miles of 24-inch-wide paper. There are 63 miles of railroad track and 230 miles of road within the facility. But my favorite fact is that the very first clover-leaf ever built in the U.S. was built within the Savannah River Plant. Incidentally, in 1990, construction began on a large (and expensive) cooling tower for a reactor. The tower was connected just in time for the reactor to be permanently decommissioned in 1992. Whoops.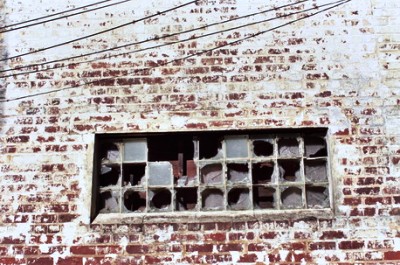 In one of those strange but oh-so-common twists of fate, the forces that led to the destruction of Ellenton and Dunbarton (Can you tell that I don't really know anything about Dunbarton?) were responsible for a massive overall boom in the population, and thus the economy, of the Central Savannah River Area. Tens of thousands of workers poured in from all over the country, first to help build the plant, then to work there. Everyone from physicists to secretaries found employment. And they all had to have security clearance to set foot beyond the huge barricades and fences that ringed the entire area. Heavily-armed guards patrolled the grounds on foot, in vehicles, and by helicopter. They still do, although the workforce at the site has been steadily decreasing.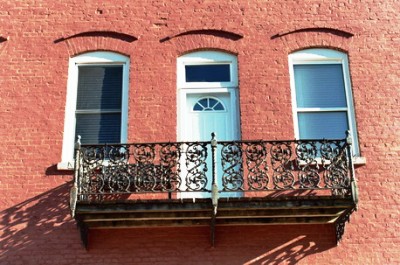 The former site of the Ellenton post office is now a roadside rest area off of SC 125, but most of what was the town is inside the perimeter of the facility. As I've alluded to, the general public is not allowed on what has now been renamed the Savannah River Site. However, in my never-ending quest to explore the forgotten and abandoned areas of the Central Savanna River Area, I got to visit. No, I didn't sneak in per usual!! Honestly, it's not possible. You could be shot trying. There's even surveillance cameras up in trees in the woods. While I couldn't bring my own camera, as it's strictly forbidden, I did see the old town of Ellenton. Lemme tell ya, there ain't nothing left. You can see some old curbs and overgrown clearings where driveways used to be, but nothing else. Pictures wouldn't show much. In fact, they'd look just like this. (Click on "Photo Library" and "Ellenton Today".) The most interesting things are the old two-lane highways with speed limits and other signage still in place, waiting for cars that never come. There's a few small bridges left, as well, and the site of Leigh Banana Case Company, though the buildings are long gone. It seems a shame to have turned those huge, beautiful cypress trees into banana boxes. Oh, and I DID get to go around the historic clover-leaf.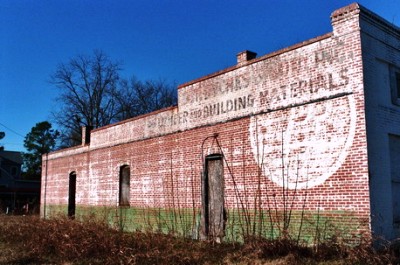 But Ellenton wasn't all sweetness back in the old days either. You may remember that following the Hamburg Riot there was a riot in Ellenton. On September 15, 1876, two black men were arrested for allegedly beating a white woman and a group of armed black men attempted to defend them. In the violence that ensued, 15 blacks, including a Barnwell County legislator, Simon Coker, and two whites were killed. One source has the date for this riot as May 15, 1876, but I have to think it was actually the post-Hamburg Riot riot. If you happen to know that Ellenton was the scene of TWO riots in 1876, please let me know.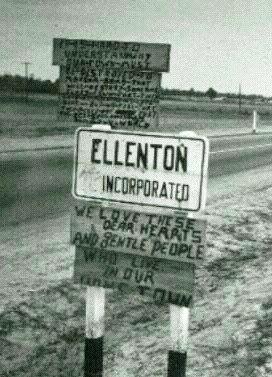 If I still haven't convinced you to check out the photos at the Ellenton website, maybe this will change your mind. So, NO, I DID NOT take this photo. The sign reads: "It is hard to understand why our town must be destroyed to make a bomb that will destroy someone else's town that they love as much as we love ours. But we feel that they picked not just the best spot in the U.S., but in the world." And: "We love these dear hearts and gentle people who live in our home town." Another great photo on the site is called "A Lonely Reminder." Actually, it's not REALLY an Ellenton website. It was put together for a play, entitled "I Don't Live There Anymore: The Ellenton Story," about the evacuation of Ellenton, performed on the 50th anniversary of the event. Former residents came from all over for a reunion of sorts. You can even listen to the soundtrack on the site. Incidentally, I did look for information elsewhere and found a number of links, but they were all dead. Somehow that seemed fitting.

As for the photos in this post, as I mentioned, they're from downtown Aiken. Downtown Aiken is not abandoned, I just made it look like it is. Around each corner is a craft shop or a restaurant or a boutique. Or a horse. One more post from Aiken (not all-color!) next time. See ya.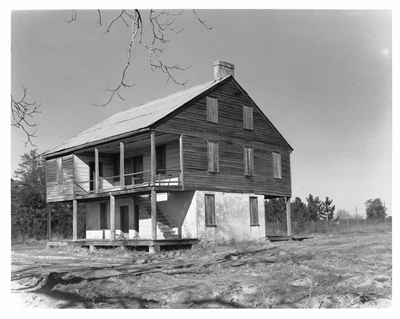 OCTOBER 2019 UPDATE: In response to J. Foreman's comment below regarding the Stagecoach Inn (built in the mid-1700s!), W. Clifford sent CoD this vintage photograph of the place and, happily, wanted it posted here. It's a wonderful shot. The Stagecoach Inn originally stood in Ellenton, SC, but was moved to Aiken, where vandals tragically burned it down.

In fact, I'll quote Mr. Foreman's full comment as it's quite interesting:

"My ancestors (George Foreman 1701-1786) settled on 455 acres in the area of Ellenton in 1745 and shortly after that built the Stagecoach Inn next to the road from Augusta to Charles Towne (as it was called then). The inn remained in the family and operated as an inn until after 1900. It remained after the government took over that area for the Savannah River Atomic facility but was given to the Aiken Historical Society around 1961. They moved it to a location west of Aiken where it was restored to become the headquarters of the group but was burned by vandals before it could open. I'm looking for stories and especially photos of it and would appreciate contacting anyone with information."

Thanks to both W. Clifford and J. Foreman for sharing such fantastic history. And I hope you see this photo, Mr. Foreman! JM