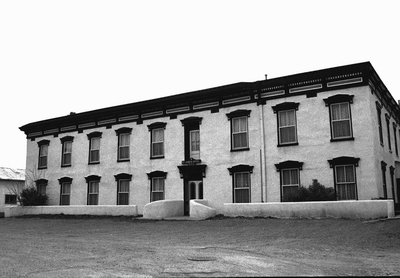 I've been trying to get back to the St. James Hotel in Cimarron, New Mexico for over five years now. In the fall of 2005 I was driving from Oklahoma to Taos via U.S. 64 and, on a whim, stopped for a few minutes at the old hotel. I immediately knew I wanted to spend some time there, but the road was calling and soon I had to get going. I bid the place adieu and vowed to return. Back then, I didn't know that the St. James is considered one of the most haunted hotels in the United States. All I knew was what I'd just read in an article tacked to a wall; that the hotel was built in 1872, that 26 people had been killed in the saloon alone, and that everyone from Jesse James and Buffalo Bill to Clay Allison and Zane Grey had spent the night. As it turns out, not all of those claims are necessarily true, but there's still more than enough verifiable history in the St. James Hotel to satisfy me.

When I posted about the ghost town of ELIZABETHTOWN, New Mexico awhile back, I mentioned Henri Lambert. Lambert, a Frenchman, had moved from Washington, D.C. to Elizabethtown in 1864 to try his luck at mining. Eventually he gave up on gold, however, and returned to his previous occupation as a chef.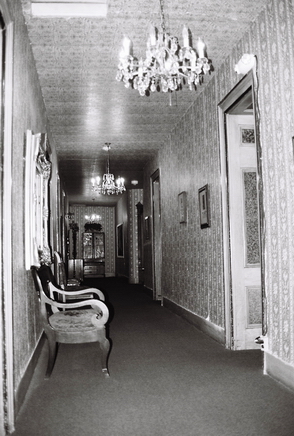 It's been said that Lambert was Abraham Lincoln's personal chef, but there is no hard evidence of this. On the other hand, it probably is true that, while living in Elizabethtown, Lambert was presented with a severed head. More on that grim tale can be found HERE. Lambert left Elizabethtown in 1871, moved to Cimarron (Spanish for "feral," but also meaning "wild" or "fugitive") and, in 1872, opened a saloon, which became known as Lambert's Place. Not surprisingly, the saloon did a brisk business and, by 1880, Lambert had made additions, including hotel rooms and a restaurant. Lambert's Place became the Lambert Inn and, eventually, was re-named the St. James Hotel.

Cimarron was indeed a wild place and the names of most of the people killed in or around the hotel between 1872 and 1884 are known, as are the names of the killers. Henri Lambert himself shot two people and, in the mid 1870's, it was apparently not uncommon to be asked, "Who was killed at Lambert's last night?" But it is worth considering that the notorious Texas gunfighter, rancher, and outlaw Clay Allison is credited with killing 11 people at the St. James Hotel, which means that, without Mr. Allison, the place would've been much less violent. Still, numerous bullet holes remain in the saloon's tin ceiling to bear witness to the rough times.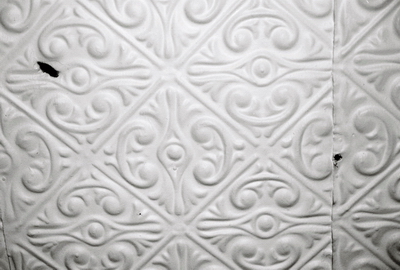 If you believe what's been written, you'd think that many (if not most!) of the major figures of the Wild West stayed at the St. James Hotel. Here it's often difficult to separate fact from fiction, but I'll try my best and, if anyone can further verify or deny these claims, please do so. First, it's said that Jesse James stayed at the hotel, but that's probably not true as there is no evidence that Jesse James ever came through northern New Mexico. Annie Oakley, also reported to have spent time at the St. James, never visited New Mexico at all. The story is that Annie Oakley was passing through with Buffalo Bill Cody while they worked on putting together a Wild West Show,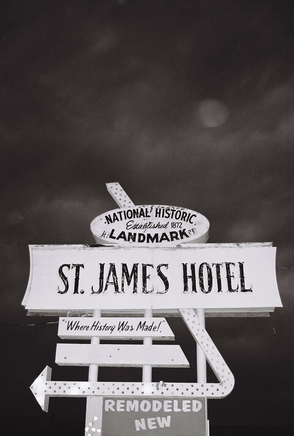 and thus there's reason to suspect that Buffalo Bill never stayed at the hotel either. On the other hand, Buffalo Bill was said to be a personal friend of the Lambert's, so the jury might still be out on that one. Legend has it that the Earp brothers and their wives spent three nights at the St James on their way to Tombstone and, you know, that just might be true. Clay Allison most certainly stayed many times, leaving the bodies behind to prove it. Bob Ford, the guy who shot Jesse James? Maybe. Ford is credited with shooting a man named Bob Curren in the St. James in 1882, the same year he shot Jesse. But I wouldn't doubt that he actually came through later, on his move to Las Vegas, NM in 1884. In the early 20th century, Zane Grey definitely spent time at the hotel, writing some of Fighting Caravans in room 22. Other figures like Black Jack Ketchum and Doc Holliday? They were at times nearby, but your guess is as good as mine as to whether they really visited the St. James.

It's useful to know who really stayed at the St. James Hotel so that, in the event of a haunting, you can better guess whose ghost you're dealing with. Jesse James? Not likely. Henri's wife, Mary Lambert? Quite possibly, especially if you're in room 17 and there's an overpowering odor of rose perfume.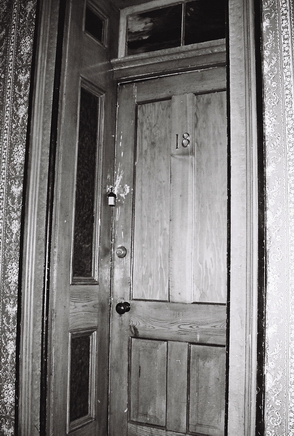 Perhaps the most interesting spectral figure at the St. James is Thomas James (T.J.) Wright. T.J. Wright was reportedly killed upstairs in the card room, following an evening of gambling. One story has Lambert himself shooting Wright in the back as Wright walked away after Lambert had gambled (and lost) his entire hotel to T.J. I doubt that's accurate, but, whatever the case, Wright was dead at the age of 22. Now, Wright's violent spirit is said to occupy his old room, number 18. So many guests have reported being tormented by Wright's ghost, some being physically hurt, that room 18 is now padlocked and guests are not allowed in. Our bartender said that he sometimes goes up to the room and has a glass of whiskey, leaving one behind for Mr. Wright.

We spent the night in the Mary Lambert room, but I didn't notice any essence of rose. Right across the hall was room 18, and my girlfriend reported hearing creaking floorboards from that direction that kept her up some of the night. She was pretty spooked, actually. Myself? I slept very well, thank you. In the morning I peaked through a crack in the door to get a look at room 18. I could see some torn wallpaper with holes showing through the plaster and plenty of dust. Whatever is going on, that room hasn't been used for awhile.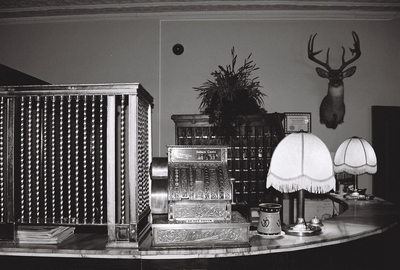 Finally, to wrap up this epic post, the St. James hit hard times when the railroad cut off traffic along the adjacent Santa Fe Trail and the mines began to close. The hotel was bought and sold many times and, by 1985, had fallen into disrepair. But, in 1985, the St. James Hotel was fully restored and now, with a modern wing (those hoping to be haunted shouldn't stay in this section) and a large restaurant and bar, the place is once again the liveliest thing going in Cimarron. I'll get back again sometime, I swear.

Wanna stay at the St. James Hotel? Go HERE. But note that they don't take reservations on-line; you gotta call 'em. Information from this post came from wherever I could dig it up; pamphlets, fliers, wikipedia, etc. But NOT Philip Varney's ghost town guide. We'll get back to that next time.