Alright, following a two-month delay due to Covid-19 and an initial pre-order run to get my process down, I'm very pleased to FINALLY make "Abandoned New Mexico: Ghost Towns, Endangered Architecture, and Hidden History" available to everybody. Yes, that means there is now a City of Dust web store! There you can order a signed copy of the book directly from me, as well as find a book bundle, signed prints, and one-of-a-kind framed photographs. If you're near Albuquerque, Treasure House Books & Gifts in Old Town and Organic Books in Nob Hill have copies. We're working on getting the book into more independent shops throughout the state soon, and Amazon and Barnes & Noble are both shipping it now, as well. I'll happily send copies overseas, but postage is expensive (and the book weighs just over a pound!), so it might be worth checking Amazon in your country first...if it operates there.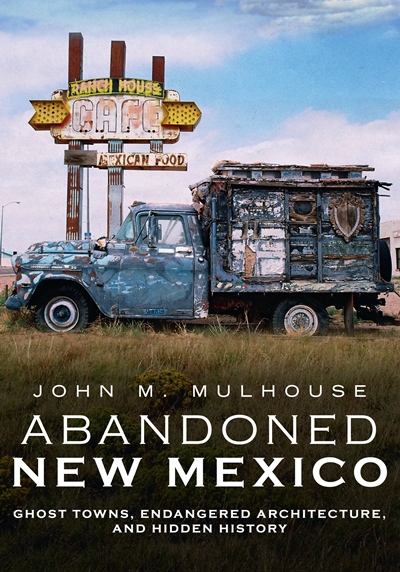 The book clocks in at 40,000+ words and 160 pages, and contains 150 photographs. It's broken into eight sections, which include:
The Albuquerque Railyards
Central New Mexic
U.S. Highway 6
The Eastern Plains
Route 66
Southwestern New Mexico
The Old New Mexico State Penitentiary
Northeastern New Mexico
The initial response has been wonderful and I'm very grateful to everyone that has already bought a copy and/or helped spread the word. There has been a
fun Q & A
in Albuquerque The Magazine,
nice review
in New Mexico Magazine, and a
lovely spread
in the Albuquerque Journal's weekly "Venue" supplement.
All that said, please get in touch if you have any questions or would like to order the book via another means (i.e., Venmo, PayPal, Zelle, cash, check, trade...I take 'em all).
Also, as the City of Dust blog has been dormant for the two years I've been working on this book (and moving across state lines a couple times, as well), I really, truly hope to resume posting here shortly. 2020 hasn't been kind to plans of almost any type or description, but fingers crossed!
And with that...please stay tuned!