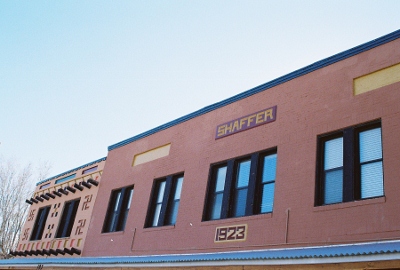 There's nothing quite like a night in an old hotel. Last year we stopped by the St. James Hotel up in Cimarron and now we'll check out the Shaffer Hotel in Mountainair. Mountainair, about 90 minutes south of Albuquerque, was named for the fresh breezes that blow off the surrounding mountains and down through the town. Mountainair is also the self-proclaimed "Pinto Bean Capital of the World." This second claim to fame tells you something about what most people in Mountainair do for a living.

Established in 1903, Mountainair soon attracted the attention of Clem "Pop" Shaffer, a blacksmith who arrived in 1908 to work his trade and sell useful items like caskets and coffins. Mr. Shaffer built a hotel out of wood which promptly burned down. So, in 1923, he built another hotel, this one out of cast concrete and various bits of iron that he collected from wherever he could. This hotel would not burn down.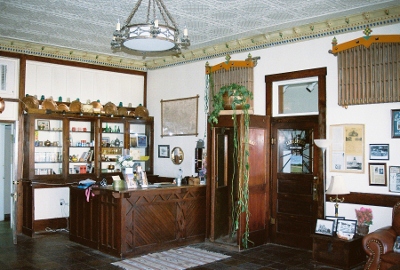 But the fact that the Shaffer Hotel is made of concrete is almost entirely obscured by its ornamentation, a mesmerizing mixture of Native American symbolism, fantastic creatures, and menacing characters of unknown origin.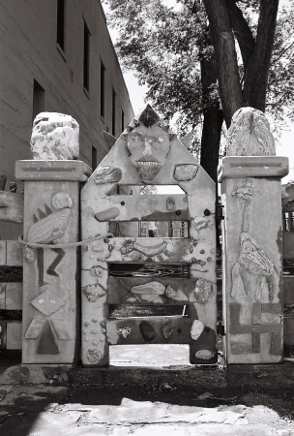 While loosely considered "Pueblo Deco," Pop Shaffer's vision is almost too singular and idiosyncratic to fit the term. While not exactly comforting, the hotel's artwork, which includes painting, sculpture, and numerous things made out of rocks, all created by Pop himself, is pretty incredible. And, yes, it is jarring to see what appear to be swastikas scattered about. However, this is not the Nazi swastika, but a Navajo symbol, sometimes called "whirling logs," that represents healing and can face either left or right. Four large whirling logs that originally lined the top of the hotel have been covered over.

Pop Shaffer's hotel did well for him and he added a Ford showroom and garage in the back of the place, alongside the coffin workshop. A restaurant was opened next door, the ceiling lavishly carved and colored. Each day, like clockwork, Pop's second wife, Lena, went shopping for food and provisions. This gave Pop a little time for extracurricular activities, but one day Lena returned unexpectedly to find her husband climbing the stairs to the rooms of the hotel with another woman in tow. Lena produced her pistol as the mistress drew hers. However, as was common in those days of unpredictable side arms, both shots went very wide of their marks. Lena's bullet hit the ceiling behind the staircase. The mistress's lodged in the molding of the ceiling opposite the staircase. One has to wonder what Pop Shaffer thought of this incident. I have found no record of how this domestic crisis was resolved, but it did not end in divorce.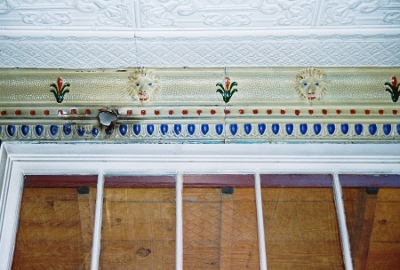 There are those that say Pop Shaffer still resides in his hotel. A man who hung himself in Room 16 is also said to haunt guests. I was told that the previous Halloween a father had requested that he and his daughters be given the most haunted room in the hotel. The man was put in 16 and his daughters got the adjoining room of the suite. In the middle of the night the man went to use the bathroom and felt a chill then turned to see the outline of a body on the bed. He attempted to go to his daughters but was unable to unlock the door to their room. They awoke and were likewise unable to open the door from their side. Early the next morning the woman that runs the front desk came in to find the man and his daughters sitting downstairs. The girls were crying. The man said they weren't staying another night and the hotel could keep their money as far as he was concerned. The desk woman said she made the refund anyway. I couldn't convince MLE to stay in 16 so we took an adjacent room where I slept quite well but she did not, feeling a little rattled by the general atmosphere.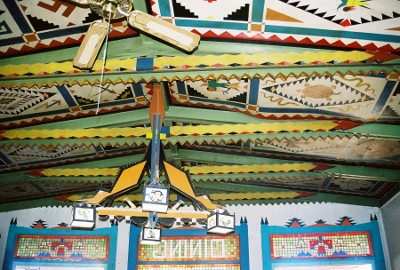 While we weren't haunted by ghosts, the night we stayed at the Shaffer one of the women that worked at the hotel was being stalked by an ex-boyfriend who threatened to shoot everyone inside. He drove by a couple times and the police were called. At one point, while eating in the restaurant, we were asked to step away from the front window. For a few minutes we drank our tea by the cash register, waiting to see which way things would go. But, in the end, there was no gunfire at the Shaffer that night, surely how Pop would prefer it.

Not far from the Shaffer Hotel is Pop's old residence, Rancho Bonito. Guarded by an alarming wooden creature and comprised of two fairly small buildings that are perhaps even more colorful and fanciful than the Shaffer, it's very much worth a look. Both the hotel and Rancho Bonito are on the National Register of Historic Places. The Shaffer is for sale or lease if you want to own or operate a piece of history. Accommodations range from "cowboy" rooms with no bath to spacious suites. I'm sure all ghosts will be included at no additional charge.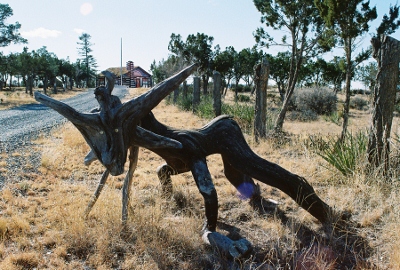 Information for this post mostly came from the Shaffer Hotel's now-gone website. A bit more came from a personal tour of the place and the rest from lived experience.

JANUARY 2016 UPDATE: The Shaffer and its restaurant have opened and closed a couple times since this post was written almost exactly four years ago. In mid-2015, it was shuttered again and, sadly, shows no signs of re-opening anytime soon.

MARCH 2020 UPDATE: The Shaffer and its restaurant have opened again! Such great news! You can find them on FACEBOOK and rooms are available on Airbnb.