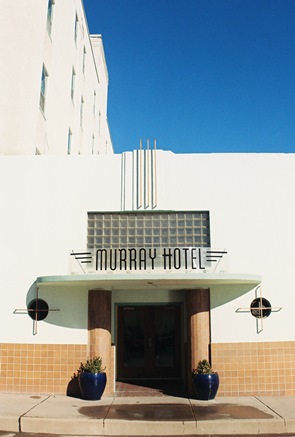 It's been awhile since we've visited an operating historic hotel, but over the last couple years we've seen the Express St. James in Cimarron and the Schaffer Hotel in Mountainair. So, it's fitting that we also take a look at the recently restored Murray Hotel in downtown Silver City, NM. A beautiful Art Deco building, it was constructed on the site of the Broadway Hotel, which was torn down in 1925. Across the street is the Palace Hotel, another lovely place, which opened March 1, 1900 in the former Meredith and Ailman Bank building, built 1882.

Construction on the Murray Hotel began in 1937 and, with the country still reeling from the Great Depression, it was no trouble to get very skilled craftsmen to build the joint, which was originally designed to have 52 rooms, three retail stores, a restaurant, a coffee shop, a bar, and a luxurious lobby. Steam closets and low shower heads were even installed in the bathrooms so that women would be able to get the wrinkles out of their clothes while cleaning up after a long, hot, bumpy, and rumple-inducing journey.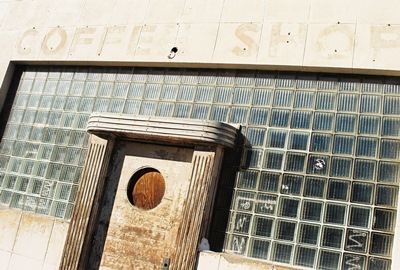 Below is an iconic photo of 16-year-old Martha Ryan, granddaughter of the hotel's developer and NM state senator W.D. Murray, on her horse in the terrazzo-floored lobby. It was taken to promote a Fourth of July Rodeo in 1938, before the hotel was even finished. Incidentally, W.D.'s grandson, Murray Ryan, was a long-time NM state representative. The Murray officially opened in October '38 with a grand celebration. Anyone who was anyone in southern New Mexico turned out, including hotel magnate and Paris Hilton antecedent Conrad Hilton.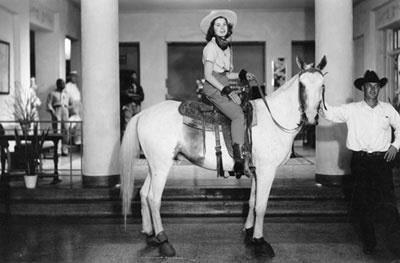 In 1949, as the American economy boomed post-WWII, another 48 rooms were added to the Murray in a north tower, making an even 100, and a spring-suspended maple-floored ballroom was installed. The parties held in the ballroom remain legendary among local old-timers. The hotel also took on a more explicitly Western vibe and the bar, which had gone by the mining-themed moniker Copper Lounge, became the Branding Room, where ranchers and businessman wheeled and dealed beside a large mural depicting local ranch brands.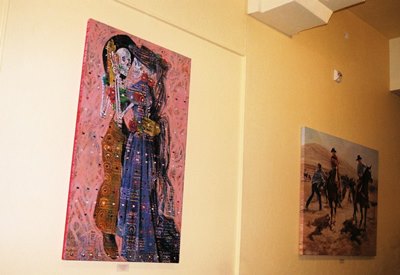 For decades the Murray was perhaps the social center in Grant County. However, by the late 1970's a lot had changed and the hotel was struggling to stay afloat. Area mines had closed, travelers were staying elsewhere and, by the early 1990's, the once-grand hotel was shuttered and appeared abandoned. Eventually, local residents decided that the iconic building should be saved, but it would change hands several times in the ensuing years before anyone could figure out quite what to do with it.

Finally, in 2005, the Murray was bought by the Albershardt's, who began a long and expensive restoration. Extensive cleaning was required as the hotel had seen its share of vandals and homeless residents and it was a given that the original Art Deco design elements needed to remain intact. The hotel re-opened for business in spring 2012 and, at this point, I believe as many as 82 rooms have been restored, as well as the ballroom and various banquet and meeting rooms.

My visit to the Murray Hotel occurred last Christmas during a freak (well, this is southern New Mexico) blizzard that earlier had me cut-off from my desired route to Silver City through Hillsboro,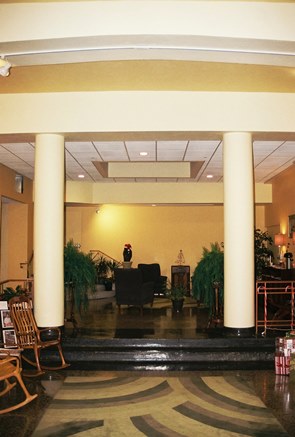 Kingston, and the Black Range. The Murray, however, was warm and inviting and sipping complimentary herbal tea in the lobby, which looks just as it did when Martha Ryan parked her horse there, was…well, not exactly a rugged, Western way to spend a holiday evening. But I can't ever complain when in Silver City, even if snowbound and unable to brave the elements for just the short walk to Billy the Kid's childhood cabin. The rooms were likewise cozy and still have a vintage feel to them, despite the extensive updates.

Obviously, I highly recommend a stay at the Murray Hotel, which has been so faithfully restored as to leave one pretty convinced they've entered an Art Deco time portal back to the late 1930's. Now if they would just re-open the Branding Room and maybe book a Duke Ellington gig.

Information for this post came mostly from the Murray Hotel itself. Check out their website and Facebook page for reservations, correspondence, and all that kind of thing. A tour of the hotel can be found on You Tube.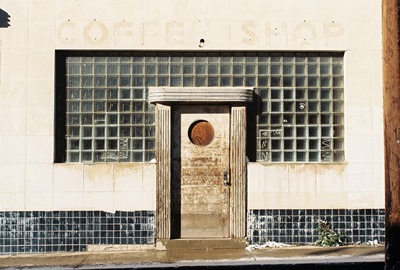 Alright, enough of the shiny and new(-looking). Next time it'll be back to some abandonment. We'll travel way across the state and return to the eastern plains near the Texas border to hit some little-known towns that I can barely dig up any information on. So, those of you who have been fervently wishing for less time-consuming posts will be sighing with relief. I'll be sighing with relief myself, actually.