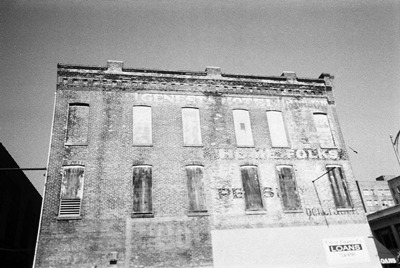 Eighth (aka Jackson) Street was once one of the most bustling thoroughfares in Augusta, Georgia. Union Station, a large railroad depot built in 1903, was located at 525 8th Street and all along 8th, from the station to the Savannah River, there were hotels and restaurants to serve the constant stream of passengers. In fact, 8th became known as the "White Way" because of its many street lamps burning all night long, guiding weary travelers. In the picture below, the Genesta would be up two blocks and on the left.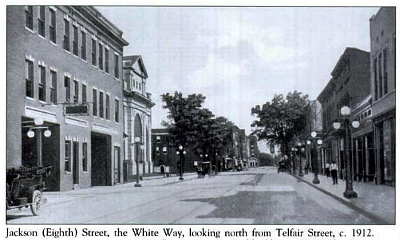 In 1905, two years after Union Station was constructed, the Genesta Hotel opened. At that time, it would've been one of many hotels on 8th Street, but it stood out for its elegance. In fact, on August 6, 1908, a supper party was held at the Genesta to celebrate that afternoon's marriage of baseball great Ty Cobb to Ms. Charlie Lombard. Miss Lombard's family was well-known in Augusta and quite successful. They paid for the party, although Ty would be soon raking in the big bucks himself. You see, there's always been money in sports.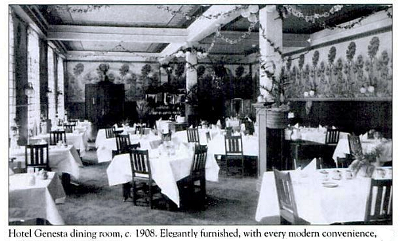 The Genesta Hotel burned in 1923, but was restored and, in 1932, renamed the Clarendon. Since then, its history has disappeared into the mists of time. For years the building has stood empty next to the Art Deco Woolworth's, which was built in 1945 and has been vacant since 1992. As far as I know, the Genesta is the last hotel standing along the now-lamp-less White Way, with only the view from Ellis Street, which clearly shows the fading paint of the old sign, giving any indication as to what was once inside.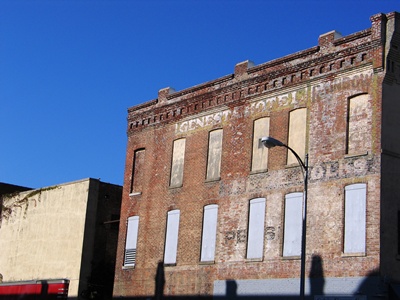 Union Station closed in 1968 and was torn down in 1972. Ellis Street, which I profiled with some photos back in 2005, sees little activity and even Eighth Street is mostly quiet these days. If you hope to hear the constant bustle of travelers and the conversations of the rich and famous as they dine at the Genesta Hotel, you'll only be listening for ghosts. As for me, I just wish I'd found a way inside to hear them better.

I got some info on the Genesta from an Augusta Chronicle article mentioning a silver tablecloth crumber from the hotel being added to the Augusta Museum's collection. Some facts about Union Station came from Rail Georgia. The historical pictures of the Genesta and the White Way are from Augusta in Vintage Postcards by Joseph M. Lee III. Finally, I learned the nugget about Ty Cobb's wedding supper from Ty Cobb: Safe at Home, by author and Central Savannah River Area historian Don Rhodes.