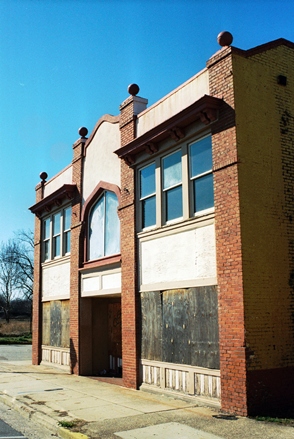 In addition to James Brown's old neighborhood, my recent trip back to Augusta, Georgia yielded another forgotten treasure: the Palace Theater, later known as the Red Star Restaurant and/or Café. I'd passed this old building countless times on my wanderings up and down deserted James Brown Boulevard, but always assumed it had once been a church or something. And, I guess, in a way, it was.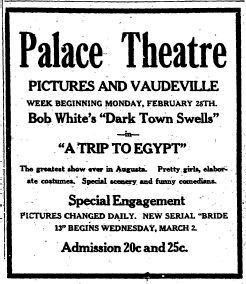 The Palace Theater originally opened in 1920 as a vaudeville theater typical of the era except, perhaps, for the fact that it catered to an African-American audience. As such, it is the only theater of its type still standing in Augusta. And, when I say "standing," that used to imply "just barely." Recently the entire front façade of the building collapsed into the street. I'm a little surprised that the façade has now been rebuilt exactly as it looked for decades and decades since the place appeared basically abandoned for years. Is something finally going to be done with the old theater? Is its face lift merely because of the new Federal Justice Center across the street? Is the theater still as historic if it has an entirely new façade? I don't know the answers to any of these questions, I'm just glad they didn't tear it down.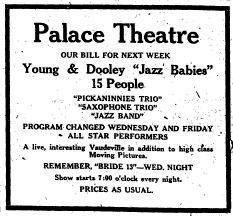 Anyway, the Palace Theater eventually became the Red Star Restaurant. The building may also have housed the Palace Restaurant and the Red Star Café, but I am uncertain as to whether these are real names or just transpositions of the various monikers. The Red Star Restaurant also functioned as a hotel for African-American performers who were in town. Some friends of mine in Augusta referenced an article stating that not only had Ray Charles stayed at the Red Star Restaurant on an early tour, but that he'd played there, as well. Unfortunately, the original article could not be found and, beyond that, there is almost no information to be found on the history of the Palace Theater/Red Star Restaurant, hence the name of this post.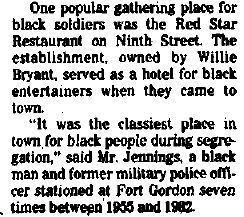 The ONLY PAGE I could find on-line turned out to have some interesting historical information, including a few old ads and posters. As I have only one photo of the building in my archive (had I known its history I certainly would've taken more!) I have taken the liberty of presenting these same ads here. I have attempted to contact the owner of this page to no avail but if you happen to read this, Augusta Amusements, thanks for the info and please get in touch. Hopefully you don't mind my wholesale ranacking of much of your page.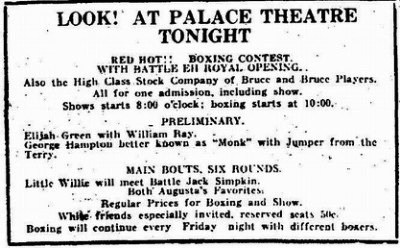 So, I'd like to wrap this post up by asking anyone that has any memories of the Palace Theater/Red Star Restaurant to please submit your recollections via the comment form or e-mail (see my profile for address). I'd love to know who performed, stayed or ate in this building, once a lonely relict amongst lonely relicts on James Brown Boulevard and now a lonely relict across from a massive government complex.