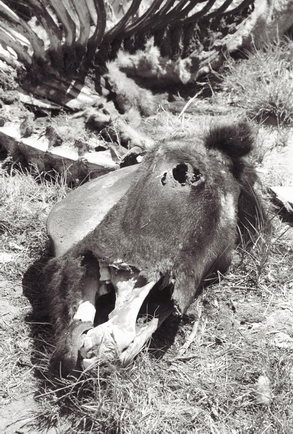 The Printmakers' Studio will be featuring some Albuquerque photographers for the next 6 weeks and I've got two prints in the show. The opening will be this Friday, March 4, 2011, in conjunction with Albuquerque's First Friday events. Most of the photographer's will be present and there will be art on the walls and free food on the tables. What could be better? There will be another event at the gallery the following First Friday, April 1, 2011, with photographer's present at that, too. So, if you're near Albuquerque and free this Friday, why not come on down? The gallery is open during business hours, as well.

This photo of a horse skeleton, taken on Albuquerque's West Mesa, is one of the photos I'll be showing. It looks different (better?) in a fancy frame. The other shot, also taken on the West Mesa, has already been posted on City of Dust. Can you guess which one it is? Yeah, didn't think so.

The Printmakers' Studio is located at 423-425 San Mateo Blvd NE, ABQ, NM. The openings will run from 5PM-9PM.