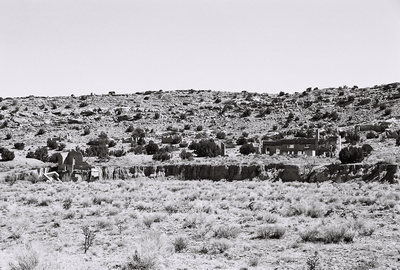 East of I-25, beyond the San Felipe Casino north of Albuquerque and down a dirt county road heading towards Madrid, lay the ruins of Hagan, New Mexico. Established in 1902, Hagan was yet another New Mexican town brought to life by coal, taking its name from mining investor William Hagan. Coal deposits had been discovered along the Una de Gato (Cat's Claw) Arroyo and, by 1905, about 60 miners were living in Hagan, adjacent to the base of operations.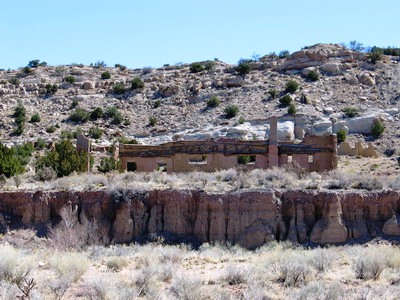 Hagan had to wait a long time for the railroad, the life's blood of any mining town. Hauling coal by wagon was so expensive that the mines were shut down by 1910. After a line was finally run to the Atchison, Topeka & Santa Fe in 1924, following a couple failed attempts, the town's population grew to about 500. Soon Hagan had running water, electricity, and toilets and some large structures were built, including Hagan Mercantile (shown above), then the largest adobe building in New Mexico. Cattle ranching and brick-making also became important ways of making a living in Hagan. However, the railroad had been running less than six years when the coal seam started to thin out around 1930. The town died quickly. A few folks stuck around until the very early 1940's, but the post office was already gone by 1931.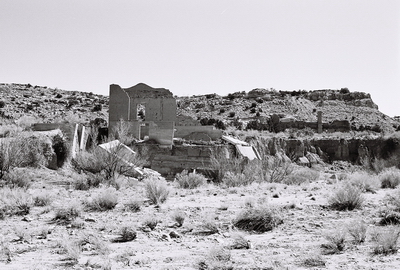 Not much remains of Hagan. There are a couple crumbling buildings, a few foundations, and a slowly capsizing railroad way station (pictured above). However, Hagan's location is very picturesque and its apparent (if not actual) remoteness makes for some excellent atmosphere. But if you visit, don't go beyond the overlook beside the road.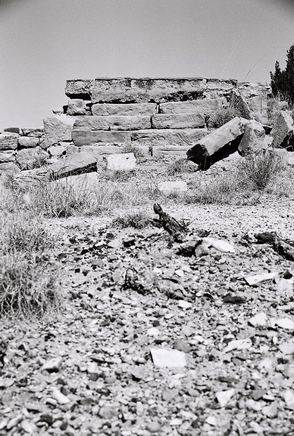 The Hagan property is owned by the sprawling Diamond Tail Ranch and posted as private. As none of our party was able to read the day of our trip, we crossed the arroyo and walked right into what was once the old town. But we got to spend only a few moments taking photos before a representative of NEW MEXICO JEEP TOURS arrived and asked us to leave. He was cordial enough (and, of course, he didn't need to be) but made it clear that there was no way we were setting foot in Hagan without booking a jeep tour. The jeep tours look very interesting, actually, so perhaps NM Jeep Tours would like to provide me with a promotional discount. I'd certainly like to see a bit more of Hagan and check out the nearby petroglyphs, too.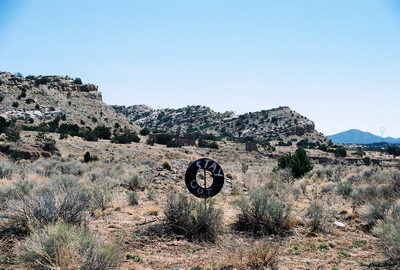 Hagan has almost completely sunk beneath the sands of time. There is very little information available on the town's history and much of what is out there is repetitious or, in some cases, probably wrong. So, my synopsis is based on my trusty copy of New Mexico's Best Ghost Towns: A Practical Guide by Philip Varney (1981, Northland Press) and an excellent post (including better photos than I was able to get) by the TORRANCE COUNTY ARCHAEOLOGICAL SOCIETY.

The next City of Dust post will be on Hagan's ghost town neighbor, Coyote. Also, a stay at the St. James Hotel in Cimarron, New Mexico has been booked. In addition to being one of America's most haunted hotels, the St. James is rich with history and bullet holes. A post on it will be forthcoming.