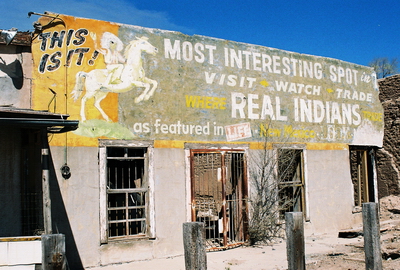 Just north of Albuquerque, a short distance west of I-25 and right off Historic Route 66, sits the old Santo Domingo Indian Trading Post, apparently waiting for its fate to finally be decided. Built by the Seligman Family in 1922, the trading post supplied authentic jewelry made by artists from the Santo Domingo (now Kewa) Pueblo to travelers on Route 66, as well as providing gas and Nehi orange soda. Being on the Atchison, Topeka, and Santa Fe line meant that the Southwest Chief, running between Chicago and Los Angeles, also stopped there, as did John F. Kennedy on at least one occasion.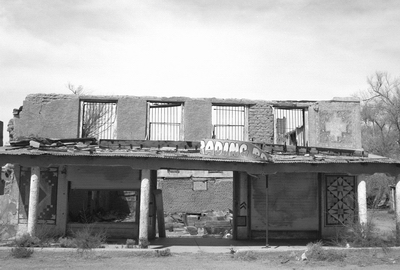 Considered to be of historic significance ("architecture/engineering, event") and built in a vaguely Mission/Spanish Revival style, the trading post is #97001592 on the National Register of Historical Places. It was added to the New Mexico Register of Cultural Properties in 1997 and, when added to the national register on January 9, 1998, the current function of the building was listed as "commerce/trade." Now, 13 years later (and 10 years after the building was gutted by fire), its current function is less obvious. However, in July 2010, the trading post received a one million dollar federal restoration grant from the Economic Development Administration to re-open and offer arts and crafts made by residents of the Kewa Pueblo. But clearly that money hasn't been spent yet. Given the current economic climate, who knows what will happen to the trading post.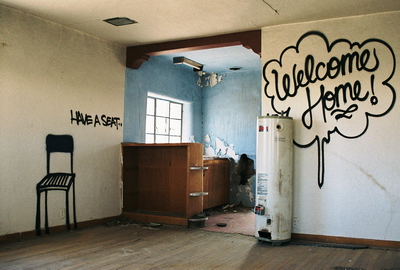 I have to say that I really love this building. For some time before I managed a visit I eyed it longingly from the Rail Runner, which stops just across the street, on trips to and from Santa Fe. A black and white photo of the façade hangs in my office, one of the very few photos which I've taken that are actually displayed in my home. I hope it gets rehabilitated someday soon and isn't left to just collapse into the dust, as seems highly likely. Alas.

Next time...more ghosts.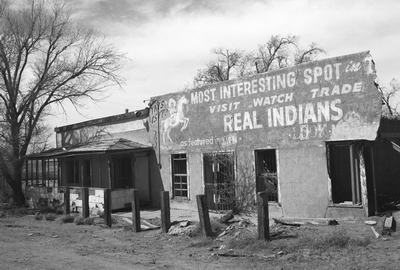 Information for this post came from Only In New Mexico, a blog by former Mayor of Albuquerque Jim Baca, and Route 66 News. The National Register of Historical Places listing can be found HERE. Thanks to Killbox for tracking down the historical register listing.

All photos taken around or inside the trading post and adjacent buildings.

2013 UPDATE: Below is the best picture of the Santo Domingo Trading Post in its heyday that I've ever seen. Apparently it was once known as "Silver Dollar's Indian Trading Post." A sign above the gas pumps, on the left side of the pole, says, "J.F.K. was here. 12/7/62." It's great to put a date to the visit and, judging by the old-style pumps and people's clothes, the shot might well be pre-1970. Thanks to Matt for sending this one in.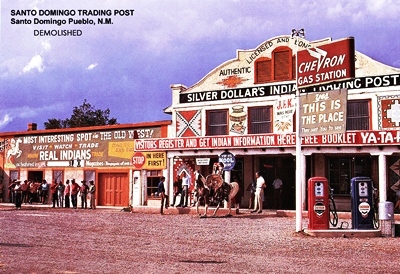 JULY 2014 UPDATE: Recently a comment was left by someone with the initials M.W., who said they had grown up in the adobe house to the right of the Santo Domingo Trading Post. They were six at that time and are 51 now. So, I looked through my photos for a shot of that house and, while I don't have a real good one, the house can just barely be seen at the very far right of the picture below. I believe it was torn down when restoration work began on the trading post a couple years ago.