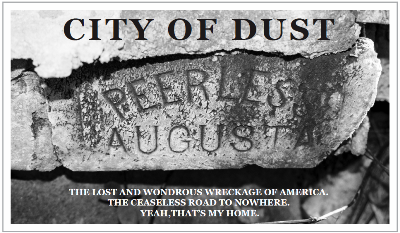 I'm just back from the 2012 Augusta Photography Festival in Augusta, Georgia. This visit back to the place where I first conceived of City of Dust, and the related exhibit which I was at least partially there to promote, are the best things that have ever happened as a result of my photography and attendant attempts at historical documentation. And it was all because of this website. So, let's hear it for the internet. It does occasionally produce results that would not be possible otherwise. I still recommend being wary of it though. You never know what you might find or how much time it will cost you.

Anyway, the City of Dust exhibit has had its run at the Augusta Public Library extended until at least November 14th. Three sets of three Stonehenge-sized panels occupy space beside the stairway on all three floors of the Main Branch at 823 Telfair Street. Walk right in the front door and you can't miss 'em. This beautiful new library is right off James Brown Boulevard, which I used to explore when it was considerably more desolate.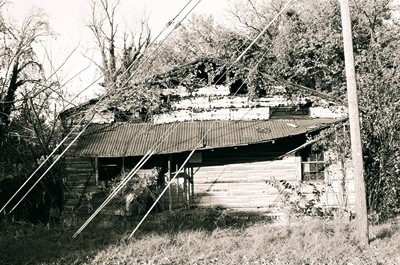 Once the exhibit closes at the library, it will move over to the Aiken County Historical Museum in South Carolina. This is very exciting. It certainly beats having the panels cut-up for fire wood since they're too big to store in even a good-sized garage. The exhibit might be available for viewing at the museum as early as December 3rd. The Aiken Historical Museum occupies a 1930's-era mansion named "Banksia" and it's at 433 Newberry St. SW in Aiken. Like the library, admission is free, but why not become a member? Tell them City of Dust sent you!

In the spirit of the exhibit, the festival offered two excellent photo safaris to some historic buildings in downtown Augusta. One, the Miller Theater, City of Dust has visited before. But this time I got better photos. The other sites were the Marion and Doughty Buildings and the Lowrey Wagon Works/Confederate Boot Factory, none of which I had anything close to access to previously. As after my last trip in 2010, when I stopped by James Brown's old neighborhood and dug up some information on the Palace Theater,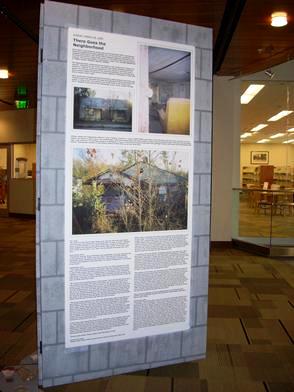 the next few posts will document the places I photographed while back in Georgia. In addition to the safari buildings, I found a few new out-of-the-way spots and checked-out what remained of some old favorites, like that house above in the Harrisburg neighborhood. Yes, it looks worse now. I also learned a few things. See that brick at the top? I really knew nothing about the factory from which it came, even though I did a whole post on the place years ago. Now, a lecture attendee has told me it was probably the Hankinson and Haugh factory. And the old freezer facility on Walker St. that was torn down? It was owned by Swift and burned in a fire started by homeless people in which one person died. Anyway, like in the old days I hope to do this series of posts quickly, in contrast to my current once-per-month-if-I'm-lucky pace. So, stay tuned and we'll get started shortly.

Thanks to Tricia and Peter Hughes for all their hard work and dedication to construction and promotion. Thanks also to the Augusta Public Library, the Friends of the Library (check the link for a story on the exhibit), the Augusta Photography Festival and Rebecca Rogers, and Verge Magazine and Mary Bordeaux for publishing many fine articles in advance of the festival. Also, thanks to the Aiken County Historical Museum for offering to host the exhibit next month. Finally, thanks to Lowe's for donating the material used to make the panels themselves. Many thanks everyone!