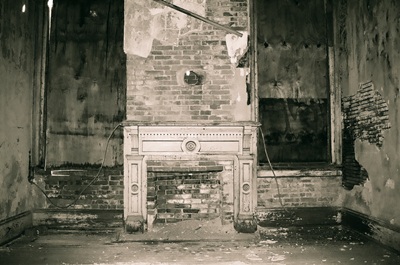 Let's start our trip back to Augusta, Georgia at the intersection of two of my favorite streets, Ellis and James Brown Blvd (aka 9th St.). In '03 and '04 I used to wander around this area a lot and I took many photographs. Later, I did entire posts on Ellis St. and JB Blvd. Ellis St. has got to be cool if Dinosaur Jr. shot the first part of their video for Over It there. At the time, I didn't know much about the history of the buildings I was visiting. For many of them, this is still the case. But, with the help of Historic Augusta, this year's Augusta Photography Festival got access to one that I passed many times, so now I know at least a little something about it. One of the things I know is that it's got some great fireplaces. The two featured at the top and bottom of this post were up on the second floor. Those are the original mantels, too.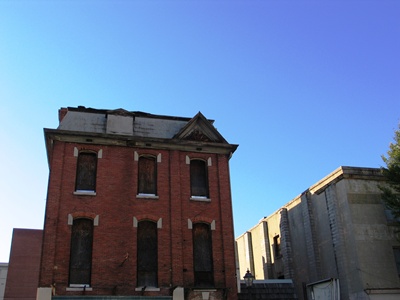 This building, at 307 James Brown Blvd, just south of Ellis, we'll call the Doughty Building since the three-and-a-half story Second Empire style structure was built by Dr. William H. Doughty, Sr. as an investment property between 1884 and 1890. Yup, it's old. And it's on the National Register of Historic Places. Dr. Doughty's son, William Jr., was Dean of the Medical College of Georgia from 1910-1923. His tenure ended suddenly when he died from an infection following a tooth extraction.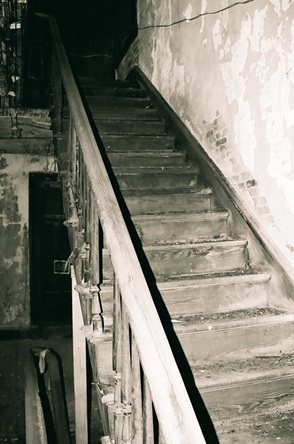 I'm not sure if there's irony to be found there or not. But I digress. The building was originally intended to be a commercial townhouse but by the late 1800's it was a Chinese laundry operated by Sang Sing and Sang Lee. Clothes were washed into the 1900's and then, in 1917, the building was bought by Mrs. Ellen J. Doremus, the daughter of former Augusta Mayor Charles Estes. Mrs. Doremus paid $8000 for the place and the lower level, at least, remained mostly commercial space. Now part of the first floor is home to a furniture refinishing shop but most of the rest of the building is vacant and just waiting for someone to come along and give it a helping hand. There's what appears to be about 120 years worth of wallpaper at the foot of these entryway stairs.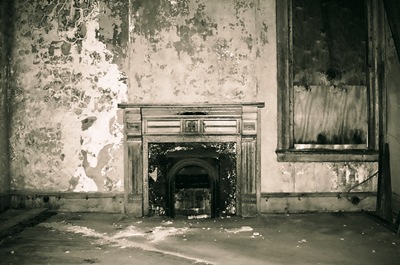 If perhaps you'd like to purchase this building (now at $59,900), Historic Augusta's listing is a good place to start. There is a preservation easement on the property, so at least it's got some protection. Besides Historic Augusta's webpage, I got a lot of information for this post from material they originally put together for a loft tour and which was used again during our visit. I learned about Dr. William Doughty, Jr.'s tragic fate from the Medical College of Georgia's website.

The next post will be on the Doughty Building's neighbor at 301 James Brown Blvd (you can see a little of it at the right in the color photo above), the Lowrey Wagon Works aka the Confederate Boot Factory. So, yes, this one will be pre-Civil War.