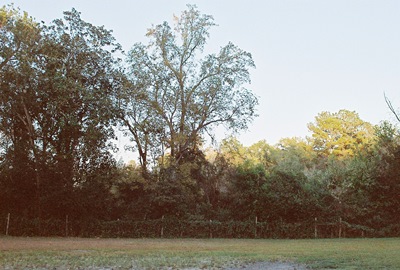 Some ruins draw us in because of what's left behind, even if we don't know who was there or what they did. Other times, we may know a little history, making what remains all the more evocative. Then there are those locations where the passage of time has obliterated all evidence and no visible clue to the past remains, even if that past was beautiful and transcendent night after night after night. Such is the case with a small patch of lawn in South Carolina which now contains only a shallow pond and abuts a scraggly woods.

Not far from the Savannah River, on Carolina Springs Road, near Highway 1, you may hear ecstatic ghosts if you listen hard enough. Here stood Palmetto Park and Pond, a two-story, thousand-capacity dance hall and adjacent concrete-lined swimming pool for cooling off before sets, once a major stop on the "Chitlin' Circuit." Featuring the very best of African-American entertainment from May 12, 1932 until a final Christmas dance in 1941 (just weeks after Pearl Harbor), the list of musicians that graced its stage makes your head spin. Check a few of these dates:

June 7, 1940: Ella Fitzgerald & her orchestra.
April 20, 1941: Jimmie Lunceford & his orchestra.
May 5, 1941: Ella Fitzgerald & her orchestra.
May 21, 1941: Cab Calloway & his Cotton Club Orchestra.
Aug. 4, 1941: Lil Green with Tiny Bradshaw & orchestra.
Sept. 19, 1941: Louis Armstrong & his band with vocalist Ann Baker.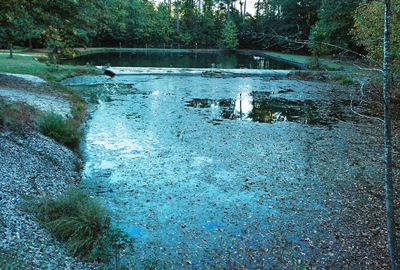 Also known to have played at Palmetto Park and Pond were King Joe Oliver, Dizzy Gillespie, "Queen of Swing" Edith Curry and her orchestra, Maxine Sullivan ("the Loch Lomond Lassie"), Graham Jackson (an accordionist pictured in Life Magazine weeping as he played "Going Home" while FDR's body left Warm Springs, GA) and his Seminole Syncopators, Erskine Hawkins and his orchestra, Smiling Billy Seward and his Celery City Serenaders, "Queen of Jazz" Blanche Calloway, Speed Webb and the Hollywood Blue Devils, "The Sensational Harlem Playboy" Willie Bryant, Mitchell "Kid" Harris, Banjo Bernie, Hosea Sapp and his Swing Kings, Desmore and the Rhythm Kings, Al Cutter and his Twelve Knives Band, Zack Whyte, Floyd Ray with Joe Alexander ("Harlem's Bing Crosby") and Eddie Brown ("The World's Greatest Drumming Man"), Clarence Love Orchestra, Wilson's Swing Band, Clarence Moultrie, and Earl "Fatha" Hines, amongst many, many others on countless bills now lost to the ages. Below is a shot of Palmetto Park and Pond in its 1930's heyday.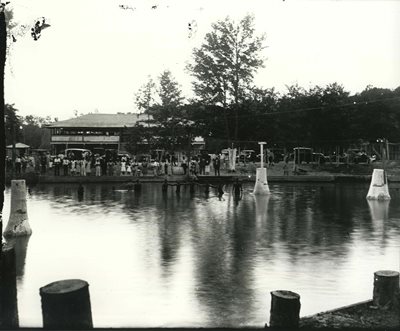 We should make a special note of Hamburg, South Carolina-born singer Arthur Lee Simpkins, known as the "Black Caruso," and his Nite Hawks, who, of course, frequented Palmetto Park. With a range from C to F above high C, Arthur Lee sang at the 1964 memorial for soul legend Sam Cooke, whose "A Change is Gonna Come" still knocks me out every time.

Before becoming Palmetto Park and Pond, the site hosted church gatherings. A black social club known as the Dragons began having swing concerts in 1932, which led Duke Lamback, a local BBQ restaurant owner, and Joe Minnick to up the ante considerably in terms of booking (and BBQ, too, apparently). Soon the bills became so awesome that free buses ran from the corner of Laney-Walker and what is now James Brown Boulevard to bring folks over the river from Augusta. Finally, something very rare and special for the time happened: White people began to attend the concerts, were welcomed and, by all accounts, everyone got along just fine. Granted, seating was still segregated, but, at the height of Jim Crow, this clear example of the power of music to break down prejudices should be remembered.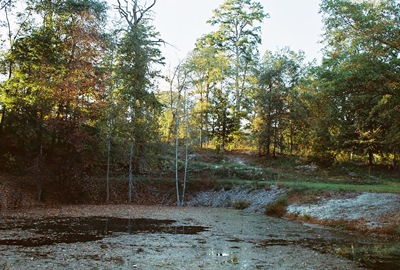 WWII, however, ruined the fun and, with so many men of all races being drafted, Palmetto Park closed and the land was sold. The pond struggled on for awhile after the war as a local swimming hole. Then, for many years, a trailer park was on the site until it became more trouble than it was worth. Now, all is quiet. But, if you listen close, you might still hear that trumpet blow.

If you do a Google search for Palmetto Park and Pond, virtually all roads will lead back to Don Rhodes, who has single-handedly resurrected the memory of this once-grand venue. In fact, through the exhibits committee of the North Augusta Arts and Heritage Center, and with the help of the committee's chairman, Milledge Murray, and the center's director, Lauren Virgo, he helped assemble an exhibit in its memory in North Augusta's Municipal Building. The exhibit in large part can still be seen today at the Aiken (S.C.) Museum of History. So, pretty much everything here comes from Don one way or another and I thank him for telling me about Palmetto Park and then bringing me out there for a visit. I swear you can still feel the energy of the place. Thanks also to the current property owner for not calling the cops on us before Don could introduce himself. The owner provided some excellent history, including pointing out just where the bandstand had been. (It would've stood right where the trees are behind the chain link fence in the photo at top and below).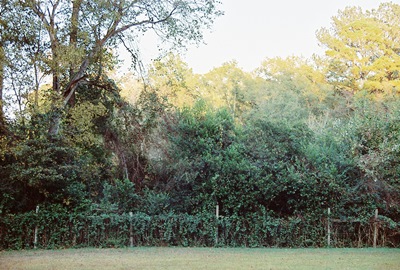 You can read more about Palmetto Park and Pond HERE and HERE. If you'd like to read about Arthur Lee Simpkins at Palmetto Park, check out this BOOK CHAPTER by Tom Mack. If you know anything at all about Palmetto Park and Pond, please leave a comment!

That's it for now. The next post will have us leaving my former home in the Central Savannah River Area and returning to my current home of New Mexico, where we'll head south to a little town nestled beside the Organ Mountains.