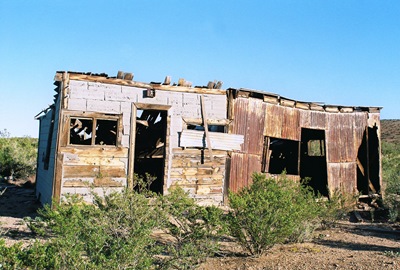 Last post we visited San Antonio, New Mexico, the spiritual home of the Hilton Hotels chain. San Antonio experienced a boom when coal mines ramped up production in Carthage, about 10 miles east. One of those early mines, the "Hilton," was owned by August H. "Gus" Hilton. But, while San Antonio is still pretty hard to miss, especially if you're looking for cranes at Bosque del Apache, three towns closely linked to San Antonio—Carthage, Tokay, and Frailey—have sunk deep into oblivion. In fact, even the true spelling of "Frailey" has been lost. You might see it referred to as "Fraley" or "Farlay" and either might be right. One spelling that is probably not correct is the one found on the NM Historic Marker beside nearby Highway 380, which has it as "Farley." At top is what might have once been part of an auto garage, judging by nearby remains.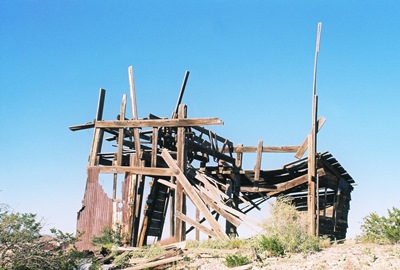 Carthage was the site of the first coal mine in New Mexico, the Government mine, which employed U.S. Army soldiers in the early 1860's and supplied Forts Bayard, Selden, and Stanton. Construction of a railway to ship coal to San Antonio from Carthage began on March 1 of the year that seems to represent the zenith of the Wild West, 1881, when Billy the Kid died and there was a Gunfight at the O.K. Corral. I think the shot above might be the bottom of a tower used for watering locomotives.

The Santa Fe Railroad Co. finished a bridge across the Rio Grande in 1883 and, by 1889, Carthage topped the list of coal camps in the state with a population of about 300. But, by 1893, coal production was lagging, so the Santa Fe Railroad Co. made a deal to move the entire town to Cerrillos, NM. On August 17, 1893, the Old Abe Eagle reported, "…All the dwelling houses, coal chutes and machinery have already been moved. The place has practically been razed to the earth and the depot, adobe hotel and Gross, Blackwell and Co. are about all that remain." The Santa Fe Railroad then promptly went into receivership on Christmas Eve. Almost two years later it would re-emerge as the famous Atchison, Topeka, and Santa Fe (AT&SF).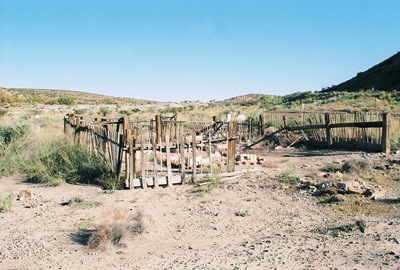 From 1894, coal extraction continued while mines changed hands and changed hands again. The abandoned Santa Fe Railroad Co. line finally ceased operating entirely in 1896 and then everyone spent some years trying to figure out how to get the railroad to run those 10 miles to San Antonio again. The difficulties of (re)building the short spur came to a head in 1905 when competing mining and railroad interests sued each other. Mining ceased for two years during the litigating. Finally, the case was settled out of court, 50 new miner's homes were quickly built by the Carthage Coal Company, and production surged.

Then, on New Year's Eve 1907, there was a massive explosion in the Bernal mine which killed nine miners, throwing two 300 yards from the site. Two more were seriously injured. It was said that many more would've been killed if it weren't for the fact that the accident occurred during lunch and most men were eating. A somewhat lesser disaster struck Carthage on February 22, 1918, when coal dust ignited in the Government mine, killing one mine inspector who improperly used his safety equipment and a sparrow.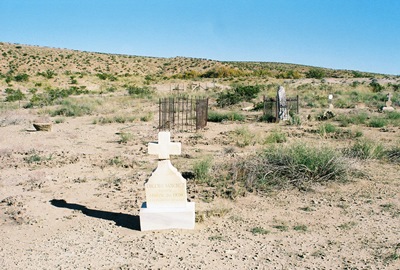 Mining continued for decades, but eventually with diminishing returns. The last train left Carthage on August 28, 1931. After that, things were really on the downswing, although serious mining interests struggled through into the 1940's. The last mine, Tres Hermanos, was opened in 1980 by Cactus Industries. It was closed by 1981.

Now, if you look at the entry for Carthage on ghostowns.com, you will see a note dated April 2, 2000 which laments that most of what had remained of Carthage--apparently a fair amount--had recently been hauled off to a nearby dump.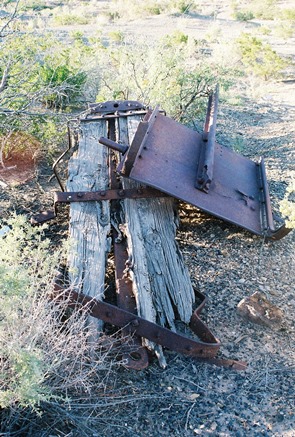 The "clean-up" was ostensibly part of a "desert restoration project" and, while I sure love the desert, I find this a little hard to believe. There is so much wide-open space in every direction out here that restoring this small area strikes me as bizarre. Not impossible though. On the other hand, "Ghost Towns and Mining Camps of New Mexico" stated in 1975: "Today what is left of Carthage is fast melting into oblivion." Other than the impressive adobe ruins of the large home of a mine superintendent, John Hart, who left Carthage in the mid-1940's, I have no idea what's really been lost in the interim. At least the corpse of the small mining car above persists.

Whether Carthage disappeared recently or long ago, what remains now is hard to identify. Millions of pieces of broken glass glitter in the sun, a surprising percentage of them pink and purple. (So much for a restoration, eh?) A few stone foundations can be seen here and there. Several old mines can be located, all sealed and capped. Walking the raised rail trestle from the relatively intact Carthage Cemetery, it's unclear where Carthage becomes Frailey, the site of a limestone quarry and kilns owned by Mr. J.B. Frailey, once the trainmaster at San Marcial, now also a ghostly town.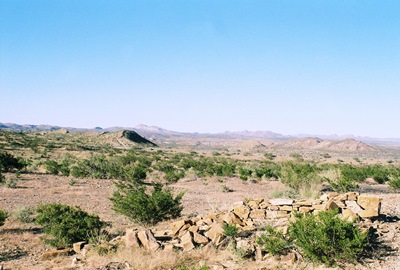 Then there's Tokay, founded in 1918 by Bartley Hoyt Kinney, Sr., who was involved in the Carthage mines and organized the San Antonio New Mexico Coal Company. He wanted to name the town "Kinney," but the post office refused. Finally, while talking to the postal inspector at Mr. Kinney's general store, he saw a box of Tokay grapes and said, "How about Tokay?"

Tokay actually struggled into the late-1940's, but eventually mining ceased and its structures were moved to Socorro. It would've been around here somewhere. But where? Who knows anymore? Just a few miles southeast is the Trinity Test Site, where, on July 16, 1945, the first atomic bomb was detonated. Carthage, Tokay, and Frailey, once sizable and active places, couldn't be much more obliterated if they'd been at ground zero.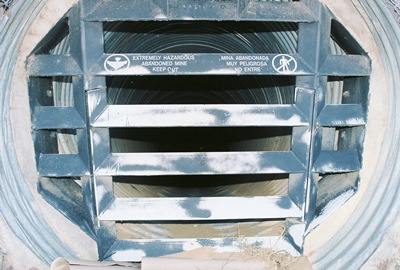 Hey, even Philip Varney didn't have much to say about these three towns. There's little to be found on Carthage, but, surprise, surprise, there is one scholarly article, "Mining History of the Carthage Coal Field, Socorro County, New Mexico." It's the best source, by far. I also consulted the aforementioned ghostowns.com. Even less can be found on Tokay and Frailey and what I managed to unearth was part of a good history of the railroad in the area at New Mexico Wanderings. Old newspaper articles on the mine explosion can be found at gendisasters. Oh, and let's not forget Ghost Towns and Mining Camps of New Mexico by James E. and Barbara H. Sherman. Historic Carthage photo courtesy of Viva New Mexico.

Next time, we'll make a quick stop at San Pedro, just between Carthage and San Antonio.