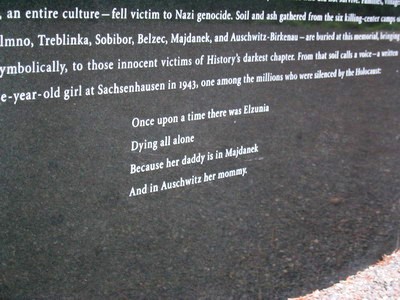 On a wall of the Holocaust Memorial in Washington Park, amongst the pine trees which overlook the city of Portland, Oregon, a short verse is inscribed in stone. Written in 1943 by a nine-year-old girl imprisoned at Sachsenhausen, the four lines read:

Once upon a time there was Elzunia
Dying all alone
Because her daddy is in Majdanek
And in Auschwitz her mommy.

AUGUST 2016 UPDATE: Below is a sketch of a young girl submitted by Jules D. The drawing, bearing the name "Elzunia," was found in an antique store in Kraków, Poland a couple decades ago. It seems likely that it is a tribute to the girl whose poem is inscribed on the Holocaust Memorial, and thus is a moving accompaniment to this post. I thank Jules for allowing me to post it here.