The land begins to fall away, slowly at first, then more quickly. At ever-increasing intervals patches of dark blue flash off the horizon, somewhere beyond the trees. Two strips of blacktop lead in either direction, the rolling southbound lane initially providing the traveller with no reason to believe the road will ever end. Towns rush by, their names riddles: Happy Jack, Port Sulphur, Nairn, Empire, Triumph. Clusters of small homes punctuate miles of dense foilage, refineries, and debris. Nearby are ghosts: of the Civil War, of Mardi Gras, of the Mississippi Delta. From the depths of the Delta call the ghosts of The River, as it has always been.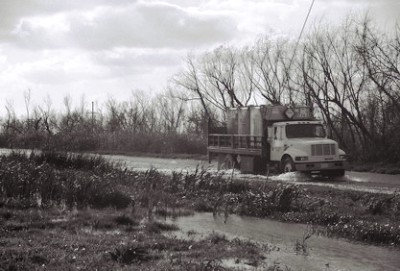 To the west, the Gulf of Mexico stretches out, to the east, the Mississippi River, kept in place by a tall levee. Beyond that, a slip of land and then the Gulf again. It's disorienting to look into the distance on every side and suspect that there is nothing but a vast and sultry, if unseen, expanse. Yet it can be difficult to tell land from water, the boundaries transient and mutable. When, inevitably, land and water meet, land occasionally seems to gain some slight advantage. But water waits, patient, knowing it will finally win. It always does. On Easter Sunday, 2005, the ground was in retreat as far as Venice, Louisiana.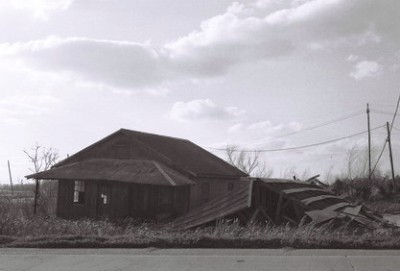 Five hundred miles north and three generations previous a blueswoman from Louisiana looked at the black water of the same river and saw similar earthworks built against it. Staring into the roiling depths that flowed through her country, her body, and her soul, she moaned, "If it keeps on rainin', levee's goin' to break." Rivers, towns, levees, and lives may seem fixed and permanent, but they are not.Memphis Minnie knew this 76 years ago and was moved to sing about it. We forget, yet, someday, we will not.