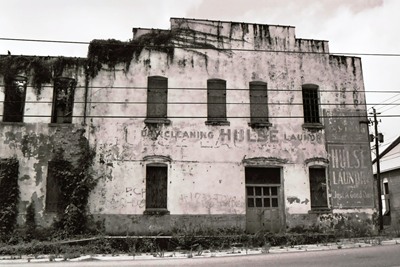 Three posts ago I said that I had four more locations to document from last fall's trip to the greater Augusta, GA area and then it would be back to the Wild West. Well, I can't always be believed and I'm nothing if not a completist. So, to ensure that all bases are covered and no mediocre photo goes unused, we'll do a few more transmissions from the Classic South than I'd originally envisioned. Here's one from the historic Harrisburg District in west Augusta.

If you want to know where Harrisburg is, travel west on Broad Street from downtown. You'll soon encounter the Sibley Mill. Now look all around you. Harrisburg! The neighborhood is quite old and its beginnings can be traced back to namesake Ezekiel Harris, whose home--now a museum--at 1822 Broad was built in 1794. According to the Smithsonian, it is the "finest eighteenth century house surviving in Georgia." In 1800, the area officially became known as the Village of Harrisburg and for several decades was not very populated. That all changed in 1875 with the construction of the nearby Augusta Canal and its attendant textile mills. Soon, industrial and economic growth had Harrisburg booming.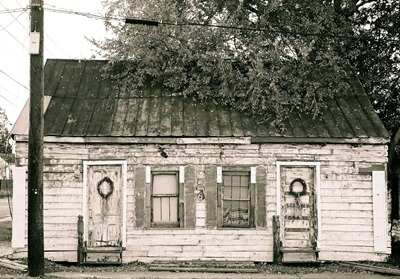 After over 50 years of prosperity, mill work had begun to slow by the 1930's and what had formerly been company houses for millworkers were sold to private individuals. This was the start of a long decline which hasn't quite been arrested yet. In 1972, a number of homes were simply demolished in the name of "urban renewal." A big blow came in the 1980's, when the John C. Calhoun Expressway was constructed, essentially cleaving Harrisburg in two. You know your neighborhood isn't high in the social hierarchy when they put a major road through it.

But now something interesting is happening. The Augusta National Golf Club has reportedly been buying property in the Harrisburg District with an eye toward creating accommodations for golfers, particularly during the Masters. What had previously been weedy lots or dilapidated residences selling for a pittance are suddenly getting more valuable.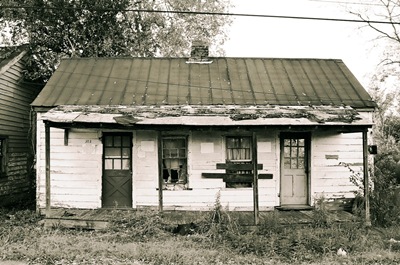 On this particular trip, the goal was to pay a return visit to the Hulse Laundry building at 1976 Ellis St., in view of the Sibley Mill. Hulse Laundry was established by Frank Hulse and his son in 1910. They moved into a building originally built in the 1880's for the Rufus and Carter Tobacco Company and, in the 1960's, changed their name to Hulse-Taylor Dry Cleaners. They often used the somewhat unusual slogan, "Just a Good One," in their advertising. But by the 1970's, after over 60 years in business, Hulse Laundry finally went under, leaving the building vacant. In 1984, the property was gutted by fire. And so it remained, still majestic despite the 20 years of slow decay that had passed, when I last saw it in 2004.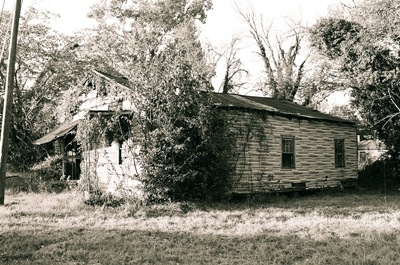 Twenty years is a long time for a vacant building to stand. Twenty-eight even more so. Still, I was a bit surprised to be driving around Ellis St. unable to locate Hulse's, not quite convinced it was actually gone. Eventually, a homeowner wondered why in the world someone was wandering around his neighborhood with a camera and stopped to see what was up. His house appeared to be adjacent to the lot where Hulse's once stood and he was fairly certain the old laundry had been torn down shortly before he bought his property for…$4000. Since then, he'd been offered $40,000 from the Augusta National folks, but had turned it down. His wife thought maybe they should sell, but he said, "This is my home now and I don't want to leave it."

Years ago, the National Park Service designated these Harrisburg - West End neighborhoods as an historic district. As far as I can tell, this has had no real impact on the area good or bad. But golf? Who knows what that will do?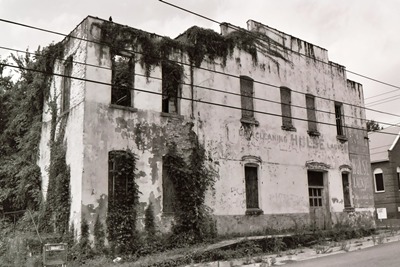 There's not much information out there on Hulse's. An article in the Augusta Chronicle was all I could find. But it's a good article! If you want to see what the National Park Service has to say about Harrisburg, some of which I paraphrased, go HERE.

The photos at the top and bottom of this post are outtakes from my original piece about the neighborhood. The new shots are from nearby streets that for decades and decades would've brought customers and employees to and from Hulse Laundry. These streets have been much quieter for years now, but it seems that might soon change.