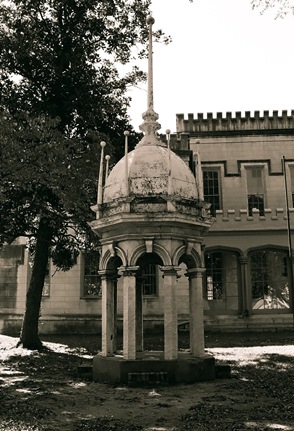 In the last post, which featured the Genesta Hotel, I mentioned the importance of Union Station in the development of 8th (aka Jackson) Street, once known as the "White Way" for its bright streetlamps, which burned all night long, guiding travelers to and from the nearby trains. Union Station itself was at 525 8th St., on Walker, and designed in the Spanish Renaissance style by Frank P. Milburn. Construction was completed in 1903 and the building fronted a leafy public space known as Barrett Square.

Union Station served the Atlantic Coast, Georgia, Southern, Central of Georgia, Charleston & Western Carolina, and Georgia & Florida railroads. That's a lot of trains coming and going and, indeed, the station was large and majestic. So, naturally, it was torn down in 1972, four years after the last passenger had disembarked, and now a post office occupies the site.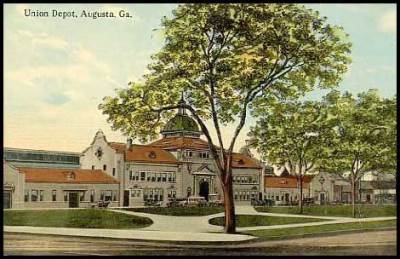 There is practically nothing in Augusta that would indicate that Union Station, once one of the most important buildings in the city, ever existed. I say practically nothing,
because one thing does exist. Tucked unceremoniously into an out-of-the-way piece of tree-obscured lawn on Telfair Street, right in front of the Old Academy of Richmond County, stands the original cupola. You can even climb inside and imagine that you're on top of Union Station, looking out at an early 20th Century scene, perhaps marveling at the smoky, bustling city and trying to remind yourself that in about 80 years you really should buy some Microsoft stock.

The historic postcard picture came from Rail GA. That's also where I got much of the information for this post. The Old Academy of Richmond itself, seen in the background of the top photo, has been recognized by the National Park Service's Historic American Buildings Survey. You can read more about the place HERE.

Next post we're going to (re)visit a dead man.