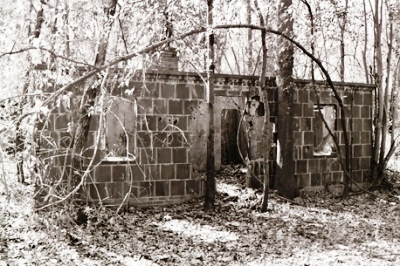 Alright, as I mentioned last post, we're moving across the Savannah River and into North Augusta, SC. In this case, we're crossing the 13th St. bridge, then heading a bit west into what is now forest. Here, tucked away amidst the trees and vines, is an old brick factory. I've tried to figure out just WHAT brick factory this was, but I can find no mention of it anywhere. No, not even on Google.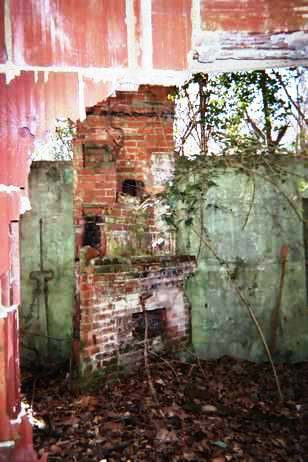 Georgia had statewide prohibition from 1908-1935, a span much longer than federal prohibition, which lasted from 1920-1933. So, South Carolina decided to meet the demand, in spite of some serious protest by the Temperance Movement, by building a package store, which could sell alcohol, just below the 13th St. bridge. As a result, the area under the bridge, just before you come to the brick factory, had a reputation for being somewhat unsavory. Even worse were the streetcars that passed by, often filled with drunk men. The women of the area stayed off the cars at certain times and days to avoid harrassment. In addition, every day, hundreds of people walked across the bridge, some for work, some for alcohol. It's amazing to imagine; there's nothing below the bridge now and hardly anyone crossing over. It's desolate.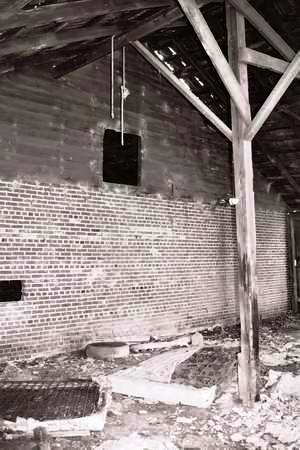 The package store operated for a long time, decades after Georgia repealed the prohibition laws. The building itself survived until relatively recently. About a decade or so ago, I believe, it burned down, the result of arson. Yes, you're absolutely right if you think that annoys me. I would've loved to have gotten into it. All that remains now is some cement flooring. However, it won't be long before even that is gone. They've got big plans for the area. This is a photo of the largest of the buildings in the factory complex.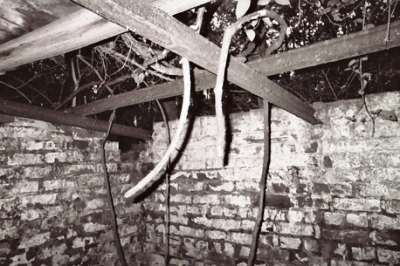 Even the ruins of this old brick factory are not long for the world. The city of North Augusta has broken ground on a massive development that will consume most of the woodland west of the bridge, all the way up to the river bank. There's going to be residential development, paved streets, apartment complexes, and even a huge convention center. Check out these drawings. Sure, I prefer it the way it is, but I don't think my bad attitude is the only reason the word "failure" springs so quickly to mind. Um, folks, Charleston is a bit farther east.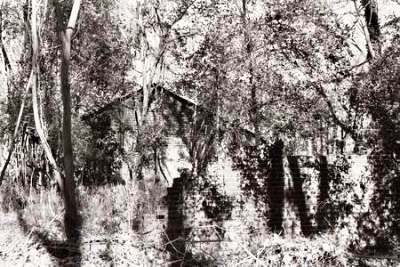 One of the most unsettling things you find around abandoned buildings (and also train tracks, deserted parking lots, river banks, etc.) are women's shoes. They're usually high-heels or something dressy and often in much better condition than the surrounding debris.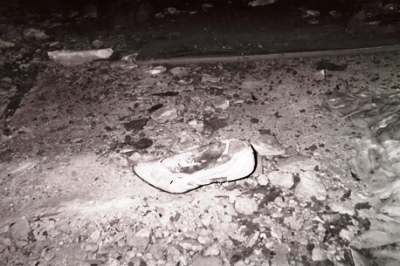 They're shockingly ubiquitous and it simply can't be good. In this instance, it appeared that a woman had lived in one of the smaller buildings in the complex. Judging by some of the other items left around it's possible she was a prostitute. I simply can't imagine that she brought customers to the factory. But I can say that most people would lose their minds if they had to spend a single night out here. Brutal. Did I mention that we're no longer doing the family-oriented posts?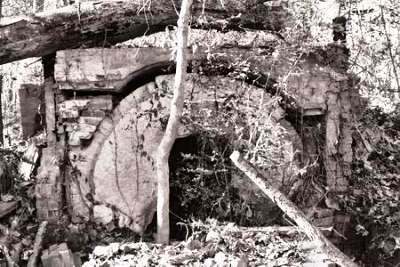 This kiln above actually not part of the larger brick factory complex, but some distance away. It was probably part of another factory altogether. I wish someone had written the history of Augusta's brick factories so I'd know what some of this was. In any case, there were many brick factories in the area because of the nice red clay. There are also remnant clay pits nearby, all soon to be filled-in for parking lots or whatever. I may post some photos of those later.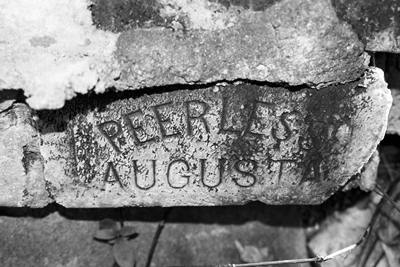 So, that's probably the most comprehensive overview of the area's remaining brick factories that you're going to find. Not much, eh? If anyone knows anything more, please contact me. Actually, if anyone ever knows anything more about any of the things I'm posting, don't hesitate to leave a comment. I'd love to hear about it.

2013 UPDATE: During my return to the Central Savannah River Area in 2012 for the Augusta Photography Festival I was told that this brick factory may have gone by the name Hankinson and Haugh Bricks. Also, it would seem this entire area is now in serious jeopardy. Not from the massive Hammond's Ferry Development, which for some reason hasn't encroached yet, but from a minor league baseball stadium that looks like it would be put right on top of the brick factory (and maybe on top of the very nice Brick Pond Park, too). Sorry, I just can't get behind it.