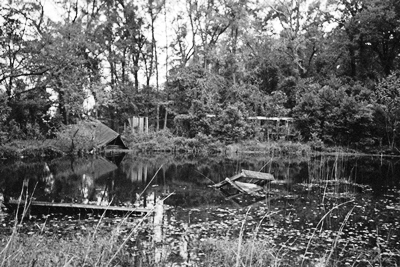 Well, we're deep into the gritty, nefarious world of swimming holes, so we'll hit another one. The oldest record of Getzen's Pond dates back to 1815, when the property was owned by Robert Butler. Butler used the pond to power his mill and, also, probably swam in it. Butler's daughter inherited the pond and she married Judge Henry Getzen. It was Getzen's idea to turn the place into a full-fledged swimming hole.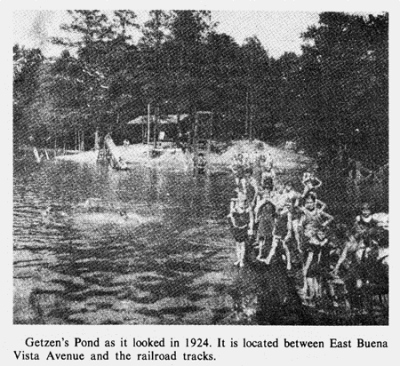 As you can see, Getzen's was a pretty swinging place. At first, only males could use the pond, which was soon known for it's clear, cold, spring-fed water. Initially, everyone just swam nude, since this was back in the days before people had clinical body-image problems. By the time of this photo in 1924, the boys had put their bathing suits back on and the girls were allowed in. I can only assume those events happened in that order, but you never know. This photo (and most of the info) was swiped from that History of N. Augusta book I mentioned last time.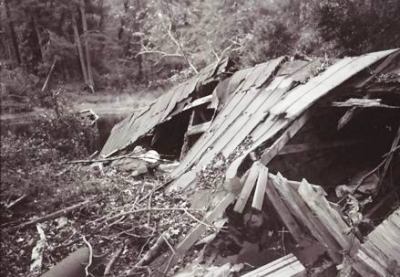 The pond was rented to one "Possum" Lott during WWI, but "Possum" got drafted and Dr. H. G. Mealing took over. This is when Getzen's Pond really became popular, with folks walking in from all over N. Augusta and coming across the bridge from Augusta for all-day outings. Incidentally, there is supposedly a beech tree beside the pond with the initials "H.C." carved in it. The initials are said to refer to Kentuckian Henry Clay, who we all know as a famous senator, Speaker of the House of Representatives, Secretary of State under John Quincy Adams, and bitter enemy of Andrew Jackson. He died in 1852 though, so he would've had to have stopped by the pond pretty early. I haven't really canvassed the pond to look for the tree because, uh, there's a lot of trees. But beeches can live to be 300-400 years old, so it might still be there.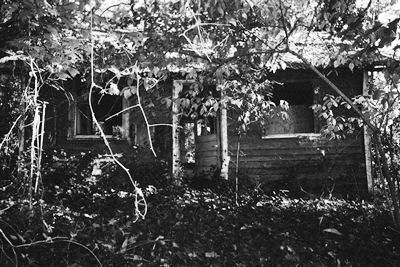 Eventually, Dr. Mealing's mother, Katherine Getzen Mealing (Judge Getzen's daughter), assumed management of Getzen's Pond. Cabins were built nearby and some families stayed throughout the summer months. It's possible that pictured above is one of those original cabins.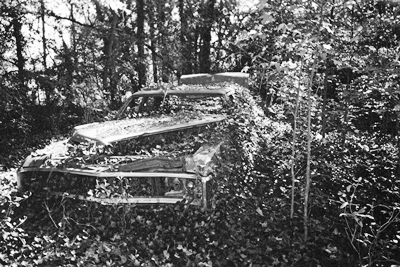 After the death of Kate Getzen Mealing in 1936, her daughter, Katherine Mealing, ran the place, offering Red Cross lifesaving lessons at least into the mid-1940's. But she eventually closed the pond when it got too expensive to operate, perhaps because of taxation by the City of North Augusta. Ms. Mealing still swam there herself though, and snuck a few of her friends in. There's no mention of who owned it after the Mealing's, but they forgot their car.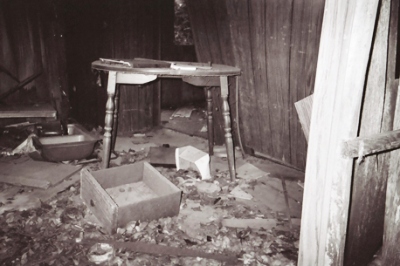 At some point a trailer was moved next to the lake. There's not much left of it at this point. It wasn't safe to actually go into the thing, but you didn't have to. This picture was taken through a massive hole in one side. Now, Getzen's Pond abuts a golf course on one side and a busy road on the other. It sits in a large parcel of woodland, however, so it might take the developer's awhile to get to it. In the meantime, the citizens of N. Augusta swim there no more. I think next time we'll visit the scariest abandoned building I've ever been to. Good fun.

2006 UPDATE: Below are some great old shots of Getzen's Pond in all its glory. The first picture was taken in the early 1950's, possibly 1952. The second photo is from 1943, when it would appear the pond was fairly well built-up. The last photo is undated but shows a diving board and what is possibly a lifeguard stand. Looking at the recent shots it's hard to believe it was once a major swimming hole, but here's more proof. These photos are courtesy of Clarence and Ann Sikes and I thank them for letting me post them. Please see the comments section to read the Sikes family's recollections of Getzen's Pond in its prime.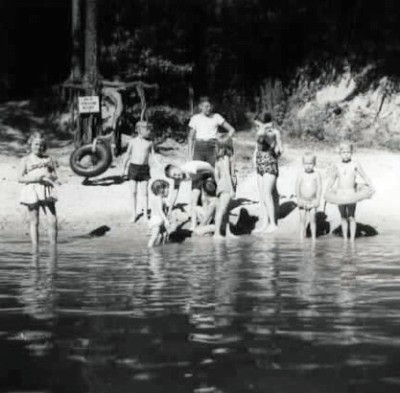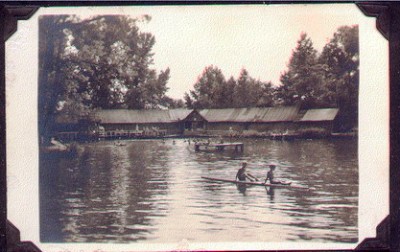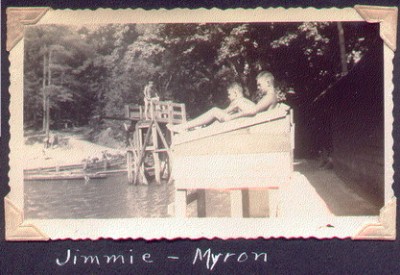 2009 UPDATE: I was recently sent two great photos by JC Young of Augusta. The first is the only shot I've seen featuring the intact Getzen's outbuilding with signage and everything. The photograph is of Gary and JC Young, dated around 1943. The second photo is of JC, Gary and Barbara Young, taken about 1944, after a dip in the pond. I thank JC Young for letting me publish them here. I'm really pleased to present such excellent documentation of Getzen's Pond. Please keep the photos and stories coming!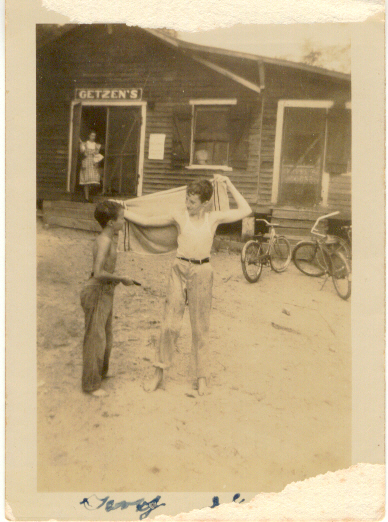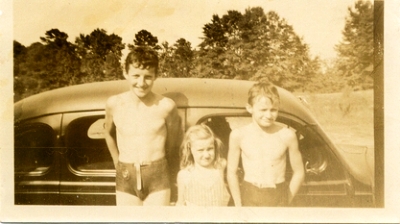 2012 UPDATE: Over the years I've been asked about the fate of Getzen Pond's neighbor, Panic Pond. Until recently, I didn't know a thing about the place. Now, in addition to having learned that it was named for the stock market "panic" that preceded the Great Depression, I can also report that it is under a couple tennis courts by the North Augusta police station. Some of it might be under a Publix, too. It was spring fed and sounded like a nice place for a dip. If you want to read a somewhat bittersweet recollection by Dan Smith of summer days spent at Panic Pond, you can do so HERE. Thanks to Tina M. and her dad for the info.

2015 UPDATE: I recently received perhaps the most detailed first-person description of the halcyon days of Getzen's Pond that I've ever come across. Happily, the author has graciously agreed to let me publish it here. For those wondering what Getzen's was like, this is a treasure trove of information. For those that were there, more than a few bells should ring. Many thanks to Sheila O'Connor-Wilson for sharing her recollections. The first photo at the bottom is of young Sheila and her three older siblings, Jane, Patricia, and Danny, taken in 1941. The second family shot is from 1942-1943. Front row: Betty Casey and Jane O'Connor holding Sheila O'Connor. Second row: Jeanne Otis holding Anne Schweers, Patricia O'Connor and Natalie Oetgen on the box near the shallow water at Getzen's. The last picture is a great one of the diving platform at Getzen's.

"My mother, Mary O'Gorman-O'Connor, and Katherine Mealing were close friends and our family spent most of our summer days at Getzen's. I had sister's Patricia, who was 8 years older, and Jane, 7 years older. There was brother Danny, 6 years older, as well as my younger sister, Mary. My memories are mostly from when I was about 7 to 14.

"Most mornings in the summer a group of girls and boys would arrive by bus from the Hill (Casey's, Cooney's, and others), as well as the Oetjen's, Schweer's, Van Sant's, and Cashin's, who lived near our home right across from Sacred Heart School. We all would meet and prepare for the walk from 13th Street across the bridge and down the ramp (which was near the tall condos now adjacent to the bridge, just on the SC side on the right). The walk continued with the daredevils walking the railroad tracks. The rest of us would continue along the dirt road 'til arriving at the 'pond.'

"There was a specific way we rolled our bathing suits up in our towels and carried them under our arms on route to the pond while also carrying our lunches, often tomato sandwiches that were yummy soggy by the time we ate them. Of course, the lunch was always carried in a brown bag (no special designer lunchboxes). The older girls spent a lot of time on the 'boxes,' sunning all day and dousing their bodies with iodine mixed with baby oil to help tan easier. Some of the big girls would venture to the 'little box' in the 'snake water' to hide and smoke. Was interesting to watch them tread water to get there while holding the cigarettes high above their heads. The first of each summer you would decide to try to jump off the high dive but after going up the ladder you would get 'chicken.' The older kids always told us Katherine's rule was that we could not come back down the ladder or we could not come back. Terrified to jump we might sit on the high dive for hours getting the nerve to jump into the freezing water.

"I remember well the candy store behind the lifeguard stands with 'Mary Jane's' and 'Now or Later's.' It was usually run by Mary Parrish and Tip Mealing, Katherine's sister. There was a ping pong table next to the store that was well-utilized by the boys. Tip was very tiny and quiet. She taught swimming lessons in summer. Think she taught the 'Minnows,' who were the real beginners. She and Katherine both were school teachers. Katherine taught at Tubman and I think Tip taught kindergarten.

"Some of the ballplayers from the Augusta Tigers used to frequent Getzen's. I specifically remember Leo Rigetti. Remember many of the life guards. There were Billy and Charlie Cooper, Ron Galloway, and Billy Lange. They enforced the unwritten rules we abided by at Getzen's in order to maintain order and safety. These are but a few I recall: 1. If you go up the high dive you exit off the board, not via the steps. 2. Only one swimmer on a diving board at a time. 3. Never jump off the sides of a diving board. 4. No ducking. 5. Remain out of the pond either 30 - 60 minutes after eating (not sure exactly of time). 6. No horseplay (never sure what that was but think it was a boy thing). 7. No running on the boardwalk. (That, if you know Getzen's, is funny as the" boardwalk" was a sand path behind the lifeguard stand extending from the bathhouse and entrance area and past the candy store on around to the shallow water.) If one was involved in a game of chase he had to supposedly speedwalk before we knew the word speedwalk existed. Now if we broke these rules one was sentenced to sit on the "bench" for an amount of time determined by the lifeguard. You always had a friend nearby on the "bench" with whom to talk. Everybody seemed to be friends.

"Think of what carefree days these were. No cellphones, no texting, no TV. When a train came by out front the younger children ran to wave to the conductor and the caboose man. There was a black family that lived on a hill to the left of the front entrance of Getzen's. They had a girl and boy in their teens named "Brother" and "Sister." Sister helped Tip in the store at times. They had billy goats that roamed on the little hill and often down in front of the entrance. Precious memories.

"Yes, dibble dabble was the best of games most days whereas chase was always a favorite. Mother and Katherine and some other ladies would play bridge most afternoons for hours on end. Oh we little chillen were forbidden to go to the sand pit. Never quite figured that out. These were very special days of our lives and many friends were made at Getzen's. Thanks so much for this work of yours. Love the stories from all the other friends of Getzen's."

Sheila O'Connor-Wilson. Martinez,GA.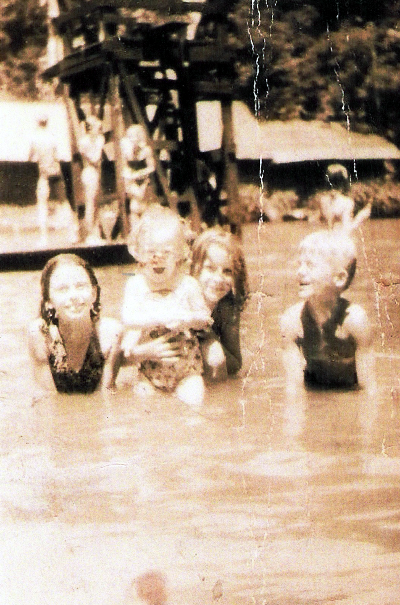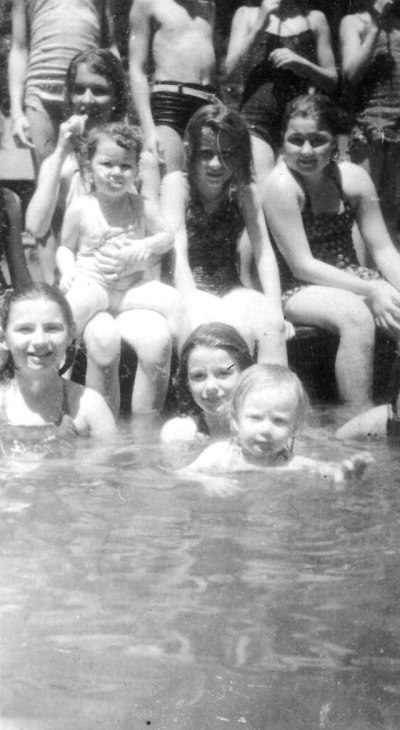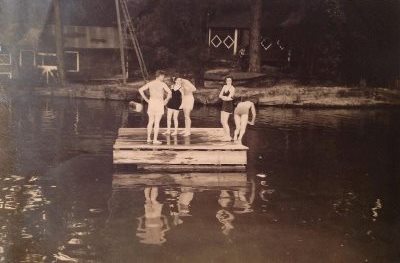 2015 UPDATE (Pt II): In addition to providing the above account, Sheila O'Connor-Wilson combed the archives of the Augusta Chronicle for mentions of Getzen's Pond and turned up some real gems going back 100 years. They're included below in chronological order and speak for themselves, I think. Don't miss the recounting of a scout troop hike to Getzen's from June 3, 1923; it gives a real flavor of the time and place. Many thanks to Mrs. O'Connor-Wilson for her work.

Drowning at Getzen's Pond. Augusta Chronicle, July 14, 1913:



Rescue at Getzen's Pond. Augusta Chronicle, July 28, 1918:

Scout troop hike to Getzen's Pond. Augusta Chronicle, June 3, 1923: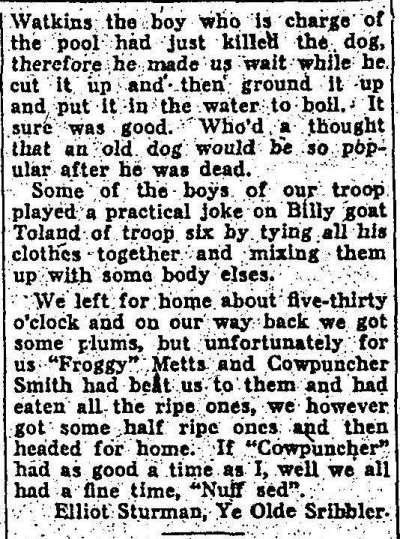 Getzen's Pond advertisement. Augusta Chronicle, May 31, 1925: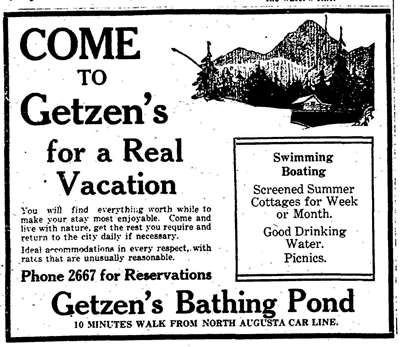 Getzen's passes with swimsuit purchase. Augusta Chronicle, May 22, 1932: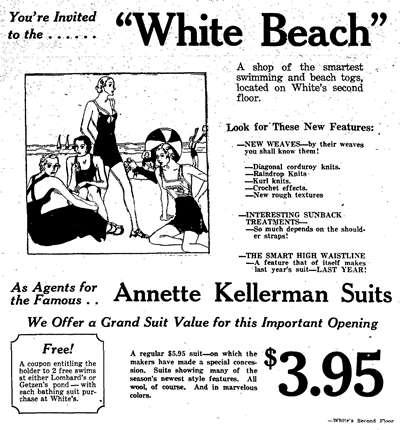 Kate Getzen Mealing obituary. Augusta Chronicle, May 16, 1936:

Getzen's Pond advertisement. Augusta Chronicle, May 26, 1940:
Classes at Getzen's Pond. Augusta Chronicle, June 27, 1945: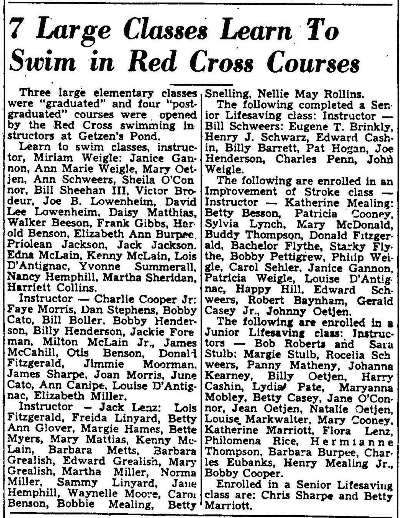 Excerpt from story. Augusta Chronicle, November 13, 1949:

Excerpt from "A Little Different, a Little the Same" by Starkey Flythe. Anthologized in
State of the Heart: South Carolina Writers on the Places They Love
, published 2013: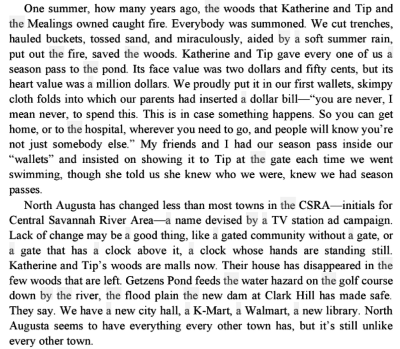 2015 UPDATE (Pt III): And the vintage Getzen's photos just keep on coming! These are from the 1920's or possibly even earlier and come via Ben Schweers, who received them from his aunt Peg. Peg Schweers is in the first picture and was later a sister of St. Joseph, Sr. Rose Margaret. You can find Bill Schweers listed as having completed a Senior Lifesaving course in the June 27, 1945 class list above. Thanks to the Schweers family, as well as Sheila O'Connor-Wilson, for providing such wonderful family photographs from Getzen's!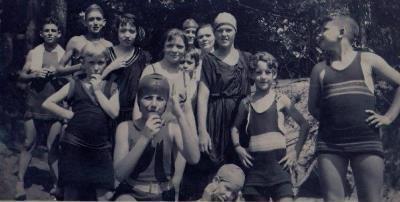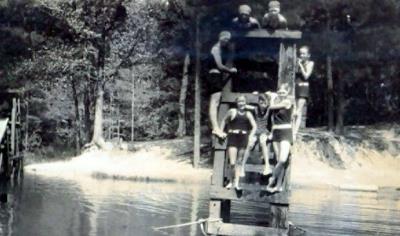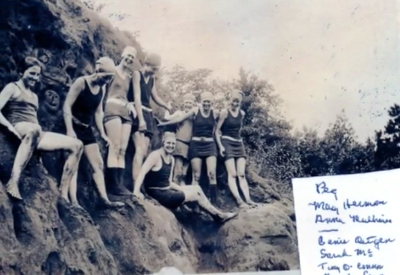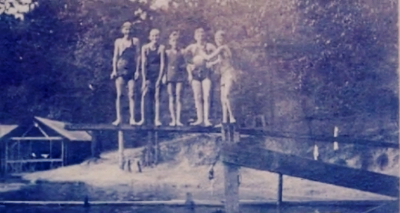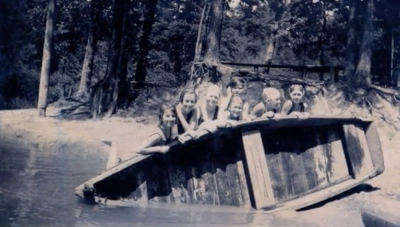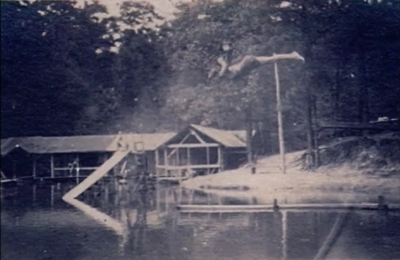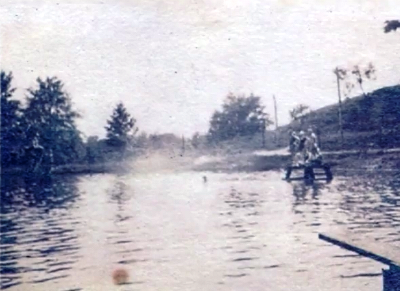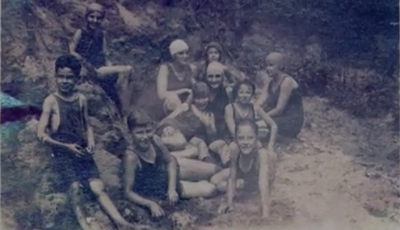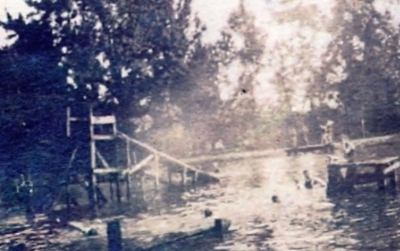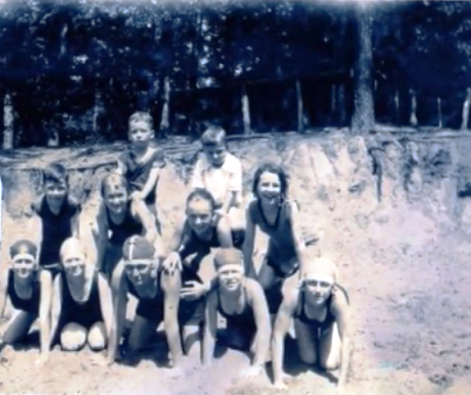 2015 UPDATE (Pt IV): Below we have the best photo of Katherine Mealing, who ran Getzen's Pond into at least the mid-1940's until costs became prohibitive, that I've ever seen. This was shot in 1949 or 1950 and clearly taken at Getzen's Pond, too! In fact, Getzen's might well have no longer been open to the public at this point. Many thanks to J.O. Nimeskern for passing along this gem.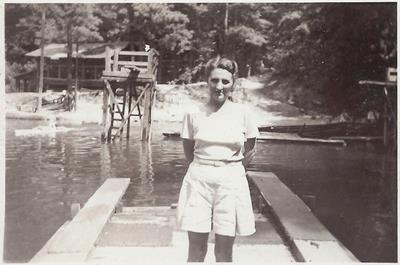 APRIL 2017 UPDATE: Recently a man named Bob Cooper left a comment below about his memories of Getzen's Pond and graciously offered to share his collection of photos. Not being foolish enough to pass up an offer like that, I had Mr. Cooper send them directly to me so that I could add them here. I'll include Mr. Cooper's original comment below. Any information I have about the pictures that follow will be included underneath the photo.

Many thanks to Bob Cooper for letting me post his treasure trove of vintage scenes from the heyday of Getzen's Pond! JM

"My father, Bobby Cooper, and his brother, Charles Cooper, Jr., were both lifeguards and swimming instructors at Getzen's Pond. They both later swam for the University of Georgia and were conference champions. My grandfather, Charles Cooper, Sr., taught there as well. In the early '70's I remember our dad taking us out there to swim. The road was a rutted, bumpy, sandy affair, and the water was ice cold. The swim platform was still out in the water, but the buildings were falling in. We went and visited with Katherine Mealing, as well. I have a lot of these photos as originals. They were shared by some of the kind folks posting here. Will Mealing was my great uncle. We also have a link to The Sibley Mill, it having been built by my grandmother's grandfather."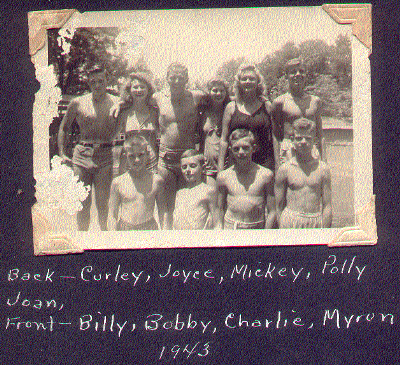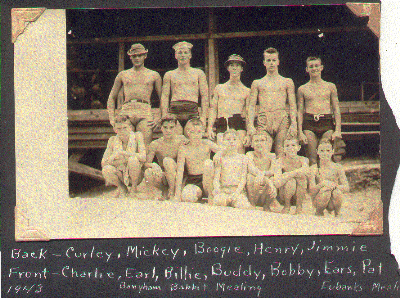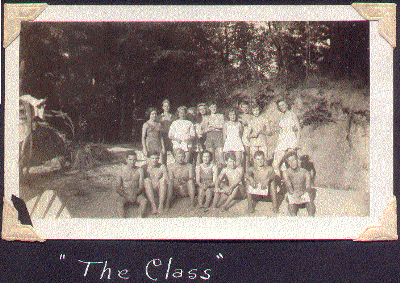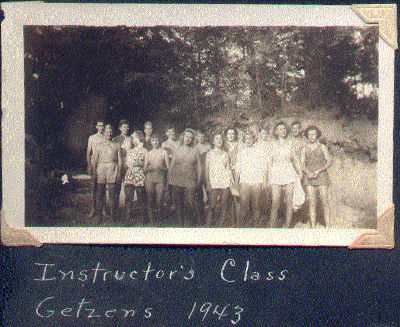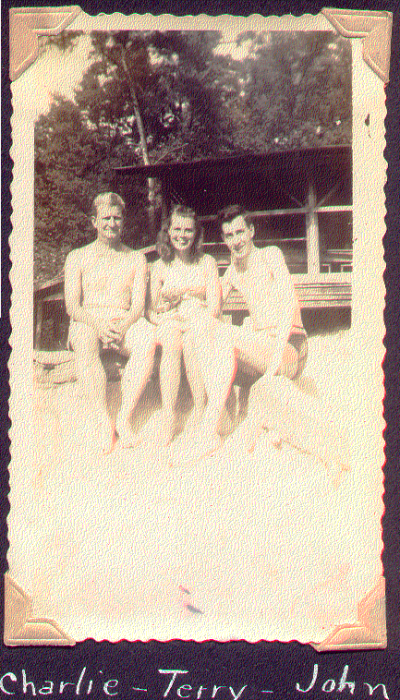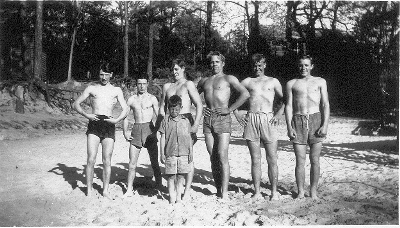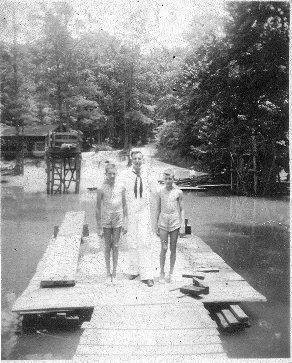 Above: Charlie Cooper, Clarence Sikes, and Bobby Cooper.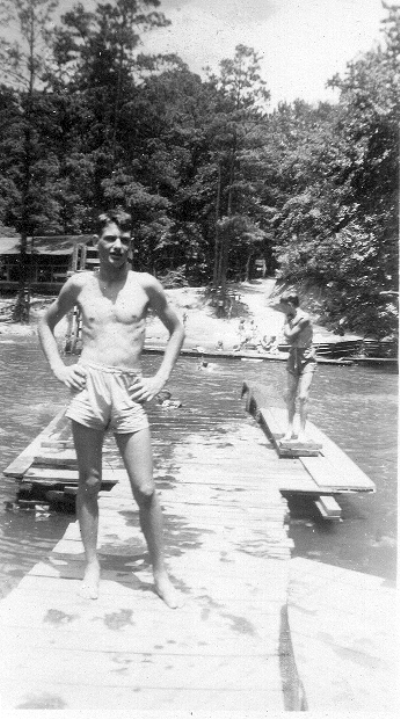 Above: Albert Kelly, Jr.