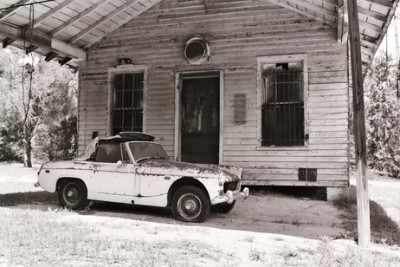 We're gonna make like a bastard out of Carolina and head all the way down the Georgia coast tonight. Which reminds me, I haven't heard much from Dorothy Allison lately. She's a South Carolina native (Greenville). By chance, I came across Buggydoo blog, whose author, in the 12/10/04 entry (Every Little Girl is a Princess), calls Aiken "one of the most beautiful places in the world," and relates a good story about growing up in the town. Nothing as harrowing as Dorothy Allison's story, thankfully. There's also a joke about South Carolina virgins, but you'll have to check out the site to read it. I don't want to offend the delicate sensibilities of my regular readers (or reader). You don't believe that, do you? Oh well, more weirdness and destruction awaits! Like this MG, still parked in front of a long-abandoned store. If you're heading out of Aiken on US 278 toward the coast, you might pass it. Only, don't tell 'em I sent ya.

The Golden Isles, as they're known, are barrier islands all down Georgia's coast. There's Tybee, St. Simons, Little St. Simons, Jekyll, Sapelo (access restricted to scientific research), Cumberland, and a few more. Since I only have so much time in this life, we're going to skip all of them except the southernmost (and largest), Cumberland. I will say this, though: it's always taken bucks to live on these islands. Jekyll Island was the winter home of the Rockefeller's, Morgan's, Astor's, Pulitzer's, Hill's, and Vanderbilt's.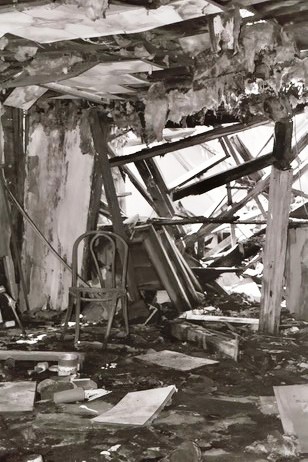 From 1885 to WWII all these cats hung out together, but toward the end of the war the US government decided it didn't want so many captains of industry in one place at one time (bombing target!), so the party broke up and never really returned. Where were the Carnegie's in all this, you ask? Well, it was Thomas Carnegie, Andrew's brother, who bought up large bits of Cumberland Island in the 1880's. Just before I took this shot of a building at a deserted intersection I noticed a woman on a riding lawnmower heading toward me. She was wearing a motorcycle helmet, but I could tell from the speed of the mower that things were going to get interesting. I snapped this picture since, well, I was gonna get in trouble anyway. After a few minutes of tense "discussion," during which I refused to hand over my film (?!), we managed to get out of the situation. My friend Chris XT235 was once threatened with a shotgun for accidentally riding his bike into someone's backyard. Trust me, these folks aren't kidding. I'm not saying people shouldn't protect their property, but, geez, let's not lose our heads. I still wonder if she actually owned this place...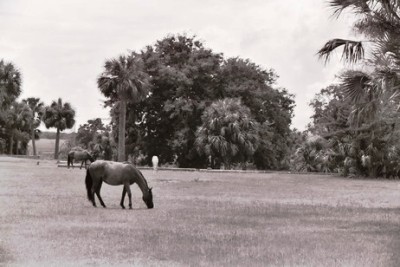 About 30 miles north of Jacksonville, just across the Florida border, is St. Mary's, the access point for Cumberland Island. Florida is out of my jurisdiction, but I highly recommend checking out Life and Times on the Florida North Coast to see what's going on in the Sunshine State, including a photo trip to the Timucuan Ecological and Historical Preserve. Before the Carnegies, the Timucuan Indians lived on Cumberland Island for 3,000 years. Their principal food was oysters, which must've been, well, either really boring or totally exhilirating. It also resulted in large piles of discarded shells around the island. In the 1550's, the Spanish arrived bringing horses and missionaries. The Timucuan's eventually made the missionaries leave, but kept the horses. General James Oglethorpe arrived in 1736 and built two forts and a hunting lodge on the southern end of the island. He named the lodge Dungeness, but no one really stayed on the island until Nathaniel Greene, a Revolutionary War General, bought the whole shebang, logging the island's live oaks for navy ships and building a mansion on the Oglethorpe site. He named the place Dungeness, but died before it was finished. Here are some of the wild horses that still populate the island, remnants from the Spanish. No wild missionaries have been sighted for some time. Yes, I am available for birthdays and bar mitzvahs!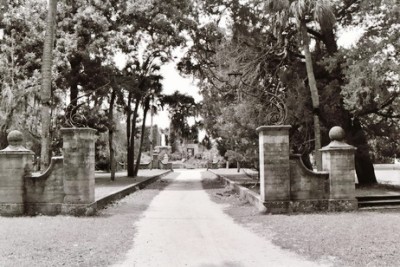 Greene's widow continued building his four-story mansion, complete with six-foot-thick tabby walls. No, not kittens. Tabby is a concrete-like compound made of crushed oyster shells, sand, water, and lime. The lime was obtained by burning the shells which, as I mentioned, had already been stacked into neat piles by the indigenous people. Pretty convenient. Tabby was a common building material along the coast, used chiefly by plantation owners in the 19th century. Anyhow, Greene's family used the mansion for 60 years, but the Civil War put an end to that. In 1866, at the start of Recontruction, Dungeness burned and Greene's heirs left. Next, Carnegie came along and decided to build a mansion on the Greene homestead. He named the mansion Dungeness, but died before it was finished, leaving the widowed Ms. Lucy Carnegie to finish the job. Sounds like a good, old-fashioned curse to me. Pictured above is the entrance to Carnegie's Dungeness.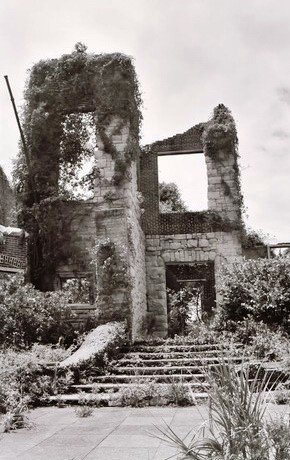 The Carnegie house was used for three generations of balls, banquets, and soirees, but by 1950 it had become impractical to live on an island, so Dungeness was literally abandoned. Nine years later, vandals snuck onto the island and into the deserted mansion. This picture shows the result. The fire was so bright it could be seen across the inlet in St. Mary's. But, the question remained, what to do with the island? Develop the hell out of it, like any reasonable person would do? Or something else? Surprisingly enough, the answer was "something else." At least it has been.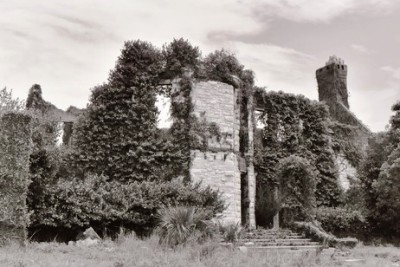 Over time, ownership of Cumberland Island had been inherited by any number of Carnegie relations. Some couldn't afford to keep their shares and were looking to sell. Others weren't sure what they wanted to do. A famous developer, Charles Fraser, wanted to build what is now known as a "gated community" on the island. It was to be called "Cumberland Oaks." On the other hand, David Brower of the Sierra Club and, later, Earth Island Institute, considered the island the last remnant of pre-Spanish settlement landscape left on the East Coast and wanted it preserved. Some Carnegie's sided with Brower, others Fraser. Thus, the Carnegie's began to wrangle and bicker amongst themselves, as any family worth their salt would do. More of Dungeness.

Brower began to push for making Cumberland Island a national seashore. Fraser was okay with that--as long as the preserve was situated AROUND his development. Fraser was being a bit disingenuous since a national seashore would increase the value of his development exponentially by preventing further construction nearby.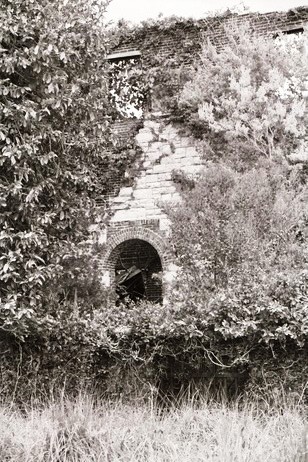 At the time the Carnegie's finally decided to sell all their holdings to the National Park Service in 1972, Fraser owned 3,000 acres. Seeing the writing on the tabby, Fraser finally decided to throw in his hand and sold to the Park Service. That made 36,415 acres, 16,850 of which are marsh, mud flats, and tidal creeks. Should I just steal from the National Park Service? Okay: "(Cumberland Island National Seashore) is well known for its sea turtles, wild turkeys, wild horses, armadillos, abundant shore birds, dune fields, maritime forests, salt marshes, and historic structures." And so Cumberland today looks much as it did in 1600.

At least I assume it looks much as it did in 1600. Most of the island is totally inaccessible to the casual (or even not-so-casual) visitor. Vehicles are not allowed on the island and the southern end contains the only drop-off and pick-up points for the ferry. So, no, you can't just go off and buy a cheeseburger and fries. Actually, you'd be lucky to find a picnic table. You can, however, do other stuff, like, uh, swim or check out Dungeness.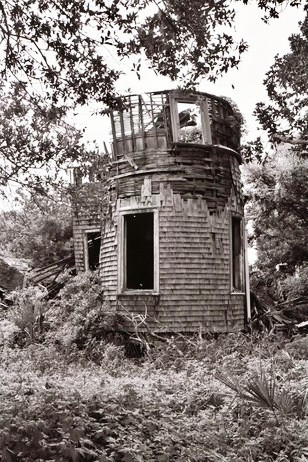 Just don't mistake the cisterns for garbage cans. That's really frowned upon. You can't actually go IN Dungeness, which accounts for all my exterior photos. This is a shot of the guest digs next to Dungeness. For the discerning associate of the Carnegie's, who needed a thatch tower all to themselves, this was the preferred option. Obviously, it met much the same fate as the mansion. Cumberland is so nice we're gonna stay for a bit. Oh, I got bits of info for this post from Kap Stann's Georgia Moon Travel Handbook and The New Georgia Guide, by a whole bunch of people. Both are good references. More next time.