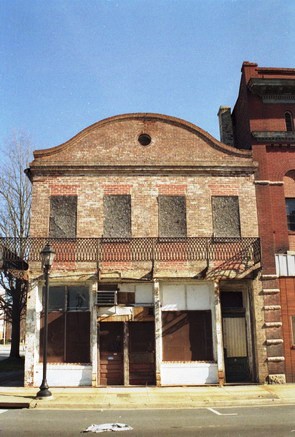 I hear ya. You're saying, "Oh geez, how many pictures of dilapidated buildings and empty streets can a person take?" But bear with me. This post, in combination with the
previous
and
I Feel Good!
, will result in what I believe to be the most extensive photographic record of this end of James Brown Boulevard currently extant. No kidding! You're thinking, "So, are people e-mailing you, pleading that you document the hell out of one half-block of a largely forgotten street from a slightly-above-horizontal perspective using quickly scanned photos off negatives developed at a drugstore?" I concede, no. However, consider this, as I type, tens of thousands of people are pouring into Augusta for the Master's Golf Tournament. How many will see this street? I'd estimate seven. How many of those, finding themselves on JB Blvd., will NOT think: a.) "Whoops, wrong turn!"; or b.) "I wonder if we can find some drugs down here?" I believe zero. I'm not saying thousands upon thousands of golf fans are wrong, that's just the way it is. And I don't think what you see here is going to last long. This block has even been considered as a site for the new courthouse, if they could just get around the pesky trains nearby. So, this one is for me and James. About the man...
James Joe Brown, Jr. was born May 3, 1933 (1928?) in Barnwell, SC. Or was it Macon, GA? Pulaski, TN? In any case, when James was 4 years old, his mother left his father for another man. His father told her, "Take your child." "You keep him," was her response. James didn't see her again for 20 years. The going got even tougher and the family, without a dime to their name, moved to Augusta, GA. James was quickly sent to live in a brothel with his Aunt Honey, the madam, at 944 Twiggs St. The boy shined shoes outside the "Shoeshine King," delivered whiskey, and buck-danced for soldiers--anything for a few coins. At the age of 16, he was picked up for armed robbery and sentenced to 8-16 years' hard labor.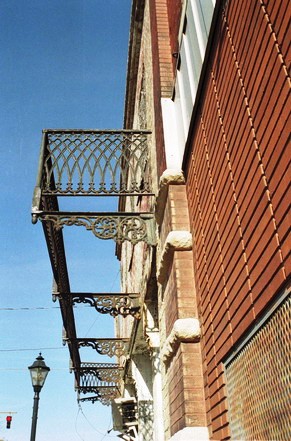 He spent the next four years in the county jail, on a juvenile work farm, and in a group home. Upon release, he joined the Gospel Starlighters, a vocal group led by Bobby Byrd. Soon, the group changed their name to the Famous Flames, shifted from gospel to r & b tunes, and moved James out front. James married his first wife, Velma, and, in 1956, after recording "Please, Please, Please" at WIBB in Macon, GA, the Famous Flames signed to Federal/King Records for $200. "Please, Please, Please" went to #5 on the r & b charts. In 1957, Little Richard renounced rock and roll for that other religion. Namely, religion. James and the Famous Flames picked up all the dates Little Richard had booked and also picked up a few of Richard's band members. Things really got rolling and "Try Me" was released in the fall of 1958, hitting #1 in the r & b charts, where it became the best-selling single of the year. This is the balcony of the above building. Another rare recurrence, this building also appears in b & w in
I Feel Good!
.
Constantly in demand, Brown booked seven nights at the Apollo in NYC in 1962. The midnight show of 10/14/62 was recorded and released as--yup--Live at the Apollo. A few months later, "Papa's Got a Brand New Bag" was issued, dominating the r & b charts for 8 weeks and even cracking the mainstream Top Ten. In 1965, another smash hit, "I Got You (I Feel Good)," was released. In 1969, James played Richard Nixon's inauguration. It probably seemed like a good idea at the time, much like his second marriage, to Deirdre Jenkins, in 1970.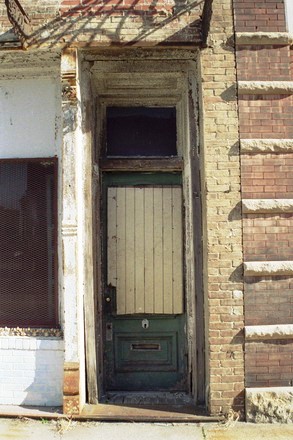 Later that year, he signed with Polydor and shortly afterward released "Get on the Good Foot," which reached #18 in the Top 40 and eventually sold a million copies. James started to call himself "The Godfather of Soul," a title which appeared not unwarranted. In 1973, James' eldest son, Teddy, was killed in an auto accident. The following year, The Payback was issued, featuring long, dense jams, the shortest of which was 5:52. (The longest, "Time is Running Out Fast," clocked in at 12:47.) It became Brown's only gold album, selling over 500,000 copies. That same year, James played "The Rumble in the Jungle," the music festival-cum-Ali/Foreman fight held in Zaire. I guess that was Don King's idea. Oh, and the IRS wanted $4.5 million in back taxes, ensuring that the Hardest Working Man in Show Business remained so. Here's a thin green door. I do not know what's behind it.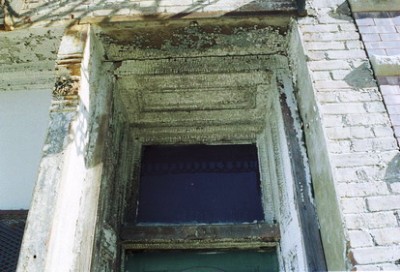 Enter the Disco Era. James responded by releasing "The Original Disco Man." This was probably not a good idea. He did show up in the Blues Brothers movie though. In 1984, he married his third wife, Adrienne. In 1987, he got an audience with the Pope. James was considering the Ministry, but the Pope advised that he not quit his day job. In early 1986, "Living in America," the theme to Rocky IV, reached #4 on the Hot 100, and James was back in action. Sort of. Was Rocky IV really that long ago? Anyway, in 1988, following a troubling period of drug abuse and arrests, James was picked up on a domestic assault charge. Music fans of conscience really wished he wouldn't have hit his wife. Soon after, Brown took a shotgun into an insurance-licensing seminar being held next door to his offices in downtown Augusta, believing that an attendee had used his personal toilet. He then hopped in his jeep and was chased back and forth across the SC/GA state line on Interstate 20 by police, who fired 23 shots at the vehicle. Brown drove back to Augusta on tire rims before being pulled over, and was found to be on angel dust. Brown denied being on PCP, and claimed he'd fled police to protect himself. Nope, no way over the thin green door either.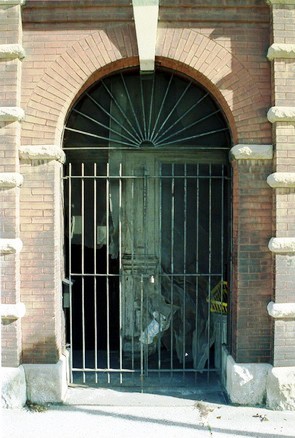 In December 1988, James Brown was sentenced to 8 years in prison. He was paroled on February 21, 1991 for good behavior, and immediately had new eyebrows tattooed onto his face. (Not so strange, really. Donald Trump had similar work done.) The eyebrows were completed just in time for James to be given a Lifetime Achievement Award at the 1992 Grammy Awards. The next year, MC Hammer presented James with a Lifetime Achievement Award at the 4th Annual Rhythm & Blues Foundation Pioneer Awards. In November 1993, 9th St. became James Brown Blvd. and November 20 was declared James Brown Day in Augusta because, among other things, "James Brown is a musical phenomenon affectionately known as `The Godfather of Soul.'" Here's another door. See, there's just no way inside these buildings.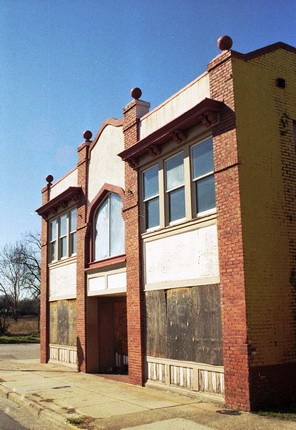 In 1996, Adrienne died from complications while having liposuction surgery. James received a star on the Hollywood Walk of Fame in 1997, but in 1999 a former employee, Lisa Agbalaya-Ross, claimed he'd told her he had powerful testicles which he'd received from the government. She promptly sued him for sexual harassment to the tune of $1 million. In January 2002, Brown married wife #4, Tomi Rae Hynie, and was also cleared of the harassment charges. On January 28, 2004, Brown was arrested once again for domestic violence, causing the city of Augusta to cancel his appearance that spring, a performance that was to coincide with the unveiling of a statue (subsequently re-veiled), and the re-naming of the Garden City Music Fest to the James Brown Music Fest (subsequently un-renamed). James' dishevelled mug shot was shown nationally. We could see inside this old church-like building from the roof of The Meathouse. What we saw was that the whole 2nd floor had caved in.

The Godfather of Soul, the Hardest Working Man in Show Business, is undoubtedly a legend. Some of his recent acts are indefensible, others laudable, some baffling. Until a bout with prostate cancer last December, he was still playing 50 dates a year. He continues to hand out free Thanksgiving turkeys and Christmas presents each year to the poor in the neighborhoods near where these photos were taken. But JB Blvd. saddens the Godfather of Soul. Among the few people that roam this ruined stretch, one is Brown's daughter by a former mistress. Of her, he's said, "She's got worse than a habit. When a person is just spooked, we say she got a monkey on her back. She got a gorilla on her back."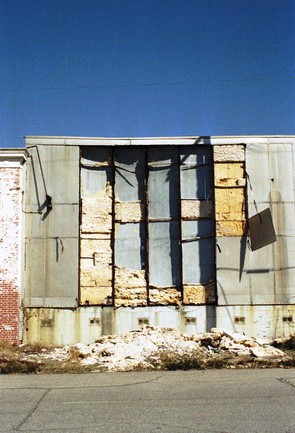 The man may have banned computers from his office because he believes they can watch him, but only Elvis Presley has had more hit records. Until recently, Brown used to hang around his radio station downtown, which, I believe, is now defunct. One day, a friend of mine saw him hanging a display in the window and waved. James pointed back, smiled, and did a little spin and shuffle. James Brown: "I fear God. I fear a man with a gun. I fear a man with a knife. I fear a fool behind the wheel. That's what I fear. I fear death. Death may come to me. I may not run from it like a lot of people if my rights is there. I put my rights first, 'cause if I can't live then I'm already dead." And so we leave JB Blvd., and head down Walker St., never to return. Info for this post came from the Hall of Fame biography and Cosmopolis. If you only read one James Brown story, make it The Trip of a Lifetime, a driving tour through downtown and along JB Blvd. with James Brown himself. The quotes included here are from that story. The original proclamation regarding JB Blvd. and James Brown Day in Augusta is here....somewhere. See ya next time.