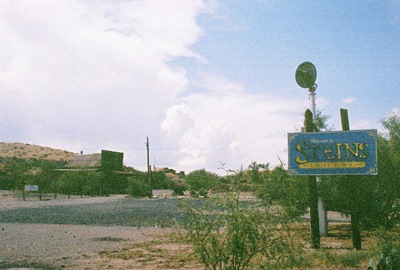 Steins (pronounced STEENS), New Mexico is a ghost town whose recent history is as violent and troubled as its distant past. Philip Varney starts the tale in 1873 with Captain Steens, a member of the US Cavalry, who fought a battle against Apaches in Doubtful Canyon, not far from what's now the NM/AZ border. The canyon's sobriquet reflected the view of most settlers on their odds of traveling through the place without getting killed. The story goes that Captain Steens couldn't do it either and the site of his supposed death was later known as Steins (sic) Peak. However, Linda Harris says that MAJOR Enoch Steens merely camped in the area in 1856, rumors of his death being greatly exaggerated as he lived until 1880. I think Ms. Harris has it right.

(Incidentally, Steens is referred to as Samuel Chamberlain's captain--Company E, First U.S. Dragoons--in Chamberlain's somewhat exaggerated autobiography, "My Confession: The Recollections of a Rogue," the main source material for Cormac McCarthy's "Blood Meridian." This would be 1846, a decade before Steens would've camped near Doubtful Canyon.)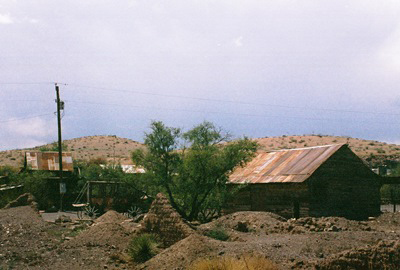 In 1880, the Southern Pacific Railroad came through this gap in the Peloncillo Mountains named Steins Pass, misspelled thanks to the Butterfield Overland Mail Route, which had christened their Doubtful Canyon stagecoach stop, about eight miles northwest, Steins Peak Station in 1858. In 1888, a post office was established and, in 1905, about the time the Southern Pacific's rock crushing operation began, the "Pass" was dropped and the place became simply "Steins," yet still pronounced like the Major's name.

Varney states that the post office was established at Doubtful Canyon and moved to Steins but, although it was on the mail route, there was never a PO at Doubtful Canyon/Steins Peak Station. Robert Julyan's "The Place Names of New Mexico" does a nice job of clearing up the confusion surrounding Doubtful Canyon/Steins Peak Station, Steins Peak, and Steins Pass/Steins (and Steins Mountain, less than two miles northwest of Steins and thus not where you'd find Steins Peak!).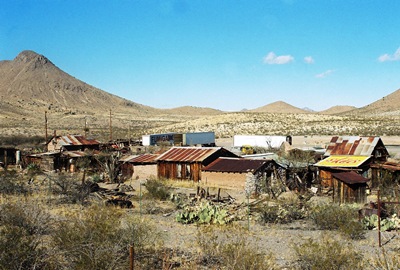 The town's population hit 100 and all modern conveniences were available, except water, which came only from Doubtful Canyon or, even more rarely, the sky. There was a dance hall, a two-story hotel, a saloon, and a two-room brothel. That's one demimondaine for every 50 residents. I honestly don't know if that's a better or worse ratio than would be expected.

The Southern Pacific was crushing gravel for 300 miles of rail bed but the Chinese who did the work weren't allowed to live in Steins; they had to stay out by the quarry itself. The ground of the cemetery, now to the south of Interstate 10, was reportedly so hard that graves had to be blasted out of the earth. Yeah, maybe things were kind of tough. Even now, if you go to Steins in the summer, it can feel like the sun is trying to incinerate you.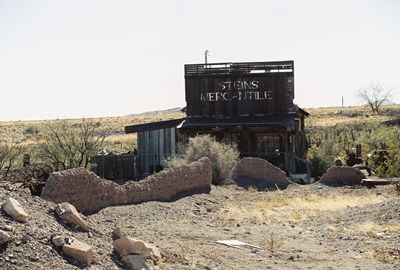 The quarry was shuttered in the 1920's and that would be Steins peak, population 200. (Again, not to be confused with Steins Peak, elevation 5715'.) From there it was downhill, although the railroad station operated until 1950, when it was moved to Cottonwood City, just to the south. The post office had left six years earlier. Then Steins languished for years, many of its buildings burning down in a 1962 fire. Philip Varney's photo from the 1970's makes it look like by then hardly anything remained besides some crumbling adobes. For awhile, a mysterious fellow lived there alone, his family having bought the town site for him.

In 1988, Steins was purchased by Larry and Linda Link, who cleaned up the "10-acre junkyard," restored some buildings, and gathered artifacts out of the piles of debris and from the surrounding community. They then opened Steins as a tourist attraction. At one point the town attracted 90,000 visitors a year. But vandalism and theft had gotten so bad by 2008 that the Links were forced to turn Steins into a bona fide ghost town for the second time.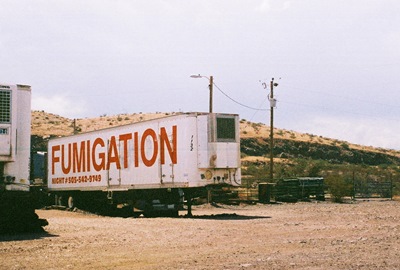 The following year, when I first saw Steins, the little ghost town was entirely closed-off. Very un-Western semi-trailers were parked around the perimeter, "FUMIGATION" painted in big, red letters on their sides. Signs warning of methyl bromide fumigation hung on the fences. This was interesting as the use of methyl bromide, an ozone-depleting pesticide, was phased out in 2005. It was unclear what was going on, but it seemed that I wouldn't be seeing Steins up close.

Then, on June 7, 2011, the story took a more tragic turn. Steins is only a few yards from I-10 and very early that morning someone probably exited off the interstate for reasons still unknown. It's likely that Larry Link, suffering from insomnia, went to have a look. He was shot five times. Presumably the shooter then drove away, leaving an untraceable gun behind. Early reports portrayed Link as a rancher and his assailant as an illegal immigrant coming up from the Mexican border, less than 40 miles away. Such inaccuracy and politicized speculation angered the Link family.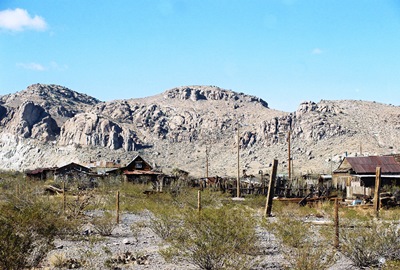 In spring 2013, Linda Link and her granddaughter re-opened Steins, but before I could get down to have a look this December, it was closed again. However, as of summer 2016, the Steins Facebook page would seem to indicate that tours of the town may again be occurring on a semi-regular schedule.

So, what about those fumigation trucks? It seems that at one time the Link family applied pesticide to produce coming through on I-10. Whether they were still using methyl bromide or just got a deal on outdated signs, I can't say. As for Larry Link's killer, that mystery has been harder to solve. So far, police have confirmed just a single lead on the case. There have been no arrests.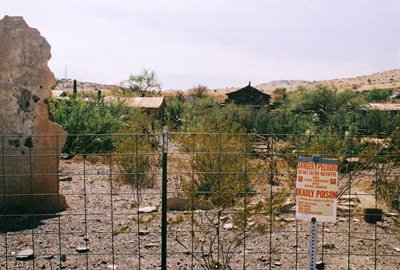 I dug up various facts and figures on Steins from wherever I could find them. Varney, Harris, and Julyan, of course, but there is also a touching post from Larry and Linda Link's granddaughter at ghosttowns.com. The most comprehensive piece on Larry Link's murder seems to have been "Haunted by a Ghost Town Murder," published at NM Capitol Report in March 2013. However, that page has since been taken down.

We're only three miles down the tracks from Arizona right now. Might as well go have a look next time.