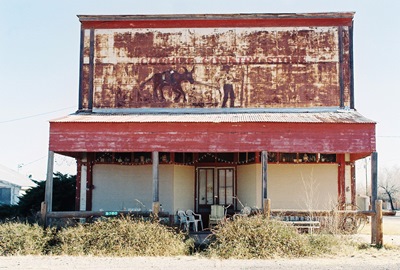 We've gotta make a quick stop in Cochise, Arizona. It's in southeastern Arizona, just below I-10, and, while now quite small, it's not really a ghost town. However, it has a couple great, old buildings and some real Wild West history. In its heyday, Cochise sat at the junction of the Southern Pacific and Arizona Eastern railroads, which serviced the many mining towns nearby.

The Cochise Country Store, shown at top and below, was built in 1913 and open until probably fairly recently. It fronts what used to be the railroad stop and folks could step right off the train into the sweltering Arizona heat and get something to eat and drink. Now the trains just whistle right on by.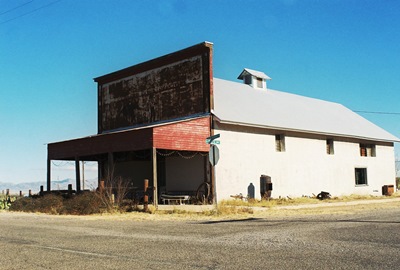 Directly across the street and similarly oriented is the Cochise Hotel, listed on the National Register of Historic Places in 1976. Opened in 1882, guests could still spend the night until July 2007. That's 125 years of continuous service. The hotel was built by John Rath, a railroad telegrapher, who ran it with his wife, Lulu.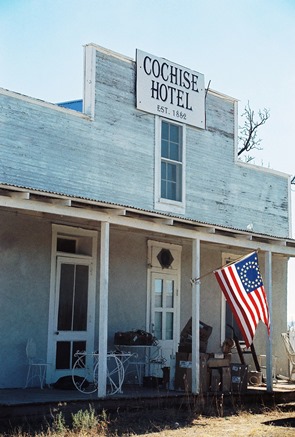 It also served as a telegraph office, naturally, as well as a Wells Fargo office and mail stop. In 1980, after mentioning the Green Cattle Company Safe in the old office, the harness house out back, and the sofa in the parlor rumored to have once belonged to the Swedish Nightingale, opera singer Jenny Lind, Philip Varney wrote in Arizona's Best Ghost Towns, "Quite simply, the Cochise Hotel is one of the most interesting buildings in the West." Of course, in typical fashion, I showed up years too late to see most it. It's clearly still well-cared for, but when I was there cardboard boxes were sitting on the porch waiting to be moved…somewhere. Whether any Wild West treasures were inside I can't say.

The Cochise Hotel is where Big Nose Kate came to work for a year or so around 1899 or 1900, years after her common-law husband, Doc Holliday, had died, and shortly after her wedded husband, George Cummings, had finally pushed his alcoholic abuse too far. He would later shoot himself in the nearby ghost town of Courtland (just wait, we'll get there). Apparently guests at the Cochise were never privy to the identity of their (in)famous host.

By most accounts, Big Nose Kate was a prostitute in her early days, but she spent the last of her 90 years writing letters to her long-time friend, Arizona Governor George Hunt, giving him a piece of her mind about various goings-on at the Arizona state legislature. There may or may not be a lesson there but I believe you'll be running some risks if you try to learn it firsthand.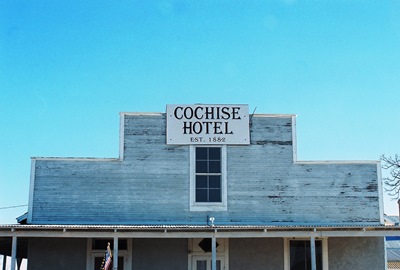 Kate said that she watched the Gunfight at the O.K. Corral from Doc Holliday's room at Fly's Boarding House. That has been disputed, but she may well have been in Tombstone, where she'd operated a bordello, on that fateful late-October afternoon in 1881. She claimed Doc Holliday sat at the foot of his bed afterward, weeping. "That was awful," he reportedly told her. "Just awful."

Next time it'll be down the road south just apiece, to Pearce, AZ, and the start of the Ghost Town Trail.

Information for this post came largely from Philip Varney and the Wikipedia entry for the Cochise Hotel with Texas Escapes filling in the details on Mary Katherine Horony aka Big Nose Kate.