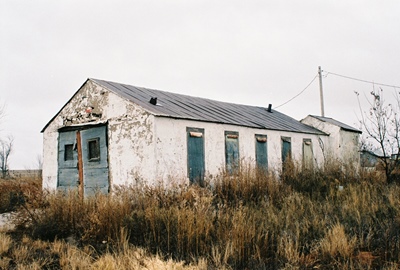 After last month's epic 1,600 word post on the bayside ghost town of Drawbridge, California, let's make some concessions to time and ADHD with a snack-sized post on the tiny dot on the map of eastern New Mexico known as Highway. Located on NM Highway 206 between Pep and Milnesand, perhaps 12 miles from the Texas line, Highway got its name because...well, it's located on a state highway. Locals will tell you it should be "Hiway," but NMDOT has other ideas. There isn't a post office and I don't think there ever was one, although there are a few inhabitants.

The building pictured above is probably the most prominent in Highway (or Hiway!), and was a welding and mechanic shop for many years. At first, the construction had me thinking it might've been a church or school. Oscar "Pouch" Lott lived and worked here most of his life and still maintains the reputation of having been the best blacksmith in the area. The precise function of the structure pictured below remains obscure, but if I had to guess I'd say it was something to do with water.

Hiway (or Highway!) is in Roosevelt County, on the very western edge of the mighty chunk of flat land known as the Llano Estacado, and you can read a bit more about that legendary feature in previous posts on the nearby towns of Pep, Causey, and House.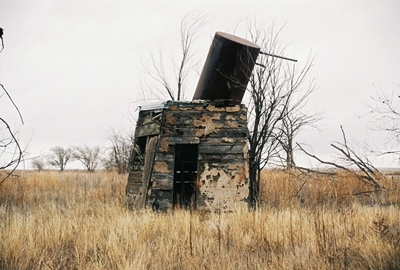 Everything I could learn about Highway came courtesy of Robert Julyan's "The Place Names of New Mexico" and helpful viewers commenting on THIS post and THIS post on the City of Dust FACEBOOK PAGE.

Soon we'll visit the twin ghost towns of Acme and Frazier, New Mexico, perhaps 50 miles southwest of here as the crow flies, and not too far from where that flying saucer crashed in Roswell.