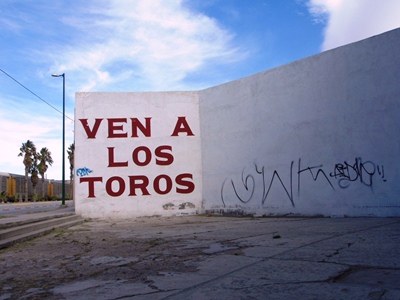 (Ven a los toros - Come to the bulls.)

Blood spills out on the streets
And bodies are missing for weeks
Both sides keeping a close eye
Watching the bullets fly here
On the crystal frontier – Calexico "Crystal Frontier"

While my first day in Ciudad Juárez started with a stroll through the pocked neighborhoods around the International Bridge, followed by a history lesson on the city and Mexico itself, the second began as countless others in Juárez surely have: with a Bloody Mary. But getting to that Bloody Mary required a walk past the 112-year-old bullring, Plaza de Toros Alberto Balderas, the oldest building in the city. A newer but even more famous bullring, Plaza Monumental, was torn down in 2006 to make way for a Walmart. Is it better for a bull to die in a ring or end up as a frozen patty in a warehouse chain?

I won't answer that question, but I will mention that during the years of greatest violence in Juárez the Plaza de Toros Alberto Balderas remained shuttered, only opening again in 2012. As we were walking past we noticed a couple workers out front of the Plaza de Toros and my tour guide, Rich Wright, asked if we could poke our heads inside. I can't deny that crouching under the empty stands to peer across the dirt arena at the bull pen door was evocative, but Ernest Hemingway could probably articulate it better than me.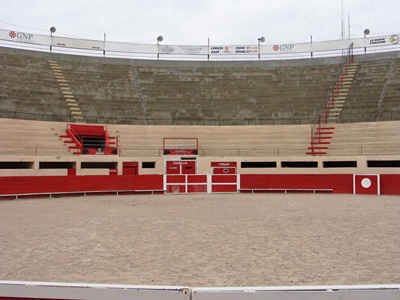 (Plaza de Toros Alberto Balderas.)

Leaving the bullring, we walked a short distance to an unmarked, entirely non-descript building at the corner of Madero and Dieciseis. Opening the door was like stepping into another world, possibly from 1921, when the El Recreo opened. All carved, dark wood and hushed shade, El Recreo, the second-oldest bar in Juárez, after the previously-described Buen Tiempo, is the kind of place you don't see much anymore, complete with bartender in suit and bow tie.

While the Bloody Mary was delicious, it's the sotol that may raise an eyebrow at El Recreo. Currently gaining a reputation as the mysterious cousin of tequila and mescal, sotol is made from the plant of the same name, sometimes known as desert spoon, and comes mostly from the state of Chihuahua. Sotol is not an agave, as is often thought, but a member of the asparagus family. The drink is also hard to find; in a city as big as Juárez you will only encounter it in a couple venues. I believe the brand El Recreo serves is El Oro de Coyame and the taste is rough, with plenty of gravitas, the effect perhaps not unlike inhaling campfire smoke that can numb your tongue.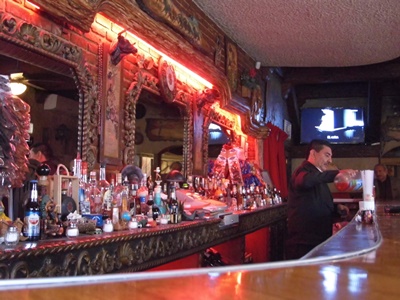 (El Recreo.)

Back out in the glare of midday it was time to put something in our stomachs. Burritos El Negro was recommended by a passerby and turned out to sport a jarring, baseball cap-wearing mascot not far removed from the age of minstrelsy. The restaurant is located in what was once a bustling tourist area, but the tourists stopped coming when the bullets started flying. While the bullets began to slow in 2011, the tourists have not returned. This near-absence of tourism is part of why you can get a massive, phenomenally tasty chile relleno burrito for about a dollar at Burritos El Negro. Follow a Bloody Mary and bit of sotol with two of them and you may regret it.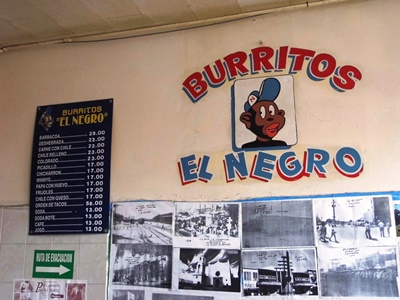 (Burritos El Negro and its unfortunate mascot.)

As we walked down a crowded street after lunch, the noisy bustling heightened by the crunch of a truck driving into the back of a packed bus, a man brushed past me and, in a stage whisper, trilled, "Gggrrriinnnggooo," not condescendingly, but apparently amused. I mentioned this to Rich, who told me, "We're like unicorns down here." Indeed, in two days in Ciudad Juárez I didn't see another American that looked much like me, not even one hunting for a cheap dentist or discount pharmaceuticals.

I, however, was a tourist, and as such needed a souvenir. What better than a statue of Santa Muerte, or Our Lady of the Holy Death--who is essentially the grim reaper, sickle and all--from the Mercado Cuahtemoc?
Said to currently be attracting more devotees than any other religious figure, Santa Muerte began to gain in popularity as drug violence escalated in Mexico and has found a loyal following among narco-traffickers. Not comfortable praying to the Virgin Mary for your cocaine shipment to arrive safely across the border? Make an offering to Santa Muerte. But Santa Muerte is also for those who feel too dirty and down-and-out to appeal to the usual saints. Or maybe you just want to ask for something that an archangel might frown upon. In fact, the Catholic Church frequently tries to remind people that it considers Santa Muerte blasphemous.

While I wasn't planning to ask much of Santa Muerte, I did want to cover my bases. You can buy statues in various colors depending on what you're praying for, but I got a tri-colored one. White, gold, and red should, I believe, provide me with health, wealth, and love. Also, while a gringo like me wouldn't necessarily know that Santa Muerte should come with additional "magic," Rich luckily did, and made sure I got it. The vendor then proceeded to coat my statue in what appeared to be baby powder before liberally spraying it with something that smelled a little like floral air freshener. The strange, sickly-sweet concoction eventually leaked through two plastic bags and into my backpack, which I found surprisingly disturbing. But I'd been instructed not to release Santa Muerte for 24 hours to ensure the "magic" was properly absorbed, so I didn't dare transfer Holy Death to a leak-free bag.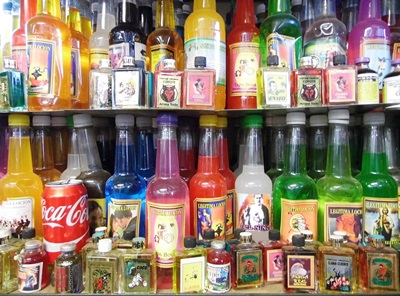 (Magic + Coca Cola.)

With Santa Muerte in tow we walked through an oddly delightful ramshackle alley devoted to Don Quixote, the walls of the buildings covered in graffiti portraying scenes from the 17th century tragi-comedy. Our last stop was El Club 15, named for the number of people that can fit inside. Like El Recreo, it was dark and cool, sold sotol, and featured a well-dressed bartender. The bartender's name, Chuy, was constantly being called by patrons wanting to have their drinks freshened. Yet, instead of the ornately carved wood of El Recreo, the entirety of the walls and ceiling of El Club 15 were covered in dozens of vintage pin-up photos, bare-breasted women from forgotten eras smiling coyly from nearly every surface. A television in the corner played Pink Floyd's Live at Pompeii film. Cognitive dissonance, or was Juárez becoming a little bit of everything?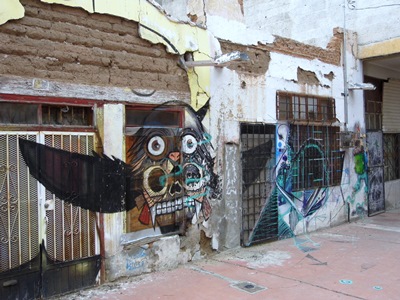 (Not scenes from Don Quixote.)

You see, Live at Pompeii was the first VHS tape I ever watched on a VCR, and I wondered what the thirteen-year-old me would think if he'd known that decades later there'd be that same shaggy Nick Mason pounding those same massive drums. But this time that boy was watching "Careful With that Axe, Eugene" in a tiny bar in a city that a handful of years earlier had been dubbed the Murder Capital of the World, surrounded by mid-twentieth century porn, pressed in on all sides by friendly locals speaking a language he couldn't understand very well, while sipping a Jack and Coke, now had in honor of the late Lemmy Kilmister. He might be kind of confused as to just what sort of path had led here, but I'm fairly certain he'd think Ciudad Juárez, a city trying hard to rebuild itself after some very dark times, was well worth exploring in 2017.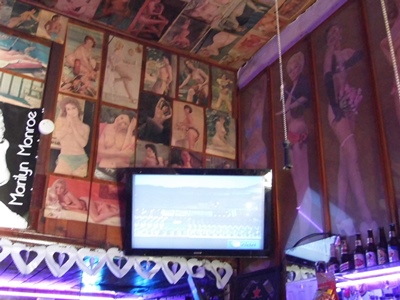 (El Club 15 and its trio of vices.)

Again, many thanks to Rich Wright, who showed me Juárez as I never could've seen it otherwise, even if given many years of roaming the streets on my own. I can't recommend taking one of his walking tours highly enough. More information on those can be found right HERE.