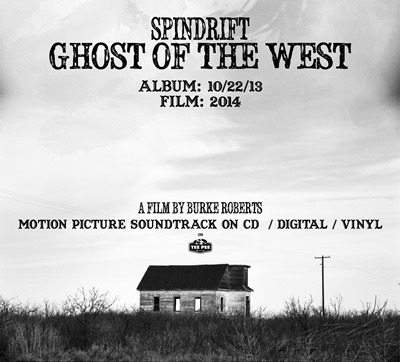 We interrupt our regularly scheduled program to mention that Spindrift's fantastic new album, Ghost of the West, was released today. The band is a totally compelling blend of Tex Ritter, Ennio Morricone, Pink Floyd, and Hawkind. When was the last time you heard something like that? To listen to a sample track, visit this recent piece at the Onion's A.V. Club.

While you'd want to buy the record just for the music, I personally think the cover art is kinda cool, too. Yup, that's the First Presbyterian Church of Taiban. While I might consider letting almost any band use one of my photos (well, except Foreigner or the Eagles), it sure makes things nicer when the band in question is one of such quality and style. Not to mention, their interest in the West is real. This will become even clearer when a DVD of their 2012 Ghost Town Tour is released next year. Did I mention the album is on vinyl, too? Check Tee Pee Records, Amazon, etc.

Also, for those of us in Albuquerque, Spindrift is playing Low Spirits next Tuesday, October 29. See ya there.