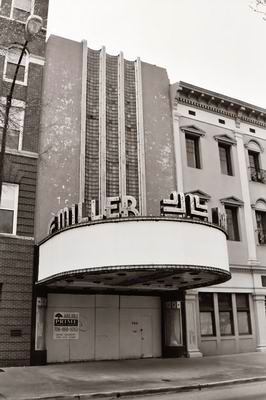 The Miller Theater is located at 7th and Broad St., right in downtown Augusta. Designed in 1938 and built for a reported $500,000, it seated 1600 people when it opened in 1940. It's been said that construction required a million bricks but only one (large) piece of carpeting. According to Cinema Treasures, the theater's architect was Roy A. Benjamin, who also built some theaters in Florida. The design is Arte Moderne (note the glass block and curved neon marquee) and the Miller represents the last theater of this type left standing in Georgia. Unfortunately, the Miller has been empty since 1984. An old flyer inside indicates that the Nutcracker was the last event held at the Miller, in the winter of '84.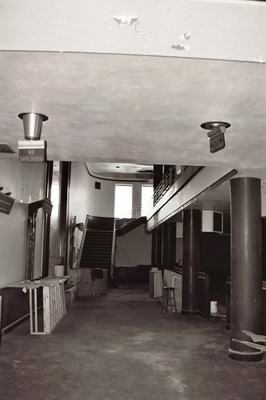 Before I go farther, let me say that we didn't "break" into the Miller. It's not that we mind getting arrested (har, har), it's just that the theater is a cool building and is also for sale. Hopefully, some entrepreneur will come along, buy the place, and rehabilitate it. We didn't want to jeopardize the building by looking for an entrance that might eventually allow other people to get in. One day we were out looking at some buildings nearby when we noticed something going on in the theater. Someone came out and asked us what we were up to. When we told him we were taking pictures of old buildings, he told us he was the realtor for the theater. Would we like to go inside? Of course, we would.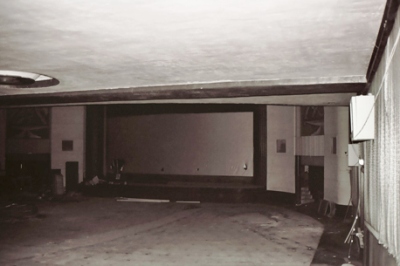 It's very dark inside and even with a flash and the realtor's help it was hard to get good pictures. There are large murals on either side of the screen, but we couldn't see them. Above us was the balcony seating. It's definitely a big theater, which you can't tell from its facade. In fact, once you enter, it curves to the right, so the screen is actually behind the building next door. Note the aluminum hand rails in the photo below. A lot of fingers have been dragged over those.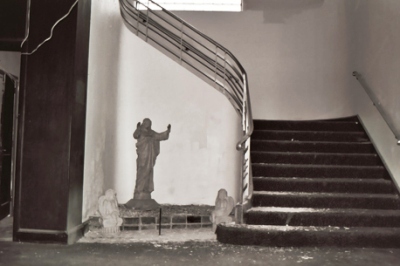 Just across from the Miller is another historic theater, the Imperial. According to Cinema Treasures, the Imperial opened in 1917 and was a big vaudeville playhouse. It was remodeled in the Art Deco style by Roy A. Benjamin in 1936 and eventually closed in 1981. In 1985 it reopened and has been hosting plays and concerts since. Also, it's been under renovation for that entire period. Money (not to mention an audience) is hard to come by for these old theaters and folks at the Imperial reportedly aren't too anxious to see the Miller reopen and compete for the same dollars it does. On the other hand, the Miller is so big that it probably couldn't survive as simply a movie theater and would need to have rock concerts, spoken word events, etc. to stay afloat. This is similar to what the Georgia Theater does in Athens. The Imperial has just started showing movies again and have a bang-up repertory schedule on-tap. I saw the jazz singer Jimmy Scott play an amazing show to a sold out crowd at the Imperial early this year, and it really is a great building in its own right.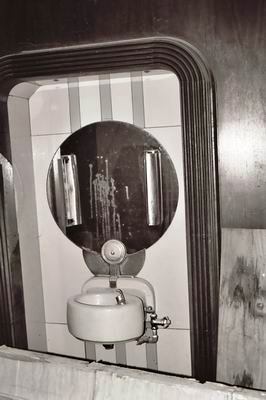 In the 20's and 30's Art Deco and Arte Moderne became very popular architectural styles. Both forms are spare and focus on geometry and curved ornamentation. Frankly, I have a hard time telling the difference. So, how do you tell them apart? Well, the City of Chicago sez: Art Moderne has a vertical orientation, featuring setbacks, geometric ornamentation, and colorful terra cotta. Art Deco has a horizontal orientation with rounded edges, corner windows, and glass block. So, since this drinking fountain has a vertical orientation, that must make it Arte Moderne, I guess.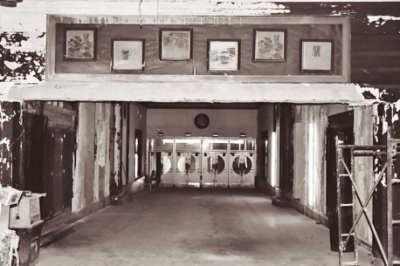 You can't see it from this photo, but the entire floor of this entryway is ornate terrazzo. In 1957 the world premiere of "The Three Faces of Eve" was held at the Miller. Joanne Woodward's family was apparently from North Augusta, SC, across the river. Also, the psychiatrists who wrote the original book were from Augusta. Pictures of the premiere and the Miller in all its glory can be found in various film books. It really is a beautiful theater, but 20 years of neglect is taking its toll. The realtor figured it had about 5 more years of vacancy before it would be a total loss. Wanna buy? Contact Prime Commercial Properties in Augusta, GA.