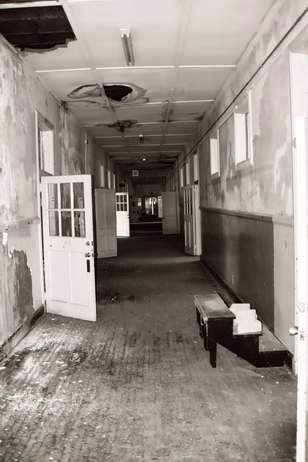 Okay, back to school. Up on the second floor of the John S. Davidson Magnet School for the Fine Arts things were falling apart. This is where it became really obvious they weren't going to salvage this building. Anyway, there were essentially no interesting objects lying around. No old apples, no textbooks, no hickory switches. Oh yeah, I guess this wasn't a Catholic school. Hey, just kidding! I admit that I got a good education from a Catholic school for a couple years when my mom was trying to find me a school that I might loathe only slightly. And, for the record, I don't recall ever being switched by a nun myself.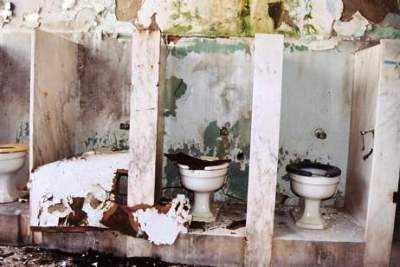 The bathrooms provided the most aesthetically interesting dilapidation. From left to right this photo perfectly documents the three stages of decay that your typical toilet stall goes through in its inevitable slide toward ultimate destruction. I hope everyone realizes how fortunate they are to see this phenomenon so completely laid out in its natural environment.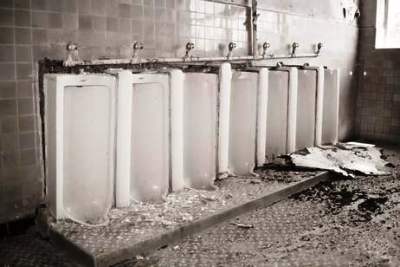 You know, I hated school as a kid. I mean, I REALLY hated school. From the time I started kindergarten until I finished high school I loathed getting up in the morning, dragging myself to the bus, and sitting in class all day. Seeing these urinals reminds me of those days of malice. I do take some comfort in the fact that they are just about destroyed. But still, I feel kinda nauseous just looking at them. In fact, I hated school so much what did I do? I got a master's degree. It doesn't even make sense to me.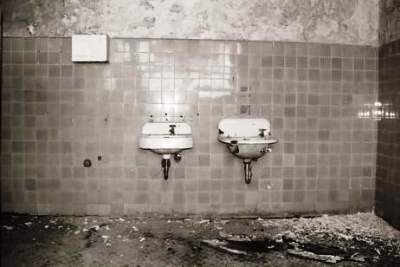 Here we have a couple of lonely, forgotten sinks. These sinks represent the impenetrable isolation of the individual (represented by the sinks) within society (represented by the bathroom). If only the sinks could touch one another or somehow communicate their feelings they might be able to change their lives for the better. However, note that the sinks, despite their shared plight, are even more isolated from the towel dispenser (which represents the universal "other"). Truly, this is a heavy picture.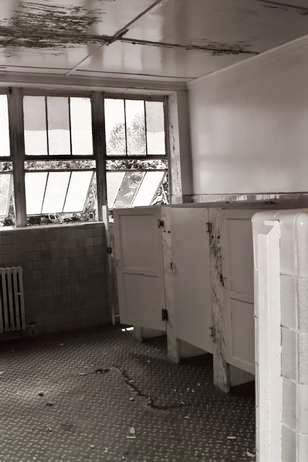 Back in school it was always exciting to somehow get into the girls bathroom and see what it looked like. One time one of my stupider classmates just waltzed in to see what was going on. This necessitated a school-wide announcement regarding the proper use of the bathroom by the respective genders. We were finally able to get it all sorted out and went on to become the well-adjusted adults we all undoubtedly are today.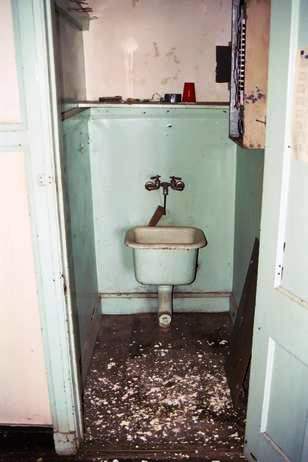 Now THIS wash basin symbolizes the rugged individualism of the American in the 21st Century. Didn't you always hate that when you'd read a book for class and they'd come up with all these hokey symbols and tell you the implied meaning of every incidental object? "Okay now, class, who realized that the dog in Old Yeller represented man's universal sorrow at the constant loss and painful change that consumes all our lives? I think this point was made obvious by the author's portrayal of the dog as a retriever." This was one reason why I didn't even really read a book until I was 18. Of course, if we'd hit Hubert Selby Jr. in 11th grade that might've been different. But try explaining that choice to parents on PTA night.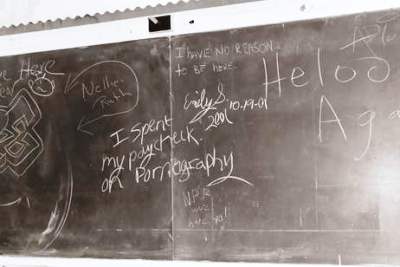 This is classic little kid graffiti. You can tell that it's the real deal by that little kid scrawl. Obviously, this was one of those home economics classes where kids role play different family members. This guy must've been the father. "Family, I'm sorry, but there's a reason we can't afford to eat tonight." Pretty realistic, I'd say. Also, what good would a school for the fine arts be if the students weren't taught the finer points of existential angst? The student writing at the top must've been at the head of his class. (It reads, "I have no reason to be here.")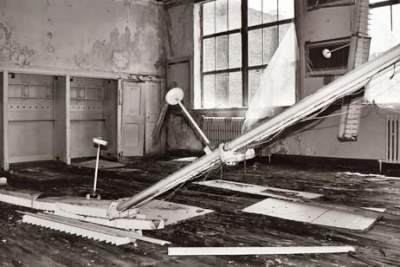 This classroom is the way I wished all my classrooms looked back in the day. Okay, I'll lighten up. I understand the value of a good education. But since hardly anyone gets one anymore what's the matter with railing a bit about it? Really, I hated being there. I enjoyed singing along to "Another Brick in the Wall" when I was little, but once I got a bit older The Replacements really nailed it for me with their classic ode to the classroom off the Stink 12".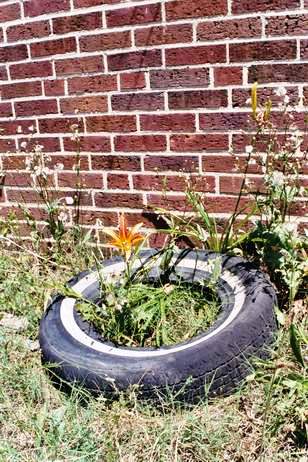 I feel like this post has gotten way out of hand. I really had nothing of historical or sociological interest to add regarding the school. I covered it all last time. So, I guess I got all bloggy and personal on ya. Oh well. In any case, this post is dedicated to the youngsters of the John S. Davidson Magnet School for the Fine Arts and their poor old building. And with that, I better go. ADDENDUM: Upon re-reading I find this to be the most embarrassing post ever submitted to City of Dust. And that might really be saying something. I can do nothing except offer my humble apologies. I let the text stand (almost) as written only as a warning to myself.