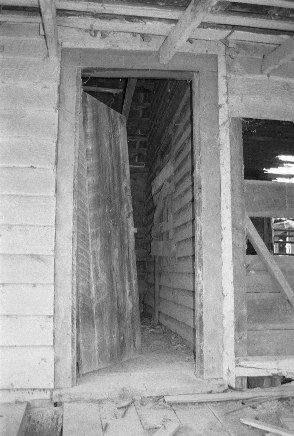 I'm very pleased to report that City of Dust has a feature in the May issue of Photoblogs Magazine, which was just released on-line yesterday. Right off, I'd like to thank Matt, the founder of Photoblogs Magazine, and Charles, the managing editor, for providing such a great forum and giving me the opportunity to take unsuspecting readers on a tour of the City of Dust. I'm really thrilled to be included. Also, I'd like to thank Jeff for doing a bang-up job on the layout and putting up with my nit-picky grammatical revisions. So, go check out the magazine, which you can access by the button on the right there, or just click here. And I'm not asking you to go just 'cause CoD is featured; you should check out the other stories and photos, which are really exceptional. I'm kind of a hack, so I can only hope that I've managed to hold my own to some small degree. Also, there's photo critiques, discussions, and all kinds of other interesting things going on at the magazine, so surf on over right now and come back and read the rest of this post later. You've probably seen the Phinizy Swamp before anyway, and I'll leave the front door open.

While I'm thinking about it, I'd also recommend checking out Photoblogs.org which, if I'm not mistaken, provided some of the initial inspiration for Photoblogs Magazine. It's sort of a photoblog clearinghouse, and every photoblog I've ever mentioned on this site can be found through Photoblogs.org, including the Snowsuit Effort, which I recently came across. Previously, I've talked about the difficulties of photographing not just run-down neighborhoods, but also the people that live in them. Taking pictures of homeless men and women is hard to do with sensitivity-minus-exploitation, but Ryan does an excellent job of documenting those who, for a variety of reasons, have found themselves living on the streets of Detroit. Sometimes I'd go into the Phinizy Swamp around midnight and wait for the devil to appear, hoping to make a deal with him. Okay, not really. I like my soul and, besides, despite Charlie Daniel's words to the contrary, it's well known that most of Satan's deal-making takes place on the backroads of Mississippi, not Georgia. Still, the shot below illustrates just how dark it can be in the swamp even at noon. Kill your television!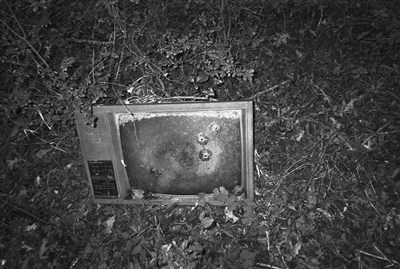 There's a lot of great swamps around Augusta in addition to the Phinizy. There's the Hell Hole Swamp in South Carolina, nestled in the Francis Marion National Forest, near Charleston. It's said that the swamp was named by British soldiers during the Revolutionary War who, after watching General Francis Marion ("The Swamp Fox") and his troops disappear into the darkness, were obliged to go in after him. At some point in the search one redcoat reportedly exclaimed, "That's a hell of a hole!" And Hell Hole it was. They never found Marion and his men. Later, the Hell Hole was the stomping ground of serious bootleggers, who riddled the swamp with stills and rough dirt roads.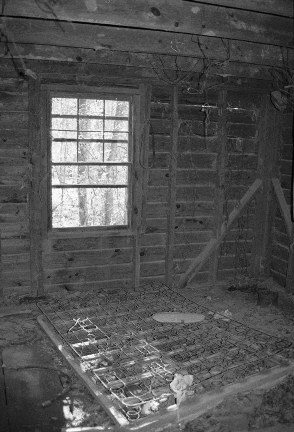 Such purveyors of "liquid corn" needed fast cars to make quick getaways, and would race each other to test their newest modifications. A few years later, they sanctioned this activity under the banner NASCAR. It's even rumored that Al Capone went to the Hell Hole Swamp to see how the southern wing of his bootleg empire was getting along. Rival bootleggers went after each other with firearms in the Hell Hole, and liquor from Cuba came up the Santee River for storage in the swamp until it could be moved out to Chicago. SC produce has a high iodine content (license plate mottos boldly read "Iodine" in 1930), and still operators jumped on the health bandwagon. "Not a Goiter in a Gallon" was the slogan of Hell Hole 'shine shipped out of the Iodine State (AKA the Swamp State). Recently, a new high school in the area was almost called Hell Hole High. I'm very disappointed it was not. There's a Hell Hole Swamp Festival each year, where you can enter a tobacco-spitting contest, and test your greased-pole climbing skills. That's in Jamestown, SC, May 7, so make your plans now. Photo caption brought to you by the LA-based rock band X: "We slept for a week, cinders on the sheets." Apparently cinders on the box spring, as well.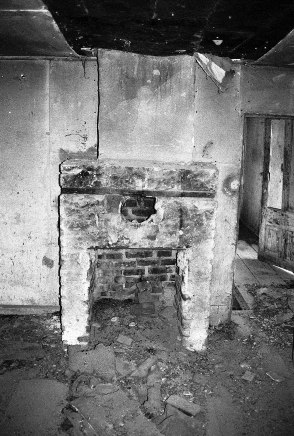 Of course, there's the Okefenokee Swamp, down in southern Georgia, on the Florida border. A 680-sq.-mi. national wildlife refuge, much of the "land" is actually floating peat mat. The Seminole Indians referred to this mat as "ecunnau finocau." That didn't make much sense to settlers in the area, who just called it "Okefenokee." Out of the swamp flows the St. Mary's River, considered to be one of the most crooked, meandering rivers in the world, winding its way east along the GA/FL border to the Atlantic Ocean. The distance as-the-crow-flies is 65 mi., but the river, being in no hurry, does it in a leisurely 175. Another river flows to the Gulf of Mexico from the swamp. You may have heard of it: "Way down upon the Suwanee River." Only, it was misspelled in the song and needs another "n". Anyway, the Okefenokee Swamp is pretty cool, with dark, black water that looks like tea (but doesn't taste like it), and more gators than you can shake a canoe paddle at. That's about 10,000 gators, and still many fewer than there were, say, 250 years ago. You'd think I'd have some photos but, of course, I don't. Instead, here's hearth and home, Phinizy Swamp style.

Near Harleyville, SC, between Columbia and Charleston, there's the Four Hole Swamp. I don't know much about Four Hole Swamp, but the ol' Swamp Fox, General Francis Marion, hid out there for awhile, using the position to make quick raids on British troops. He wasn't called The Swamp Fox for nuthin'. Four Hole is located within the Francis Biedler National Forest, and near the Congaree National Park, another great swamp. (It used to be Congaree Swamp National Monument, but only a crazy person would go to a swamp for vacation, so they changed the name and the tourists have come running.) The Congaree NP contains some of the largest trees on the east coast, including the SC record bald cypress. That's Taxodium distichum, the tree with the large buttress at the base. I spent a HUGE amount of time in the Congaree measuring trees and, as a reward one hot and miserable day, actually went looking for this record tree, which is in an area that's not easy to access. We eventually found the mammoth cypress, near some nearly-as-mammoth neighbors. Probably the better part of 1,000 years-old, they were really something to see. The biggest bald cypress in the Southeast, I believe, is a 1,400 year-old bruiser in North Carolina. I'd love to say I had a photo of these trees, but, again, no. I didn't bring a camera with me to the Congaree Swamp. I had enough to carry already and, besides, have you ever tried to photograph a 131' tall tree with a 26' circumference? So, you'll have to content yourself with another picture of this shack. Although this was a very inspirational shack. It was one of the first places I shot in Augusta because I REALLY wanted to get a record of its existence.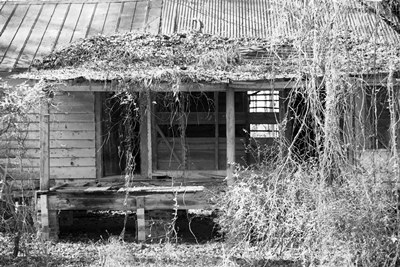 When they first started to cut down cypress trees, they quickly discovered that the trees sank, making them kinda tough to move through water. So, the trees had to be killed with a girdle, then left standing for at least 6 months so they'd dry out and float. By the early 1900's, most large cypress trees in the Southeast were gone. The Swamp Fox himself had said, "I look at the venerable trees around me and know that I must not dishonor them." But I think by "dishonor" he meant not shooting more redcoats. Of course, there are downsides to slogging through swamps.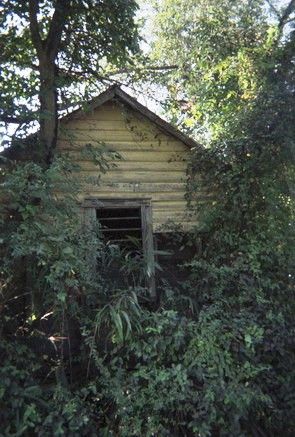 In the Congaree, particularly when walking through stands of cane, you're liable to get a bad case of chiggers. Having received a bad case of chiggers (60+ bites) from just such an activity, I can say it pretty much flat-out sucks. Unless you don't like being able to sleep. On the other hand, there is a certain sensation, which a field technician of mine called "exquisite," that occurs when you wait and wait and wait and then FINALLY give in to a vigorous itch. Or two. Or fifty. There's some cane grass growing in this photo, right under the window. Probably rife with chiggers, too. But, overall, I've spent a couple thousand hours of my life in swamps and am none the worse for it. At least, I don't think I am. If you don't know what a cypress tree looks like, there's a few here. About as far from state records as you can get. I'd also like to mention the Great Dismal Swamp in VA/NC because it has a lovely name, but the swamp itself is out of my jurisdiction. Thanks to Mike Sigalas for writing the South Carolina Moon Handbook and unwittingly helping me out today. Happy May Day! Oh, and did I mention you should check out Photoblogs Magazine?!