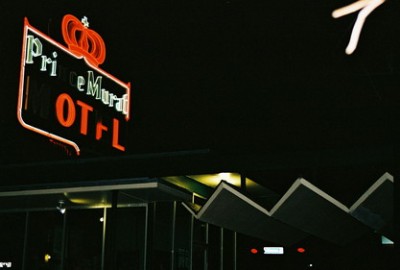 I don't know what it is about old neon signs that I find so romantic. Of course, neon is best late at night, in a light rain, the bright colors reflecting off wet pavement. Extra points are awarded to signs with a few burnt-out letters. Bonus-extra points go to signs that blink on and off, molded glass tubes winking ambiguously in the darkness. We're not talking about signs advertising Subway sandwiches or ATM machines. No, we're talking about signs that evoke moods, memories, and movement, somehow flashing the cracked ambitions of generations of Americans back at you. This is a shot of the Prince Murat Motel, Tallahassee, FL. They sell alcohol at the front office in 40 oz. cans. I'm reminded of the Thunderbird Inn, Savannah GA. The Thunderbird is across from the Greyhound station, where the most reasonably-priced accomodations in any town can be found. One night, I was staying at the T-bird when I heard the door to my room open. I sat bolt-upright in bed and immediately my eyes locked with those of another gentlemen, who was halfway across the threshold. He stopped dead in his tracks, whispered a hoarse apology, then quietly backed out. Did he mistake my room for his, the locks on the doors, for some strange reason, the same? After all, I was sure I'd turned the deadbolt before going to bed. Or did he pick the lock, hoping for a free room for the night? I didn't ponder these questions (nor a couple others) for too long, as I quickly fell back asleep. Hey, he seemed like a nice person. Unlike the woman in the parking lot who, later, towards dawn, screamed for a solid hour about her lost comb. Oh, and I'm not disparaging either the Thunderbird or Prince Murat. They beat a corporate chain any day. Hell, it seems everyone I know has spent at least one night at the T-Bird.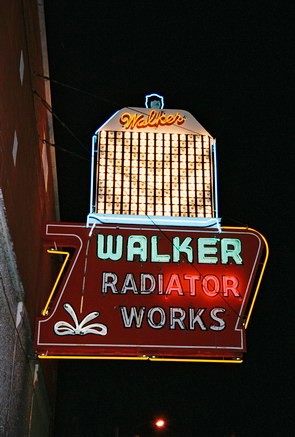 Phirebrush, an on-line magazine, has posted 5 photos of mine, which is quite nice of them. The shots are in the new issue, #28, in the photography section. All 5 are from the CSRA, including shots from the Phinizy Swamp, Sand Bar Ferry Rd., and even the spooky honky-tonk/mission. Yup, all the old haunts. Also, the other night, I caught Big Sandy and His Fly-Rite Boys at Lee's Liquor Lounge. Now, I'm no fan of nostalgia or revival, but Big Sandy brings enough personality and flair to rockabilly and swing tunes that they seem wholly contemporary. "Chalk it up to the Blues," a song off the last record, can be found here. It's a good soundtrack for neon in the night, I think. This is Walker Radiator Works, Memphis, TN. It's dark, letters are burnt out, I only regret that a fine mist wasn't falling. But, if you listen closely, you can hear heels clicking down the sidewalk and off into the night.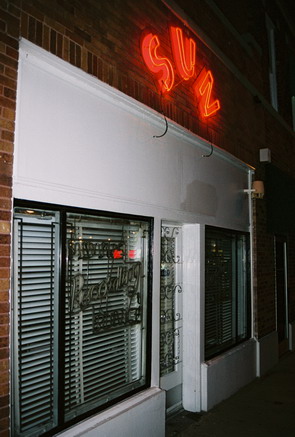 I feel like I'm cheating a little bit, since this shot was taken right next door to the radiator works. Yup, Sun Studio, Memphis, TN. But, it goes well with the shot from Snaps Magazine, which was taken from inside (during the day, of course). So, yeah, sure, this post was written under the influence of too much Dashiell Hammett, too many Veronica Lake movies, and my apparently unquenchable desire to hop in a car and drive to a city--any city--with no regard for what happens once I get there. I don't know about where you live, but if it's not pouring with rain and you aren't subject to extended power outages, you're better off than I.