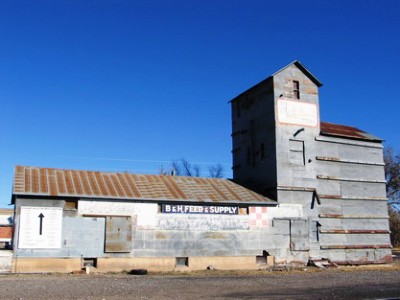 (CONTINUED) Twenty-Three

I woke in the morning and looked out the window at the perfect blue sky. I could see where Canyon Road wound down into town, every building soft-hued adobe, everything of a piece. I went downstairs just as the phone rang. It was Mary's house, so I wasn't about to answer. After four rings the answering machine clicked on and Julie said, "Tom, are you there? It's Julie. I tried your cell but you didn't answer. I thought maybe…"

I picked up. "Yeah, I'm here. I turned the ringer off on my phone."

"So you won't be disturbed?"

"Something like that," I replied. "But don't worry. I was just getting breakfast."

"That's good. I don't want to be a pest. I just wanted to invite you to my brother's birthday party tonight. It's only going to be Jimmy and Mary and me. And you, if you want to go."

To be honest, after what Mary had told me, I wasn't sure I wanted to meet Julie's brother. I had enough trouble of my own. On the other hand, I was curious. Curiosity won. "Sure," I said. "What time?"

"You can stop by the gallery around closing. We'll leave from here."

"Okay. See you then."

I had some cereal then walked back down to the newsstand. There was nothing in the SF Examiner or USA Today. I walked back to the house and turned on the TV and watched half of an old John Wayne movie before falling asleep. When I woke it was two in the afternoon. I pulled a copy of Cormac McCarthy's "Blood Meridian" off the bookshelf but I had a headache and only got six pages in before I went upstairs to look for some aspirin. I wondered what sort of evening it was going to be.

I left the house a little after four and got to the gallery early. Julie was with a customer so I went looking for Mary. I found her in the stockroom, checking things off a sheet of paper on a clipboard.

"So, looking forward to the birthday bash tonight?" I asked.

She didn't look up. "I'm not going." She made another mark on the paper and bent down to pull the bubble wrap back from a painting. Something was wrong.

"You want to stay away from Jimmy?"

She stood up and took off her glasses; they hung around her neck by a chain. She looked at me. "No, that's not it. And that's all I'm going to say." Something was very wrong.

I walked back out to the gallery floor and waited for Julie to finish with her customer. I watched her carefully wrap a small statue and a painting. The man paid in cash, which I thought was unusual, but after he'd left Julie told me it was pretty common. "I'm not really sure why they don't just use a credit card," she said. "But that's $5,500, just like that." She spun the tumbler on the safe next to the desk. I looked away, wondering if she'd consider me a security risk.

"Mary's not going to dinner?"

Julie put the money in the safe, closed the door, and spun the tumbler. "Yeah, I guess she's not feeling well."

I nodded. I was concerned.

Julie and I left a little before 5—Mary said she'd close up—and we walked up Canyon Road to The Compound, where we'd be meeting Jimmy. We went inside and sat down and waited. Julie talked about some of the new pieces that had come into the gallery and asked how my writing was going, but every few moments she'd glance toward the door, searching for her brother.

At 5:20 Jimmy came in and sat down. "Sorry I'm late," he said. He and Julie embraced and she introduced me. I stood up and took his hand. It was cold and limp. He had a slight lisp. I hadn't seen him since that day out in front of the Pink Adobe. I thought he seemed different. But I guessed everything seemed different to me now; that day seemed a lifetime ago. Still, he was pale and thin and there were dark purple rings under his eyes. He looked like he needed sleep. Maybe he was staying awake because of drugs or fear or homelessness. If I'd had to guess I would've gone with all of the above.

We ordered our food and Julie asked her brother how things were going and whether he'd found a new job. She wanted to know if he'd found a different apartment. She asked each question off-handedly, without urgency, as if she were merely curious. Yet her eyes searched her brother carefully, looking for clues, as she waited for him to answer. Jimmy picked at a piece of bread and mumbled noncommittal replies. He barely looked up. I knew that what Mary had told me had been true; he was in trouble. Our entrees came and Jimmy had taken no more than three bites when his cell phone rang. He excused himself and went back toward the restroom. Julie cut her eyes at me, but didn't say anything. In a few moments he returned. Whereas before he'd looked tired and wasted, he now looked scared and upset. He didn't sit back down.

"Man, I'm really sorry. I gotta go."

If Julie was angry she didn't show it.

"Why, Jimmy?"

"I forgot I had to meet some people."

"Can't it wait?"

"Nah. We've got some work to do."

Julie started to say something but Jimmy stopped her. He was pleading: "I'm sorry, sis. I gotta go."

Julie sighed. "Do you want to take your dinner?"

Jimmy was already walking away. "Box it up for me, will ya? I'll stop by and get it tomorrow." He waved at me. "Nice to meet you." I waved back.

A few minutes after Jimmy had left I noticed a scruffy, unshaven man come into the restaurant. He looked around and then left. Julie didn't see him. Nor did she say much after Jimmy left. I finished my meal and thought about things. I'd recognized something of myself in Julie's brother. That's how I knew he was in trouble.

After dinner I walked Julie to her apartment on the other side of the plaza. The sky was clear and the stars were spread out above the city. Julie apologized for her brother and I told her not to worry about it. The night air was cool and there was no wind. We stopped outside her complex but neither of us said anything. I took her hand in mine and she drew toward me. We kissed and pulled each other closer. Then we broke off and stepped back.

Some believe that desperation incites passion, that danger impels the heart to respond more strongly, that sorrow longs for human touch. But these things are not always true. Fear and pain do not bring people closer; they pull them apart. Desire can be replaced by paranoia. Love by separation. We cared too much to pretend.

"Are you going to make it to the book club this Tuesday?" she asked.

I kicked at the ground. I looked down the street. "I don't know. I might have to leave town for a bit."

She didn't ask any questions, she only nodded and glanced up at the big yellow moon. Then she looked away. "Good night," she said.

"Good night," I replied.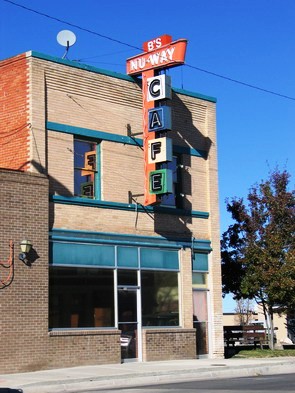 Twenty-Four

On Saturday morning, one week after my ex-wife had died in my arms and I'd beaten her killer to death, I had my things in the Jaguar before ten o'clock. I got in the car and drove down through the plaza and out to the interstate. I didn't know where I was going. Then I turned around and went back to Mary's. I made myself a sandwich and waited for her to return. I was reading Faulkner when she got in. I put the book back and stood up.

"Hello," I said.

"Hi," she replied, setting several large packages--probably paintings--wrapped in butcher's paper down in the hallway.

"I want to thank you for everything," I continued. "But I think I'm going to be on my way." I asked her how much I owed her and reached for my billfold; I hardly had any cash left. She waved her hand and told me she didn't want my money. I wondered why I'd come back. Had I really wanted to get caught? I took a step toward the door.

"I want the truth," she said.

I stopped and looked at her.

"I know who you are and I want you to tell me what happened." She didn't seem scared or nervous. She just seemed angry. "I think I've come to know you over the last few days and if I really thought you posed a threat to me or that girl"—she pointed toward the front door—"or anyone else the police would already be here." She took a step toward me and put her hands on her hips. "I deserve the truth for helping you." For a moment I considered the situation.

"Okay, I'll tell you." I finally replied. "But, in return, I want you to write a letter that contains every word I say and send it to someone. I'll give you the address."

We went into the dining room and sat at the table. I told her the entire story from the day I'd left Santa Fe until the day I'd returned. When I was done she took off her glasses and rubbed her eyes, then shook her head.

"I knew you were in some kind of trouble right away, but I never figured it was that bad until I saw the newspaper. Are you telling me the truth?"

"If I wasn't would I say so?"

She nodded. "I meant what I said about knowing you. And I'm sorry. Truly. Where are you going to go?"

"I don't know." I took a pen off the table and picked up a napkin. "But I want you to send a letter to Anne's mother. Tell her what I told you." I had just handed her the napkin with Beverly Michael's address on it when there was a loud knock at the door. I was out of my chair in an instant.

"Quick," Mary said. "Go out the back."

I'd taken two steps through the kitchen when I heard the front door open. I turned and saw Julie pass through the hallway and run into the dining room. She was holding something in her hand. Mary went to her and Julie collapsed in her arms, crying and shaking. "They've got him," she sobbed. "They're going to kill him." I took the Federal Express envelope from her hand and looked inside. In a plastic bag was what appeared to be the tip of a pinky finger cut just below the third knuckle. There were also three Polaroid photos. The first was of a right hand tied to a plank with two pieces of rope, the fingers spread wide. The second was of the same scene, only now the tip of the finger was severed and blood had pooled around the hand. The final shot was of Jimmy's face; I didn't know whether it had been taken before or after his finger had been cut-off, but I hoped it had been after; I didn't want to think that he might look even worse now.

"Is that all there was in the envelope?" I asked.

Julie shook her head and handed me a crumpled note that she'd been clutching in her fist. It said that they wanted $100,000 or they'd kill Jimmy. It said they would provide more information at noon on Tuesday, when they would call a payphone in Tucson. If no one was there to get the call, Jimmy would be killed. It said that if any move was made to bring in the police they'd know and kill Jimmy immediately. Then I gave it to Mary to read.

"Do you think they'd really know?" she asked. "Do you think they're watching us?"

I walked to the living room window and looked outside. I didn't see anyone. Still, it was possible. I went back to the dining room.

Julie wiped her eyes and asked if we should call the police. I looked at Mary but she shook her head slightly.

"We better act like someone's watching."

They'd given Julie until Tuesday so she'd have time to get to the bank and make it down to Tucson. They would probably want her to come alone, but they hadn't said anything in the note. So, I would go too. Anyway, I wasn't a cop.

"How much money can we put our hands on?" I asked.

Mary shrugged. "Most of the gallery money is tied up in our floor stock. I've got $20,000 in savings and $10,000 in the safe after yesterday's sale." Julie had $5,000. I had nothing except an expensive sports car that would get me arrested if I tried to sell it.

"We've got to make it look like we're getting money before Julie and I go to Tucson. It has to look legit…"

Julie looked at me and started crying again and Mary went to the bathroom to look for a sedative. I went around the house and closed all the blinds and curtains.

Mary led Julie to a second guest room on the first floor and then she and I began to come up with a plan. The next morning she'd go to the gallery as usual and I'd stay with Julie. Before leaving in the evening she'd get all the money out of the safe and put it in a sack. I'd drive down to meet her and bring her back to the house so she wouldn't have to walk up Canyon Road with $10,000 in cash in a bag. On Monday we'd get up and go to the banks and Mary and Julie would withdraw most of their money. All together, we'd probably just break $30,000, but if someone was watching us we figured they'd have no way of knowing how much money we were really getting together. Then, in the afternoon, Julie and I would leave for Arizona. And that was as far as our plan went. Because we had to wait for instructions in Tucson it was impossible to guess at what might come after that phone call. If they wanted us to leave the money at a drop point, only releasing Jimmy after all the money was counted, we'd have a problem. Not only did we have nowhere near the amount demanded, we had no guarantee they wouldn't just kill Jimmy anyway. Instead, barring a long-shot meeting in a public place, they'd probably want us to go to some old warehouse or derelict building. Normally, this would be the most dangerous of scenarios, but in our case it might be the only way of getting Julie's brother back.

I asked Mary what would happen if we lost her money. There was a chance we'd find ourselves in a situation where all we could do was offer what little we had; they might accept it. Or they might take it and kill Jimmy. Or they might take it and kill all of us. No matter what happened, it wasn't likely Mary would see her money again.

"Don't think twice about the money," Mary replied. "It's only paper. Dane left me a lot more that I've got tied up in the gallery. Just do whatever seems best at the time."

She told me to follow her down the hall and we went into a small office. There was a large oak desk with a computer on top of it. Papers were scattered here and there and a leather sofa took up one wall.

"This was my husband's den," Mary explained. "I use it as an office now, but I can still picture Dane napping on that sofa. He used to smoke cigars when he worked in here. Can you smell them?" I could. Then she opened the closet. Inside was a gun safe. Mary turned the tumbler back and forth and opened the door. Over her shoulder I could see three or four shotguns. Boxes of ammunition lined a shelf at the top. She handed me a Winchester 12 gauge and a Remington 32. From a locked box at the bottom of the safe she took a Desert Eagle .50 caliber handgun, a 9 mm Beretta pistol, and a Colt snub-nosed .38 Special. She ejected the chamber on the .38 and loaded the rounds. Then she closed the chamber and gave it a spin.

"We'll give this one to Julie. I don't know if she's even held a gun before."

"You don't know if I have either," I said, cracking the stock on the Remington.

Mary slipped a magazine into the Beretta. "And I don't want to know."

We loaded the other weapons and I asked Mary if her husband had ever seen combat. "Yes," she replied, "in Korea. Most people don't think much about Korea and I don't really know what went on there myself. Dane didn't ever say much about it, but I can tell you that it did something to him. It took something from him and gave him something else entirely in return. I don't think he always knew what to do with that something else." She handed me a box of shotgun shells. "So sometimes he just went hunting."

Mary put the .38 and the 9 mm in holsters. She put the .50 caliber in a canvas bag and slipped the shotguns into cases. "We'll put your car in the garage tomorrow night and transfer the guns then. There're no windows in the garage so there's no way anybody will be able to see what we're doing in there." She put her hand on my shoulder. "I knew she was in trouble. And I knew you could help."

I didn't remind her that I was in trouble, too. But now I knew why I'd come back. (CONTINUED)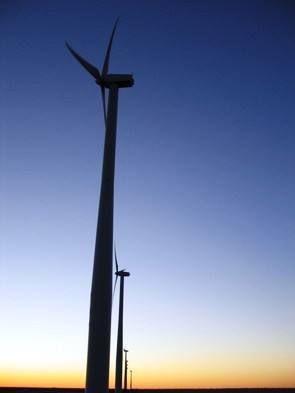 The top two photos were taken in Clayton, NM, USA. The bottom shot is from Montezuma, KS, at the Gray County Wind Farm, somewhere off US Highway 56. By the way, I've totally lost track of what photos I've already put up. Let me know if something looks familiar. Or, on second thought, maybe you shouldn't.

In other news, City of Dust just passed 100 posts and 10,000 site visits. Such are the rewards of blind--and possibly unwarranted--tenacity! If you're wondering just how much longer this A Loss for Words thing is gonna go on, I can now give you an answer: 5 more posts. Whew.